30 inch diamater is one among the largest sizes a whole house fan is available in. There are 36 inch diameter ones as well, however 30 inch models are more popular.
30-inch whole house fans are used to cool large indoor areas. Their large size helps to move more air within a shorter time. The airflow rates of normal 30-inch whole-house fans range from 4500 to 8000 CFM. These fans are capable of cooling large indoor spaces of sizes 2000 to 4000 sq.ft
Best direct drive 30 inch whole house fan;
Dayton 30 inch direct drive
Best 30 inch whole house fans with belt drive;
Cool Attic CX30BD2SPD
Dayton 30 inch belt drive
Quick comparison table
| Fan model | CFM | Suitable for spaces upto | Drive type |
| --- | --- | --- | --- |
| 1. Dayton | 6000 | 3000 sq.ft | Direct drive |
| 2. Dayton | 7600 | 3800 sq.ft | Belt drive |
| 3. Cool Attic CX30BD2SPD | 7800 | 3900 sq.ft | Belt drive |
A quick comparison of the top 30 inch whole house fans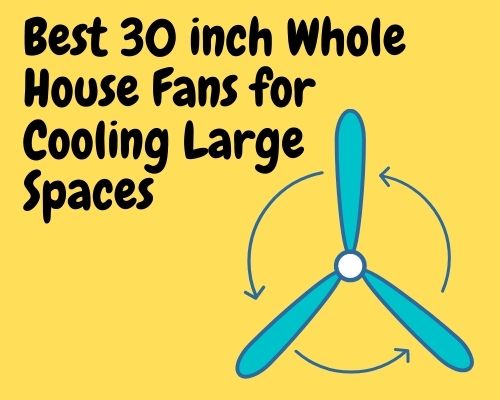 Let's take a close look at the specifications and features of these fans;
1. Dayton 30 inch direct drive whole house fan
Dayton is a popular brand in the USA, and this whole house fan of theirs is US-made. This is a two-speed, industrial design fan that can move 6000 CFM of air at its highest speed. At its lowest speed (610 RPM) this fan can move 4500 sq. ft.
This direct drive fan is best suited to cool areas up to 2000 sq.ft, however, it can cool 3000 sq.ft areas as well.
The fan has a diameter of 30 inches and it is housed in a 34″ x 34 inch size galvanized steel casing. The 3 blades themselves are made of steel. It uses a 1/3 HP, permanent split capacitor motor. As mentioned before, this is a two-speed motor, and it can run at 610 RPM and 795 RPM. This speeds are controlled by a two speed wall switch.
This fan doesn't come with any fancy features or a thermostat. All the controls are to be done manually. Its installation is straight forward. This is a very old model, and probably that's why it doesn't come with a warranty of any sorts.
2. Dayton 30 inch belt drive whole house fan
This is another 30 inch whole house fan by the same brand Dayton. Unlike the above model, this one is a belt driven one ie, the axle of the fan is connected to the motor via a belt.
This fan is a lot powerful than the former, it is rated at a maximum CFM of 7600. So the fan is capable of cooling a larger area of up to 3800 sq.ft. However, according to the company it is best suited for areas up to 1200 sq.ft.
This is a two-speed fan where the top speed of the motor is 455 RPM and its lowest speed is 305 RPM. But the low and high RPMs of the fan are a bit higher than this due to the pulley size difference of the belt drive system. It comes with a 2-speed wall switch as well as a 12-hour timer switch for ease of operation.
This whole house fan uses a 1/3 HP motor just like the aforementioned fan. But as you might have noticed the CFM rating of this fan is higher. This is because this whole house fan have 4 blades, one more than the other model.
The fan and its housing is made of powder coated steel. The housing measures 34 inches in length and width.
The unit comes with a 1-year warranty.
3. Cool Attic CX30BD2SPD
This Cool Attic whole house fan is a two-speed fan with a blade span of 30 inches. It can move 5400 CFM of air at its lowest speed and 7800 CFM of air at its highest speed. It is suitable for houses of size 2000 to 3000 sq.ft.
This Cool Attic fan comes with a two-speed wall switch for easy control. You can also buy and add a timer separately. The fan is designed so that no joists need to be cut for its installation. The fan has four blades which are made of Aluminum. The housing of the fan is made of powder-coated steel.
The unit comes with a 10-year warranty.
Pros & Cons of 30 inch whole house fans
Pros
They are capable of moving large amounts of air due to their large blade span
They can cool large indoor spaces within a short time
Cheaper compared to some smaller, but modern high CFM whole house fan models
Cons
They can be very noisy due to the large size
Longer blades tend to bend even on small impacts
They have outdated designs and are less efficient when compared to newer models
Installation of these fans can be difficult because you will have to cut the joists of the ceiling in most cases.
Should you select a belt drive or a direct drive fan?
Belt drive whole house use a belt and pulleys to connect the axle of the fan with the motor while in the case of direct drive the fan and the motor share the same axle. There are some advantages and disadvantages to both types.
Belt drive fans run smoother with fewer vibrations. They are usually quieter when compared to direct drive fans.
Direct drive fans are easier to install, and since there is no slip (loss of energy between the driver and driven pulleys) they are slightly more energy efficient.
Belt drive fans need more maintenance since there is always a chance of the belt getting damaged. Direct drive fans have no such problems, and so they are generally maintenance-free.
Belt driven fans are adjustable in terms of RPM. While the motor may run at the same speed the speed of the fan can be varied by using pulleys of different sizes. No such flexibility is possible with a direct drive whole house fan.
Whether you select a direct drive type or belt drive type is totally up to you. However, most of the models available in the market nowadays are all direct drive type due to their low maintenance and better practicality. And they are getting quieter too.
Do you really need a 30 inch whole house fan?
Large size fans are necessary to vent large areas. However, the size of a fan is measured in CFMs which is a measure of how much air it moves, and it is not the blade size that matters. The blade size of a fan and its CFM need not be proportional. Years back, you needed to use a large fan to get large airflow rates but that is not the case now. The whole house fans nowadays can easily achieve high CFM airflows with smaller diameter blades.
Here are some good alternatives to 30 inch whole house fans;
You can use more than one whole house fan in a house. If the CFM required for the whole house cooling is 6000 CFM you can use two fans of 3000 CFM; it is the total CFM of the fans that matter. Using multiple smaller fans instead of a gigantic fan is a better option but this totally depends on your cooling and space requirements.
Related Posts: