Are there exhaust fans with light?
Exhaust fans also help reduce moisture buildup inside homes by drawing hot moist air outside. They are used in many parts of the home including bathrooms. Here is an idea; how cool it would be to have an exhaust fan with its own lighting! Few know this, but there are exhaust fans that come with light kits on them.
Exhaust fan lights are installed on the ceiling of the room. Wall mount type exhaust fans do not come with such light kits.
The light kits of these ceiling exhaust fans are LED to reduce the size requirements and also to provide more light and energy efficiency. With an exhaust fan light, you won't need another light fixture in the room. 
In addition to providing lighting in the room, they also act as a decorative element. For most ceiling exhaust lights, their fan is invisible from view. For this reason, the exhaust light kit looks just like any other light kit all the while exhausting moist air. I would say the ceiling exhaust and light combo is the invention of the century! 
Give below in this article are some of the best exhaust fan light kits which can be used in bathrooms and other samp areas of the house;
1. Hunter 90053 Saturn Decorative Bathroom Ventilation Fan with Light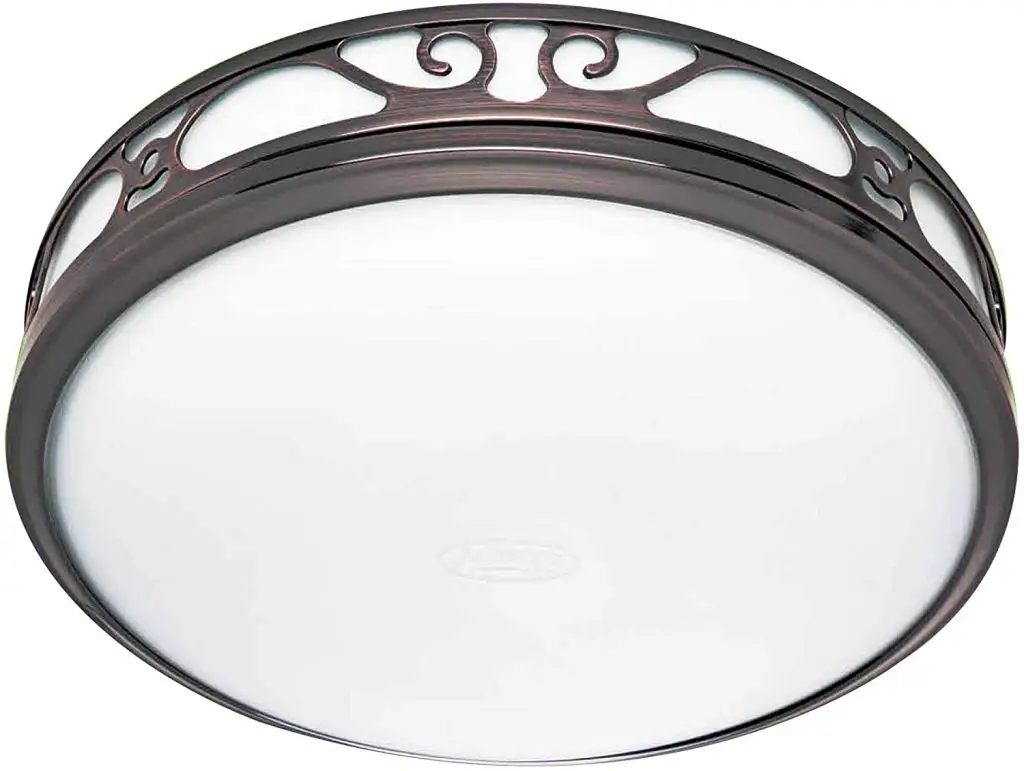 This decorative bathroom light with a fan molded in brushed nickel will supply you with light and ventilation, offering you the following:
Enclosed in a swirled marble glass enclosure with a brushed nickel finish.
Reduces excessive humidity and moisture.
The electrical light and fan is 120v and must be hard-wired, and is not plug and play.
It includes a quiet fan.
Recirculate air and reduce unwanted odours.
All the needed hardware is included for easy installation.
2. KAZE APPLIANCE Ultra Quiet Bathroom Exhaust Fan with Led and Night Light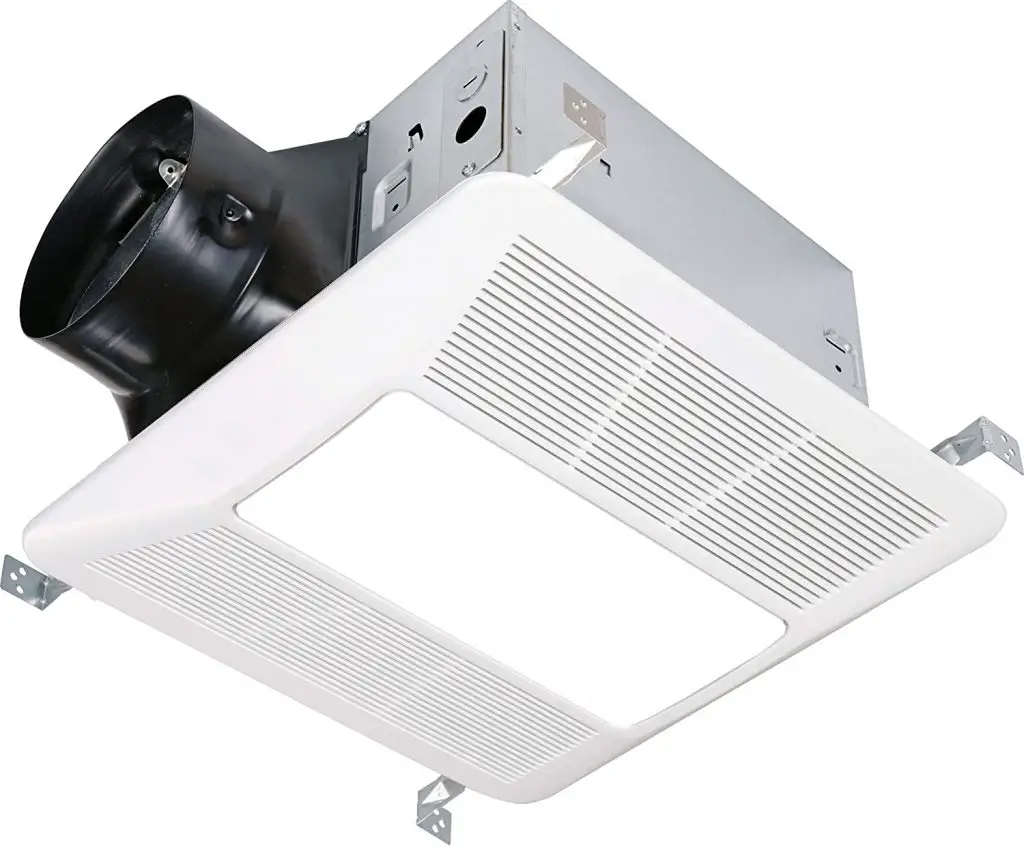 The Kaze Appliance ultra quiet bathroom fan and light with a LED light and a night light can supply you with safety at night while keeping your bathroom fresh and odorless.
This 120v fan and light are available at different displacement (Cubic Feet per Minute)levels ranging from 90 CFM to 120CFM.
The size of the ceiling housing is 11 3/8″ X 10 1/2″ and is essential if your current ceiling opening is smaller or bigger.
The lighting consists of an 11 watt LED light with a 2 Watt night light with a 30,000 hours life rating.
Double hanger mounting bars are included, and a detachable 6-inch metal duct with backdraft damper as well as a 4-inch adaptor.
The top of the CFM range at 120 CFM with super-quiet operation can be utilized with a bathroom size of 120 Sqft.
A three-year manufacturer parts warranty is effective.
3. Hunter 81021 Ventilation Bathroom Exhaust Fan and Light Combination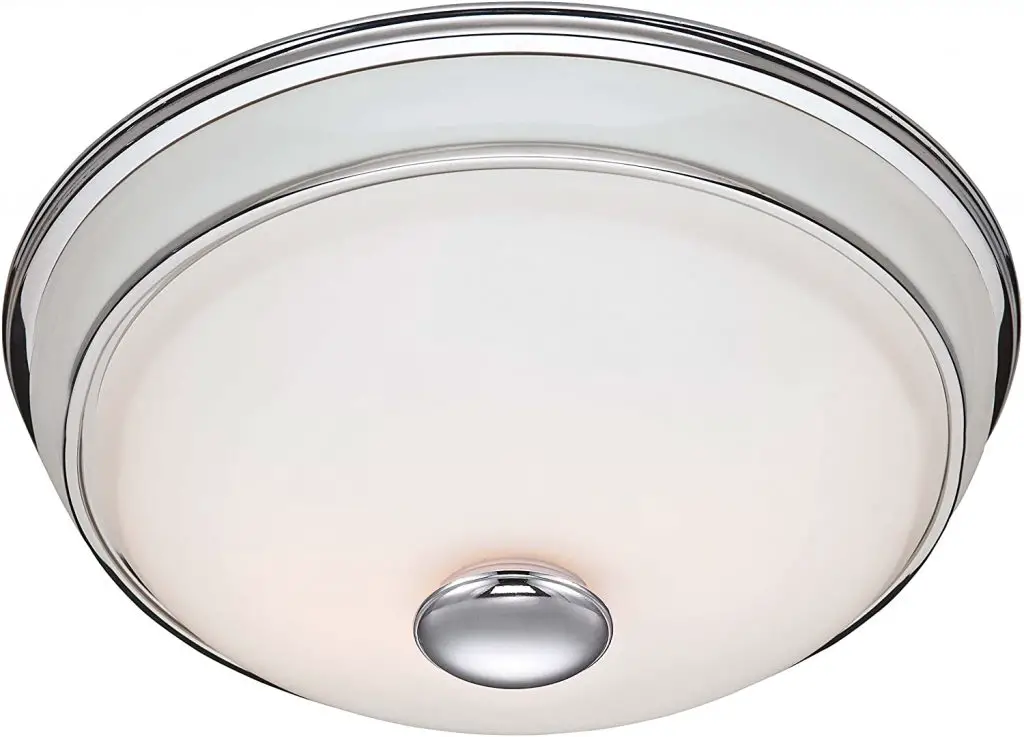 The Hunter 81021 Victorian bathroom exhaust fan and silver light combination have a traditional chrome and porcelain design with the following features:
The fan that's good for 2.5 sones reduce the excessive moisture and circulates air to combat odours.
Removable finial for cleaning and revamping.
Damp listed so it can be used over a shower or tub.
It carries a five-year limited warranty
4. Broan-Nu Tone 9093WH Exhaust Fan, Heater and Light Combo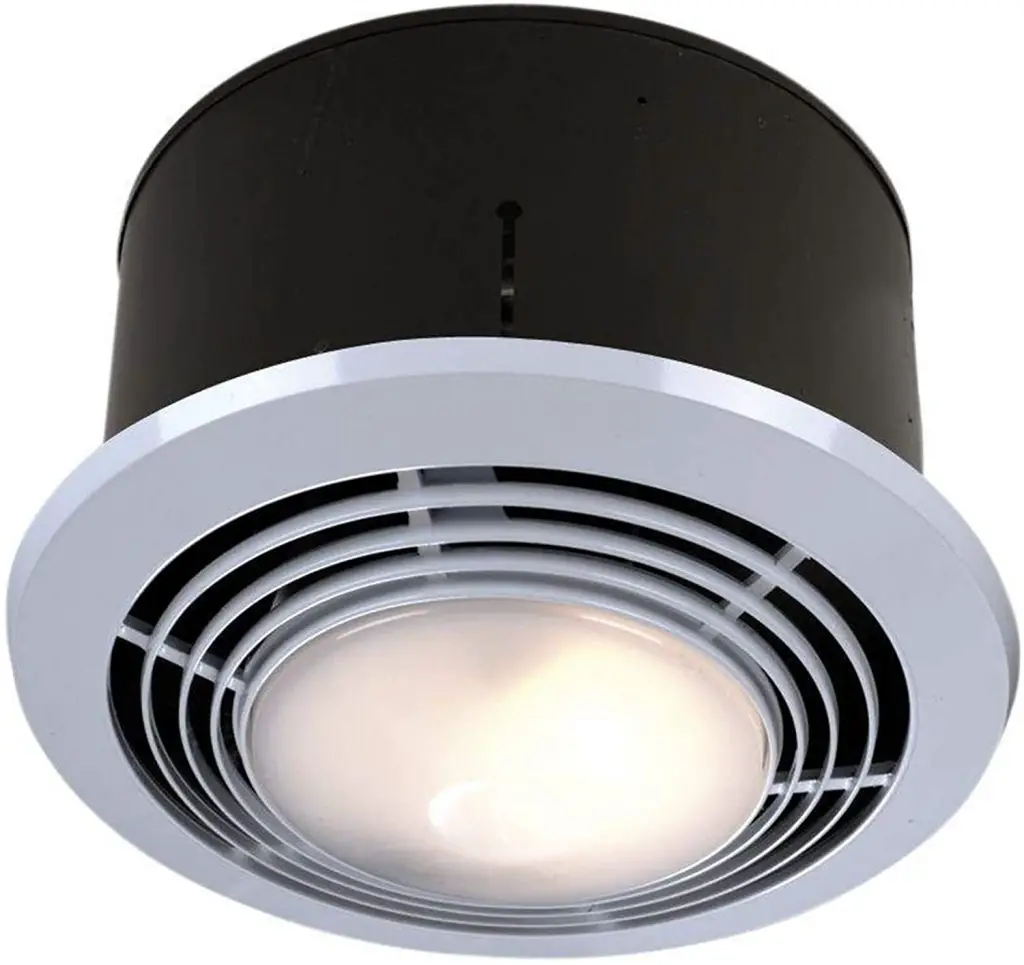 This exhaust fan with the heater and light combo can provide you with ultimate comfort in your bathroom. The 1500 Watt heater and assembly is controlled by a four knob switch to give you total control of all the features that are discussed: 
A 7 Watt night light gives soft light to make visits to the bathroom easy and safe at night.
Exhaust fan with light and heater is powerful and can heat rooms to 65 Sq.ft.
The housing dimensions are 131/4 X 13 1/4  X 7 1/2  inches if ceilings need to be modified.
A four-function wall switches place you into control to control each feature as you wish.
Easy to install or replace with all the parts included.
A 100 Watt light provides enough light for all actions, while a 7 Watt night light provides a soft glow during nighttime visits.
The white enamel grille is suitable décor for any colour or décor.
5. Broan-Nu Tone 696 Ceiling Exhaust Fan and Light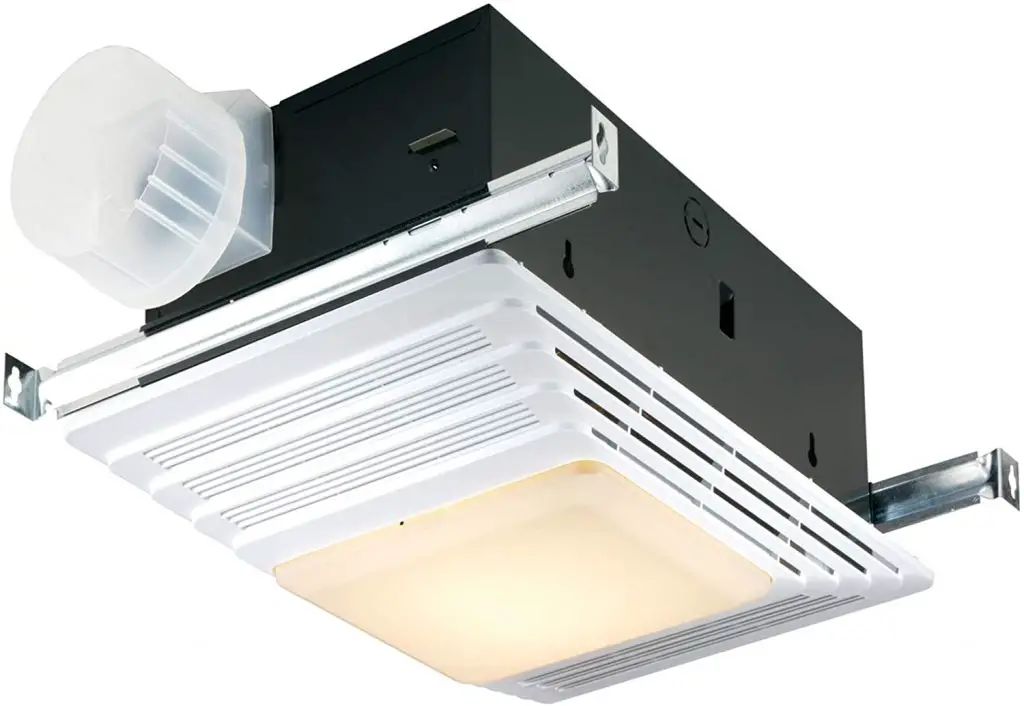 The Broan-Nu Tone 696 exhaust fan and light combo with a designer styled white grille will fit any décor and contain the following features:
The exhaust fan and light combo reduce excessive moisture while supplying ample light to your bathroom with a 100-watt globe.
The easy to install product include polymeric duct connectors with tapered sleeves for easy positive ducting.
A plug-in permanently lubricated motor with adjustable slotted mounting brackets span up to 24″ for easy installation.
As far as safety is concerned, it is UL listed for use over showers and tubs when connected to a GFCI protected branch circuit. The type IC (Insulation Contact) unit features an efficient polymeric fan impeller to ensure quality use.
6. XIPUDA Ceiling Fan with Light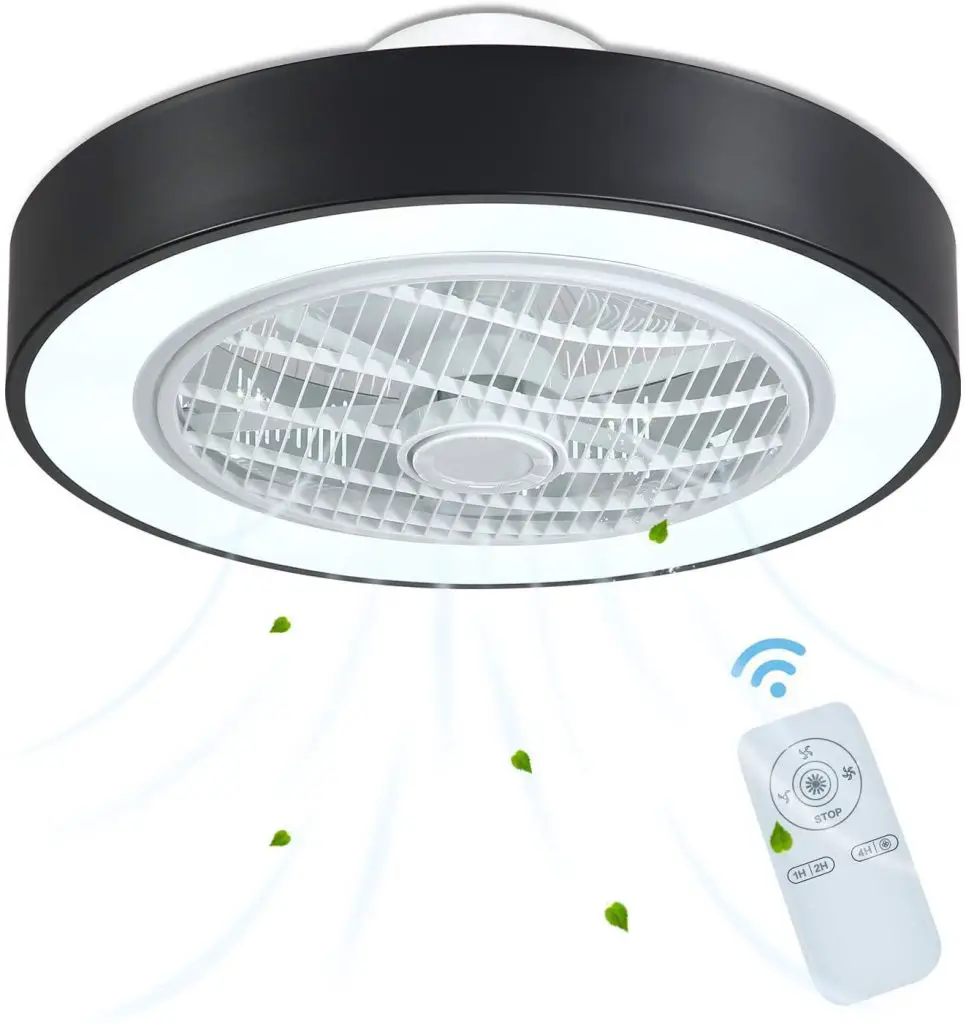 This modern, flush mount and low profile ceiling mount fan and light with remote control can be used for indoor, outdoor, kitchen, bathroom and a whole lot more.
This fan is designed as a marvellous contribution to your house and is adequate for ceilings from 7.5′ to 11.5′ and is suitable for every room and even children rooms.
It is made with 48 LED lights evenly distributed to light up the whole room with the colour and brightness-adjustable to give a soft glow through an acrylic lampshade.
It contains a three gear windspeed setting, while high-end ABS fan blades are durable. Lightweight and easy to clean.
An incorporated timing function can cut electricity supply after you fall asleep to save on unwanted high electricity bills.
A 90-day money-back guarantee and lifetime customer service are included in the deal.
7. Hunter 83002 Ventilation Exhaust Fan With Light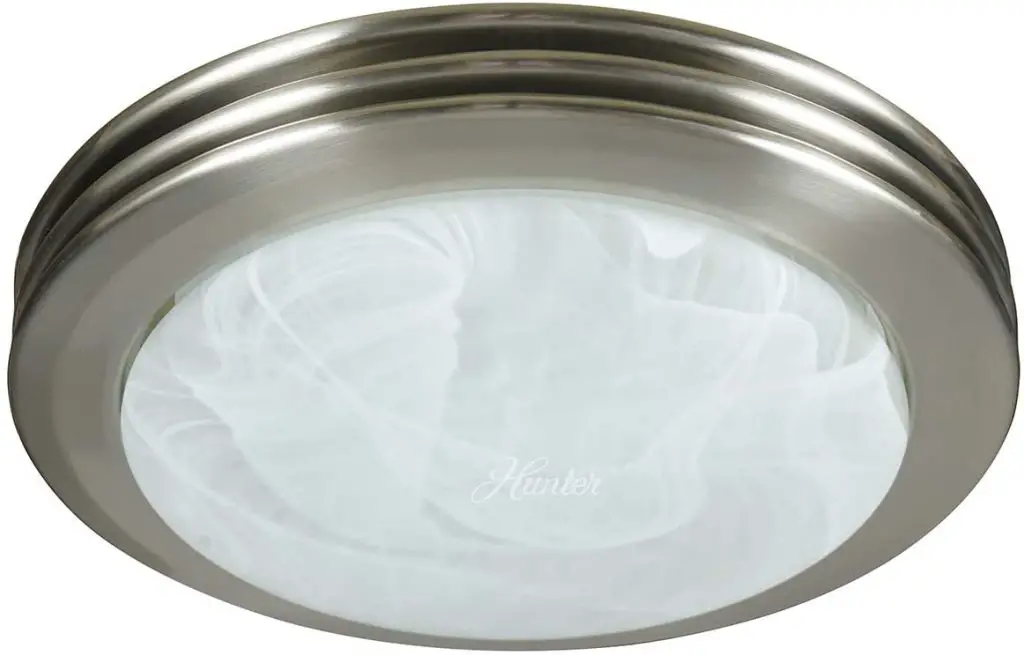 The Hunter 83002 ventilation exhaust fan with light in Imperial Bronze is the ideal Bathroom exhaust and ventilation fan with a bronze finish.
It also includes a night light with a 7 Watt LED light.
The quiet fan is a sophisticated feature with flowing scrollwork.
The fan circulates air to fight odours while reducing moisture and, therefore, humidity.
ETL damp tested to be used over tub or shower with GCFI circuit.
Comes with a five-year limited warranty.
One on one comparison of ceiling exhaust light kits
Now we will discuss the fixtures bases on the selected criteria for each.
Displacement of Fans (Cubic Feet per Minute)
| Exhaust Fan Model | Displacement (CFM) |
| --- | --- |
| Hunter 90053 | 80 |
| KAZE Ultra Quiet | 90 -200 |
| Hunter 83002 | 90 |
| Broan-Nu Tone 9093 | 70 |
| Broan-Nu Tone 696 | – |
| XIPUDA | – |
| Hunter 83002 | 110 |
Choosing the right displacement in CFM for your bathroom is essential to ensure that the fan removes excess moisture and alleviates odors.
To determine the approximate minimum CFM for your bathroom, you can use the following calculation:
Determine the bathroom's square footage by multiplying the length in feet with the width in feet (L X W).
Multiply that figure by the appropriate figure in the corresponding value for ceiling height in the following table:
| | |
| --- | --- |
| Ceiling Height | Factor For Multiplication |
| 8Ft | 1,1 |
| 9-12Ft | 1,25 |
| Cathedral | 1,5 |
So if your bathroom is 6′ by 7′ (6′ X 7′ = 42 SqFt), round that up to 50, and that is the CFM needed for your bathroom.
As we can see in the Table for all the fixtures, the KAZE Ultra Quit gives us a range of CFM's that you can select to fulfil your needs with the Broan-Nu Tone 9093 at a CFM of 70 as the lowest recorded CFM. No data could be found for some fans, and you can contact the supplier if needed to get these values. It is best to practice installing an extraction fan that answers the required CFM to be effective. So it will be worthwhile to ensure the CFM value of an extraction fan before installing it.
The Noise That A Fan Creates During operation
| Ceiling Exhaust Fan Model | Noise |
| --- | --- |
| Hunter 90053 | Ultra quiet |
| KAZE Ultra Quiet | Ultra Quiet |
| Hunter 83002 | Ultra Quiet |
| Broan-Nu Tone 9093 | _ |
| Broan-Nu Tone 696 | – |
| XIPUDA | Ultra Quiet |
| Hunter 83002 | Quiet |
While soaking in a tub, you want to relax. An excessive amount of noise will deprive you of relaxation. The quieter a fan is operating, the better.
All the fans we have taken a look at are operating from quiet to ultra-quiet except for the Broan New Tone range that does not include the noise levels of their fans. So if noise is important to you and you are interested in one of them, it will be best to contact the manufacturers for specs.
Illumination of the Light Fixtures (Watts)
| Exhaust Fan Model | Illumination (Watts) |
| --- | --- |
| Hunter 90053 | 140 |
| KAZE Ultra Quiet | 11, 2 (LED) |
| Hunter 83002 | 2 X 60 |
| Broan-Nu Tone 9093 | 100, 7 |
| Broan-Nu Tone 696 | 100 |
| XIPUDA | 60 LED |
| Hunter 83002 | 60, 7 |
A light should be there for a reason: to supply adequate light in a bathroom. For this reason, the Wattage of the main lights and night lights are shown. This will enable you to select a light with enough strength for your individual needs.
The Hunter 90053 is top of the range with a fluorescent light of 140 Watts which certain people might need, while others prefer the 60 Watt light of the Hunter 83002. There are also two 60 Watt bulbs available in the Hunter 83002 for those that need a softer light that is well spread.
Fan Size (Diameter) of the Fan Blades
| Exhaust Fan Model Name | Fan Size (Inches) |
| --- | --- |
| Hunter 90053 | – |
| KAZE Ultra Quiet | – |
| Hunter 83002 | – |
| Broan-Nu Tone 9093 | – |
| Broan-Nu Tone 696 | 4′ |
| XIPUDA | – |
| Hunter 83002 | |
The size of the Fan, that is, the diameter of the blade span, can be a slight indication of the fan's actual displacement of the fan, but except for the Broan-Nu Tone 696 no other fan size is given for these Fan's under consideration. Most of them are extraction fans that have to abide by the size of the extraction duct.
Night Light for Easy Access to Bathroom at Night
| Exhaust Fan Model | Night Light |
| --- | --- |
| Hunter 90053 | No |
| KAZE Ultra Quiet | Yes |
| Hunter 83002 | No |
| Broan-Nu Tone 9093 | Yes |
| Broan-Nu Tone 696 | No |
| XIPUDA | No |
| Hunter 83002 | Yes |
Night light with reduced light, mostly a glow, is an inherent part of the KAZE Ultra Quiet, Broan-Nu Tone 9093, and the Hunter 83002 for people that will find a night light an advantage.
Warranty of the Product
| Fan Model Name | Warranty |
| --- | --- |
| Hunter 90053 | 5 Years |
| KAZE Ultra Quiet | 3 Year |
| Hunter 83002 | 5 Year |
| Broan-Nu Tone 9093 | – |
| Broan-Nu Tone 696 | – |
| XIPUDA | – |
| Hunter 83002 | 5 year |
The fixtures in the Hunter range all come with a 5-year guarantee, while the KAZE Ultra Quiet comes with a 3-year guarantee. However, we must take note that this is not an all-inclusive guarantee but only a limited warranty.
Dimmable Light to Change the Brightness of the Light
| Exhaust Fan Model | Dimmable Light? |
| --- | --- |
| Hunter 90053 | No |
| KAZE Ultra Quiet | No |
| Hunter 83002 | No |
| Broan-Nu Tone 9093 | No |
| Broan-Nu Tone 696 | No |
| XIPUDA | Yes |
| Hunter 83002 | No |
Only the XIPUDA that have a total of 60 LED lights have this feature enclosed in their product.
Electrical Connection of the Fixture
| Exhaust Fan Model | Electrical Connection |
| --- | --- |
| Hunter 90053 | Hardwired |
| KAZE Ultra Quiet | Hardwired |
| Hunter 83002 | Hardwired |
| Broan-Nu Tone 9093 | Hardwired |
| Broan-Nu Tone 696 | Hardwired |
| XIPUDA | Hardwired |
| Hunter 83002 | Hardwired |
All Fan assemblies are hardwired, meaning that an authorized electrician has to wire it up and install controls and switches where applicable. None of them has a wall socket plug that will give you plug-and-play convenience.
Electic Heater Equipped to Bring Comfort
| Exhaust Fan Model | Heater (Yes/No) |
| --- | --- |
| Hunter 90053 | No |
| KAZE Ultra Quiet | No |
| Hunter 83002 | No |
| Broan-Nu Tone 9093 | Yes |
| Broan-Nu Tone 696 | No |
| XIPUDA | No |
| Hunter 83002 | No |
Only one of the fans, the Broan-Nu Tone 9093, come with a heater that is controlled by switches. The heater is a 1500 Watt heater that can easily take the chill out of any bathroom before a bath or a shower.
To Wrap Up: Which One To Buy?
The choice of which one will be the best will vary as dictated by circumstances, choices and other factors. However, my choice will be the KAZE Ultra Quiet because of its excellent documentation and all the options with everything. With the KAZE, you have the opportunity to choose between white light or natural light and a range of available features.
However, the choice is yours, and you must choose the one that will satisfy your needs and likes.