Have you ever felt like you're being baked in the stove room because of the high levels of heat? Well, considering that you have a stove in there, the room can get quite hot. Unless you manage its air circulation properly, there's a high chance that hot air will remain unevenly distributed in your house. So, who's going to come to save you? A doorway fan, of course. As the name suggests, these units latch onto the highest point on the frame of your door and move the hot air from the room. The sucked air will then be released into the rest of your house.
If you have a spacious house that needs its temperature evenly maintained, then installing a doorway fan in your heated rooms is the way to go. But which doorway fan should you go for? Which qualities should you look for? That's all that you will be learning in today's read.
1. Suncourt door frame fan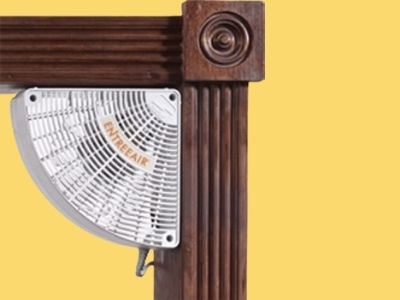 Features
Universally fits any door frame
Consumes as much energy as a bulb
Corded operation
Suncourt's door frame fan is all you'll need to efficiently move warm air from one place to another. No bigger than the palm of your hand, this fan is mounted on the corner of your door's frame, not giving the frame a bad look. The specialty of its fan lies in its performance and energy efficiency. As mentioned above, it won't take any more power than an average bulb through the cord.
Though doorway fans aren't designed to run for long periods, it is still impressive to say having this unit installed will bring little to no change in your utility bills. Don't judge the fan by its size, as it can easily move warm air from a room of up to 350 square feet and transfer it to the other rooms with ease. The installation isn't a hurdle either as it only requires around five minutes to get the fan running. However, we must mention that the fan isn't exactly the quietest. It gets the job done, but it is moderately noisy.
2. Minuteman International room-to-room fan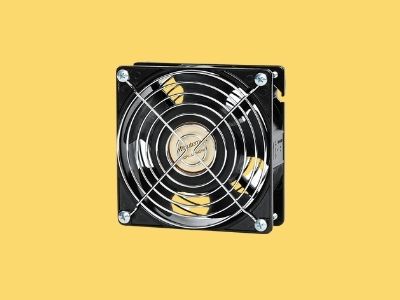 Features
1100 RPM reversible motor
55 CFM single-speed operation
11 ft power cord
Minuteman International brings you this doorway fan that comes in a square shape and fits in any doorway. It features a single-speed reversible motor that is capable of moving 55 cubic feet of air per minute. The fan comes with a pre-installed power cord that has a length of 11 feet, which makes things easier if you don't have an outlet nearby the frame. Furthermore, the fan comes with a bracket and screws to help with the installation. The hanging bracket does stick out a bit making the fan look slightly tilted, which doesn't look the best.
The unit has plastic propellers surrounded by a small black and chrome body which is attractive, to be fair. As for its performance, it doesn't lack there either, thanks to its lifelong lubricated motor which will serve you for a few years at least. The Minuteman doorway fan consumes no more than just 15 watts. In terms of quietness, all you'll hear is a humming sound from the fan.
3. AC Infinity dual room-to-room fan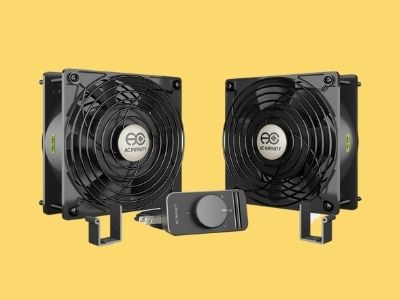 Features
Dual fans with ball bearings 
Speed controller
Power cord included
AC Infinity is a company that needs no introduction. It brings you dual room-to-room fans that are capable of providing 40 cubic feet of airflow per minute. These high-performance fans come equipped with dual ball bearings and a speed controller to make things easier. Depending upon the circumstances, you can set a suitable speed for getting the most out of these fans. As far as the installation is concerned, the fans come with a complete kit that includes everything needed to get them up and running. From the mounting bracket to the power cord, AC Infinity has got you covered.
Besides the power button, the speed controller allows you to set the fans on three different levels of speed, low, medium, and high. Rest assured that noise is the last thing you need to worry about with these fans. Even on the highest speed level, you'll barely hear these fans operating. Not to mention the dark sleek black body they have which is a visual treat itself.
4. Sandhill Super Quiet Fan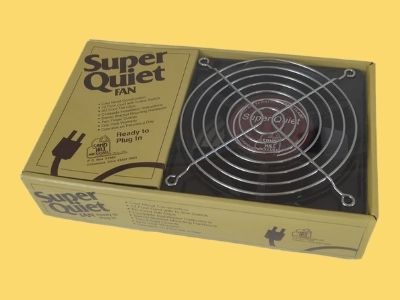 Features
Quiet operation
Powerful motor
50 CFM
Sandhill's super quiet fan is best for folks looking for a combination of power and quietness in a doorway fan. The fan comes with a sturdy frame and a chrome grill that surrounds a moderately-powerful motor capable of providing up to 50 CFM. Whether you want to cool your room or heat it up, this fan is all you'll need to get the job done. It can be mounted on the door's frame easily with its mounting bracket.
The small fan is relatively quiet, living up to its name. However, if you want it to be as quiet as possible, we'd suggest removing the chrome grill. Moreover, the fan has durable metal blades, unlike most doorway fans that come with plastic ones. To sum it up, Sandhill's super quiet fan is a reliable doorway fan designed to fulfill your temperature expectations.  
Those were our top picks of best doorway fans. Speaking of doorway fans, there are other similar options too which you can go for. For instance, transfer fans offer parallel features with some slight differences. Let us now discuss some of the differences between these fans:
Doorway fans vs Transfer fans
Doorway fans are known for being installed on your door's frame and moving warm air from one place to another. Transfer fans, on the other hand, are responsible for moving air from one room to another. 
| Doorway fans | Transfer fans |
| --- | --- |
| Moves warm air and regulates temperature | Moves air from one room to another, regardless of air being hot or cold |
| Installed on door frames | Installed on walls and ducts |
| Usually small sized | Usually medium/large sized |
Doorway fan vs transfer fan
With doorway fans, you get much more temperature regulation throughout the house. The fan pulls ascended warm air and pushes it out to the other side. In terms of application, doorway fans are usually installed around furnaces and stoves, so they can let the rest of the house have some of the hot air from that furnace room. Moreover, hot air rises upwards, which is why doorway fans need to be installed on an elevated surface. They won't work well if they're installed close to the ground. So, the ideal position for them is a door's frame.
As for transfer fans, they don't specialize in moving warm air throughout the house. Rather, they simply transfer air from one place to another. For example, if one of your rooms is warmer than the rest, you can use a transfer fan to move some cold air from the other rooms to have it shifted to the warm room. Transfer fans can be installed in walls through ducts.
What is a Box fan?
Another valid alternative for maintaining temperature is the box fan. Box fans are capable of pulling cold air and pushing hot air out. These fans are installed in rooms where it's too warm while the outdoor environment is chilly. They can bring cold inside and push the warm air outside. Box fans are capable of doing the opposite as well during the summer season. These fans usually come in larger sizes as compared to doorway fans, and in all sorts of shapes. They're also able to get the job done better than doorway fans due to their versatile specs and bigger size. However, they are also pricier than doorway fans and occupy much more space.
Conclusion
Doorway fans are ideal for moving warm air if you're on a budget and short on space. They won't come in your way and they don't break the bank either. However, if you're looking for better and bigger solutions, then we'd suggest looking into transfer or box fans. All of these fans help adjust your home's atmosphere. Picking the right type is what matters the most. We hope this read helps you choose the best doorway fan for you.