It's marvelous how far we've come with the cooling and ventilation technology. Room-to-room transfer fans show that you don't always need the pricey machines to have balanced and comfortable indoor temperatures. Using the simple laws of thermodynamics, these fans keep you warm in winters and cold in the summers, but we'll not get you tangled in the technicalities. The baseline is that these fans work wonderfully well.
Now all that remains is for you to figure out which one is the right for you. There are so many options available that it's hard to pick up just one. That's why we've narrowed down the choices for you to just the best four. 
Usually, room-to-room fans are noisy. Some of them can get annoying to the point that sitting indoors becomes unbearable. But that's not the problem with the ones we've got for you. We cherry-picked the quietest and the most efficient ones for you so that you stay cozy. Down below are the details for the top room-to-room transfer fans that you can get for your indoors. We've laid down the specs and pros and cons for each product so that your buying decision can become easier. 
Let's jump in and see the best room to room fans right away:
1. Tjernlund AS2 AireShare Room to Room Transfer Fan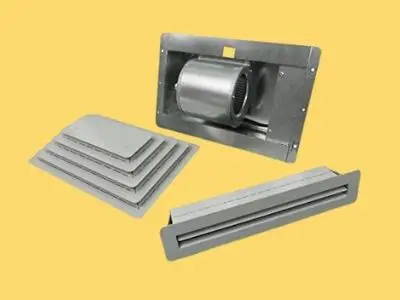 Features
CFM 80/95.
3-speed fan adjustment.
As quiet as 1 sone.
120V hard-wired power supply.
Easy to install.
This is one of the top-quality room-to-room fans available in the market. Tjernlund AS2 has a sturdy make which makes it a solid option for you. It's built with alloy steel 4130 and weighs 14.7 pounds. Its airflow capacity is 110 cubic feet per minute which are sufficient to deliver high performance in rooms up to 275 sq. ft. Its noise output is around one sone, which translates to about 40-50 decibels. It's really low on noise, and unless you are all ears to the wall, you'll probably not even realize that the fan is on. It comes with several wall mounting options which makes it easy to install. 
AS2 has better functional specs than its older model AS1 which misses some key features and lacks in performance. Those problems have been effectively solved with AS2. It can be controlled by a wall switch which makes it super easy to operate. 
Overall, the Tjernlund AS2 is a premium quality room-to-room fan up for grabs. The results are decent. Works best in the rooms with HVAC systems installed.
2. Suncourt TW108 ThruWall Room to Room Transfer Fan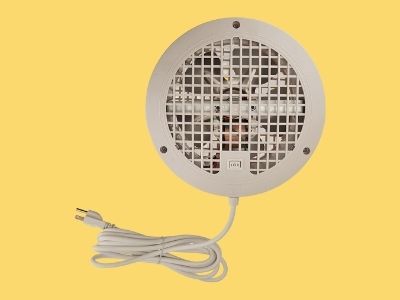 Features
Improved air circulation indoors
Made in the USA
Easy to setup
Low noise levels
The Suncourt TW108 is another phenomenal room-to-room fan built to perform in all seasons. It's designed to make your HVAC systems perform better. The working mechanism is simple; it pulls the air from one room and throws it into another one. That's how it keeps rooms warm in winter and cold in summer. It's designed to deliver performance for multiple purposes; compatible to use with PTAC units, mini-split systems, wood and pellet stoves, window AC units, etc. Its speed adjustment options could be better. It only offers 2-speed options whereas other products offer 3 are or more. But that usually doesn't become a problem since the two available options get the job done in most cases. 
The Suncourt fan is high value for money. Compared to other products in the market, it's considerably lower in price without much compromise on the performance. Also, it's really easy to install. Plus, the installation manual and the user's manual make things even easier for those who get this product. The fan circulates the air at 195 CFM, and the TW108 is ample to aerate a room that's 440 sq. feet in size or smaller. 
Summing up, if you are looking for something silent, easy on the pocket, and decent on functionality, then Suncourt TW108 can be the perfect room-to-room fan choice.
3. Suncourt TW208P ThruWall Hardwired Room to Room Transfer Fan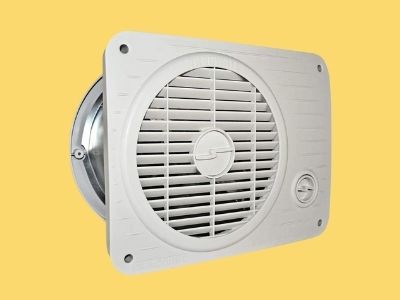 Features
Delivers good performance in all seasons
Easy to install
15*15*6 inches in dimension
Made of wood
TW208P is another brilliant offering by Suncourt. It's perfect for indoor rooms of size 200 sq. feet or lesser. The mechanism of this machine is made to deliver top-quality performance with absolute efficiency. You can use this product without any worries about seeing a hike in your electricity bill. It's professionally hardwired to deliver a sleek finish. Basically, having this product installed will make your room look aesthetically great as well as comfortable. The circulating air size delivered by this fan is up to 100 CFM. There are hundreds of positive reviews on Amazon, which validates this product's performance. It's truly worth getting this one for less than $100. Its performance competes with room-to-room fans that are in the higher price bracket.
Just one downside to getting this one is that the covered area is really less. It'd be better if this fan could handle rooms of size above 200 sq. feet. So, if you have bigger rooms, it's better if you steer clear of this fan. However, this is a good room-to-room fan to get for those with 200 sq. ft. indoor rooms or less. It works best with your HVAC systems and can improve their efficiency as well. The noise levels are low with this one as well. So, unless you are trying to hunt the fan's buzz consciously, there's a high chance that you won't even notice that it's turned on. 
The final verdict is that it's a great product to have for the price at which it's commonly offered. It's built to function well in different indoor settings. You can use it in home, office, dormitory suites, hotel suites, or any other rooms.
Broan-Nutone 511 Room-to-Room Ventilation Fan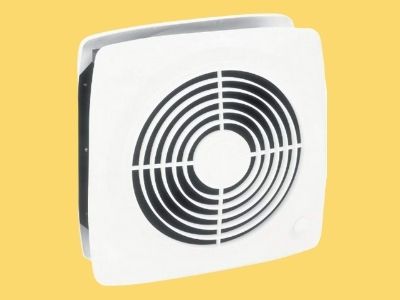 Features
A powerful machine that gives air at 180 CFM
Its design makes your room interior look good
Permanently lubricated plug-in motor
Weighs 3 pounds
The Broan-Nutone 511 is a power-packed product that's built to deliver only the best performance. Its dimensions are 11.25*3*11.25 inches. It's relatively smaller in size compared to the other products available in the market. But its machinery is built to outperform most products of larger sizes in the market. This room-to-room fan comes with solid-state speed control for fan speed and sound level selection. The Broan-Nutone 511 is a must-have if you want something that offers great performance while keeping your indoors pleasant. Its powerful fan motors don't let any odour stay indoors. If you smoke indoors, then this will eliminate the smell for some time. You can also use it in the kitchen to keep the smell from accumulating inside. 
There's just one drawback to it; the machine is a little noisy when compared to other products in the league. So, if you can ignore some background noise as a trade-off for greater performance, then you should definitely consider getting this room-to-room fan. It comes with contemporary styled grilles which make most modern indoor spaces beautiful. As far as the weight is concerned, it weighs just 3 pounds. Overall, it's worth the money. This machine will keep your indoor atmosphere comfortable and pleasant. Unless you are annoyed by the tiniest background noises, it's safe that you proceed to buy this one. Also, at slower speeds, this fan really dumbs down the noise.
If there's to be a final verdict about this product, then it's definitely recommended. It performs great and is built by a reliable company. 
Final Words
Getting room-to-room fans is a great way to have pleasant indoor atmospheres without investing much. These fans work amazingly well with the HVAC systems and help reduce electricity bills as well. These fans are multipurpose. Not only are they built to regulate indoor temperatures, but they also help with removing odor and smoke from indoor spaces. 
We researched well and brought you the 4 best room-to-room fans. These are the best in terms of performance, quietness, and value for money. It's now up to you to choose the one that fits your needs the best.