There isn't anything as frustrating as a hot and humid laundry room that smells of chemicals after long hours of laundry on the weekend. A laundry exhaust fan can help you avoid this terrible scenario by circulating the air in your laundry room and quickly removing it from the premises. The great news? You don't need to break the bank to get one because there are many affordable models on the market today.
When you're shopping around for a laundry exhaust fan, it's important to do your research before buying anything else. In this guide, I have reviewed the six best products on the market, so you can make an informed decision when it comes time to purchase. So, if you're planning on installing an exhaust fan in your laundry room, consider our top picks as a starting point for your search:
1. Broan-NuTone AE110 Invent Flex Energy Star Qualified Single-Speed Ventilation Fan
This energy-efficient exhaust fan is designed for a continuous use application. It features a compact housing that mounts directly to the inboard joists, making it an ideal choice for an easy new installation. This exhaust is suitable for laundry rooms with up to 105 square feet.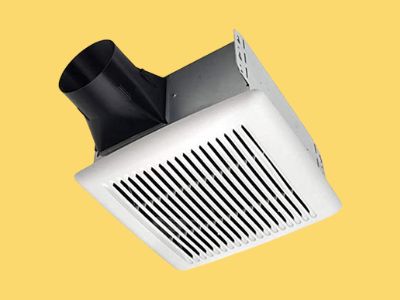 Highlights:
Innovative grill design to match any décor
Efficiently works at 110 CFM
TrueSeal Damper Technology reduces air leakage
Easy retrofit installation can be done without attic access
Operates quietly at 1.0 Sones 
2. Broan-NuTone AE80LK Flex Exhaust Ventilation LED Light, Energy Star Certified
This fan is powerful enough for smaller laundry rooms with 75 square foot area. The retrofit installation makes it easier to install a new fan or replace an old one from the room side without access to the attic. It is specifically designed to circulate air and remove odors from the area, making it an ideal model for a laundry room.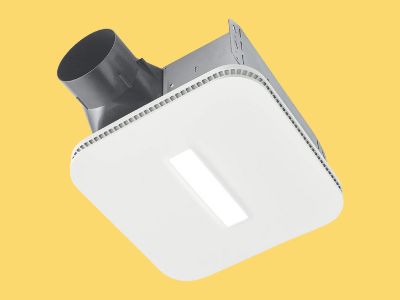 Highlights:
Operates efficiently and quietly at 80 CFM  with a low noise level of 0.7 Sones
Features an LED light
TrueSeal damper Technology reduces warm and cold air backdrafts
Backed by an impressive three-year limited warranty
ENERGY Star certified 
3. HG POWER 2350RPM Silence and Quality Exhaust Extractor Fan
This modern exhaust fan is ideal for eliminating humidity from the laundry room. The best feature of HG Power is that it can be installed in two ways, i.e. can be wall-mounted or ceiling-mounted as required. It has seven blades design, making it highly efficient. Moreover, it has a back draft damper to help prevent the entry of sundries.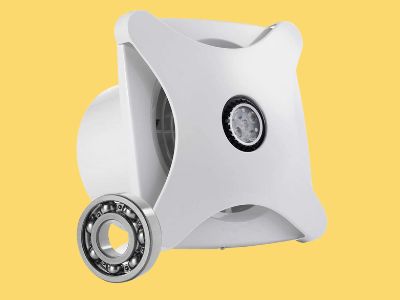 Highlights:
Made of high-quality, durable ABS plastic
The long operational life of over 50,000 hours
Waterproof with IP34 protection class
Reliable low-watt motor for continuous use
Two-way installation: through the wall or on the ceiling
4. iLIVING Wall Mounted Shutter Exhaust Fan, Automatic Shutter
It is a wall-mounting exhaust fan with a powerful permanently lubricated motor. It will last long because of the corrosion-resistant build quality. It is engineered to move more air compared to other exhaust fans of similar size. The noise level is less than 64dBA and comes with bumper strips to reduce noise when the shutter is closed.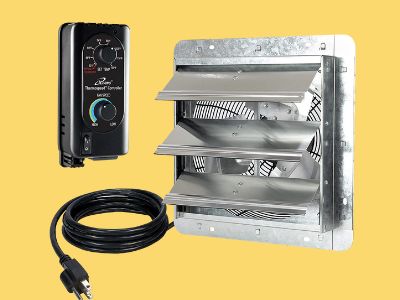 Highlights:
Corrosion-resistant build
Galvanized steel frame with aluminum fan blades and shutters
Fully enclosed shutter and thermally protected motor
Sealed design to block flying bugs
Variable speeds and thermal control features
5. Panasonic FV-0510VS1 WhisperValue DC Ventilation Fan
The super-efficient exhaust fan can conveniently be mounted on the wall or ceiling. This exhaust fan produces maximum airflow and removes air impurities at a whisper-quiet level. The revolutionary ECM motor detects the resistance in the duct and automatically adjusts the fan speed to deliver optimal CFM output for efficient performance. Panasonic prides itself in making fans that use less energy to move larger amounts of air compared to other brands in the market.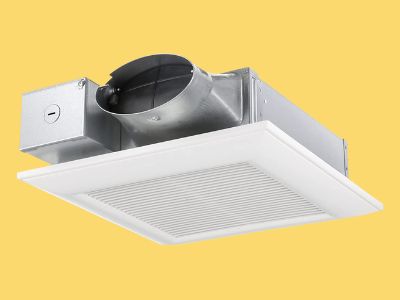 Highlights:
Slimmest design for a discrete presence
Variable speeds of 50-80-100 CFM
Whisper-quite operation
Easy to install with a unique L-shaped bracket
ENERGY Star certified: efficient work without wasting energy
6. AC Infinity AIRLIFT T14, Shutter Exhaust Fan with Temperature Humidity Controller
This high airflow exhaust fan is designed to get rid of the heat and moisture of a laundry room through the wall. It features an LCD that has remote smart temperature and humidity sensors. It also allows adjustable fan speeds. EC motors help reduce energy costs by up to 40 % compared to AC motors. Weather and corrosion-resistant steel shutters and aluminum blades add to its durability.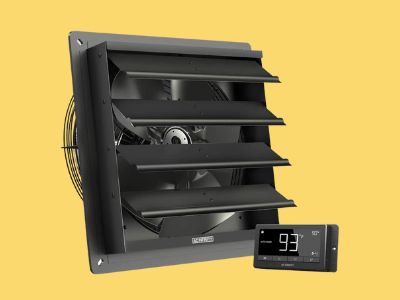 Highlights:
Smart programming controller for automated airflow and speed
It can be manually set to run continuously or on a custom speed with a timer
Weather-resistant with an IP44 rating
EC motor for higher performance and energy efficiency
Performs at reduced noise output
How do I choose the right exhaust fan for the laundry room?
As a homeowner, it's your responsibility to choose your laundry room exhaust fan. To help get you started, here are a few questions you should ask yourself before making a purchase How big is my laundry room? What kind of environment do I live in? What kind of budget do I have? And how much noise will I put up with? These are just some questions to answer when choosing an exhaust fan.
Here are some factors to consider when choosing the best laundry room exhaust fan for your space:
Fan size
Most exhaust fans have a CFM (cubic feet per minute) rating. While there's no hard and fast rule for how big an exhaust fan should be, most professionals agree that you would need 1 CFM for every square foot of the laundry room. Getting the right sized fan will reduce energy usage while efficiently removing any excess moisture or odors in your laundry room.
Ceiling or wall-mounted 
You can choose between ceiling-mounted or wall-mounted exhaust fans for your laundry according to your needs. Each of these types has its pros and cons, so decide wisely.
If your laundry room is on the first floor of a multi-level building and has an exterior wall, a wall-mounted exhaust fan is the best option. A wall-mounted fan can be vented to the exterior directly through the sidewall. It is ideal for wet and colder areas as the absence of a roof vent removes the chances of a roof leak. However, a direct link to the outside can bring in cold air inside or cause heat loss to the outside.
Ceiling-mounted exhaust fans are installed into the ceiling and require a duct to vent outside through the roof. These exhaust fans are quieter and more discrete than wall-mounted fans. Ceiling exhausts are ideal if your laundry room has direct access to the roof for easy venting or is situated on the top floor.
Special features
Modern exhaust fans have several added features that can enhance your experience of using them. Motion sensor ventilation fans with built-in nightlights can help keep you from fumbling in a dark room. Another great feature is humidity control, which automatically adjusts your fan speed based on relative humidity levels, thus reducing unnecessary energy use. Variable speed control can help you choose the perfect fan speed as needed. Some exhaust fans also have a built-in heater for a more comfortable user experience.
Noise level
Noise level is measured in sones. If you're worried about noise, ensure your laundry room exhaust fan works in a whisper-quiet way. Experts recommend choosing an exhaust fan with a noise level of 1.0 sones or less. You can easily find exhaust fans with lower than 1.0 sones for a fresher and quieter laundry room.
Efficiency
Look for exhaust fans that consume less energy so you can have a low energy bill. Look for ENERGY STAR certification for peace of mind. However, choose a fan that works efficiently according to the size of your space. A unit that is too small for your laundry room will only serve to circulate warm air and make conditions feel hotter. If a fan is too large for your space, it will be less effective because airflow won't be uniform across all areas of your laundry room.
Conclusion
A laundry room exhaust fan plays an important role in the day-to-day running of your home, and picking the best one means you can enjoy long life from it, too. There are various choices if you are interested in purchasing a laundry exhaust fan. You can choose from various brands, each with different features, prices, and designs. However, these choices can be overwhelming if you are unsure what to look for in a good fan. So, I hope this article will help you choose the right laundry exhaust fan which will work best in your home.