The concept of 'curtains' is normally perceived as hanging cloths or blinds from rails attached above windowsills. 'Curtains' gives off the image of something that blocks light early in the morning when you want to sleep in. They can also block some wind, and definitely obstruct one's vision. So, when you think of air curtains, do you think along the same lines? You'll be surprised to find out that air curtains per se, are very different and are not even used on windows; and they don't, in fact, block light at all. 
Air curtains are also popularly known as "air doors" for their capability to act as an invisible air barrier. They are fan-powered devices, installed over the doorway to create an invisible barrier between two separate environments. Air curtains blow out air across an opening to ensure that an air seal is created. Such an air seal is to let the warm or cool air inside remain inside without having the outdoor weather affect the temperature inside with a door opening and closing. Because the curtain is simply made up of air, it also allows for continuous flow of traffic and an unhindered field of vision through the opening.
1. Awoco 36 Inch Commercial Indoor Air Curtain FM-1509SA1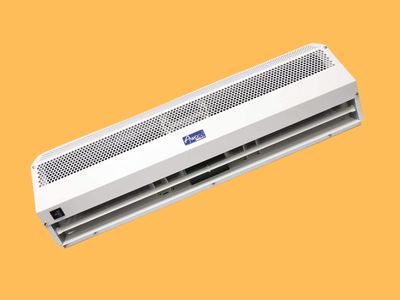 Highlights:
Airflow efficiency is 1200 Cubic feet per minute per watt 
Optional Door Switch 
It runs on 2 speeds
Consumes less power 
Easy installation  
Anti-erosive protective slim body 
Electrically corded power source
The Awaco air curtain is a powerful fan that should not be confused with an air conditioner. It isolates the exterior and interior air environment and maintains the temperatures in the interiors. It is a high-energy barrier that is invisible and allows the warm air or cold air to stay inside. With the door switch installed, the air curtain will automatically turn on when the door is opened and turned off when closed. This feature is completely optional, and the air curtain will certainly do its job without it. Without installing the door switch, the air curtain can remain turned on for up to 8 hours continuously. 
The air curtain can run on two variable speeds – one very powerful and high speed at 1177 CFM and 58db. The high speed ensures airflow for high entrance and maximum performance. The other speed is the low speed which works at 942 CFM and 56db. Low speed is to save energy consumption and is best for quiet areas with a regular entrance, or even a drive-thru window. Working on 120 V, 60 Hz, and 300 W, this air curtain uses less power than other industrial air curtains. Since it has adopted the latest German technology, it can keep working for hours at a stretch using 1 motor and 2 ABS fan wheels. 
Additionally, its installation is easy as the manual explains how to install this specific air curtain. As a part of the installation, all you have to do is understand the wiring connection and identify a removable mounting plate for easy and secure installation. The metal case is coated with anti-erosive powder and the casing is all fireproof. The casing can also be painted to suit the room's walls and fit in with the aesthetics of the room.
2. Vevor 36 Inch Air Curtain, 2 Speeds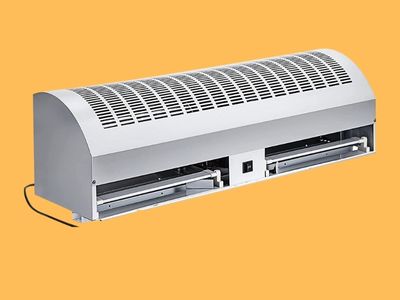 Highlights:
Powered by gas 
Adjustable at 2 different speeds
2 limit switches 
Produces little noise and has high applicability 
Easily installed 
Vevor air door curtains have an energy consumption of 329 Watts and isolate the interior from the exterior. This air curtain can be controlled via an app and creates a high-speed airflow at the entrance. Vevor ensures that 90% of the hot or cold air is avoided, along with smoke and exhaust gases. The Vevor air curtain has 2 available speeds at Lo/Off/High Switch. The high speed consumes 329W of power and functions at 1511 CFM. On the other hand, the low speed consumes 247W of power and functions at 1372 CFM. These two available speeds make it feasible for you to switch to either one of them depending on your preference. 
The pure copper metal used in Vevor uses less power at any of the 2 speeds than its competing air curtains. Since it comes with 2 switches, one of the two switches is a roller plunger micro switch, while the other is an adjustable roller lever arm switch that allows comfortable door mounting. In the Vevor air curtain, the indoor air curtain can automatically open when the door is opened, and close on its own as well when the door is closed. 
Operating at or equal to 60db, the Vevor air curtain has low noise as it is designed as such. It also has versatile uses and can be installed at entrances of shopping malls and supermarkets. It can also be utilized in lobbies and restaurants' doorways. It guarantees easy installation through a straightforward user manual that comes with the product. Vevor 36 can be installed simply in doors that are 3.5m or 137.8" high.
3. Crispaire 36-Inch Air Curtain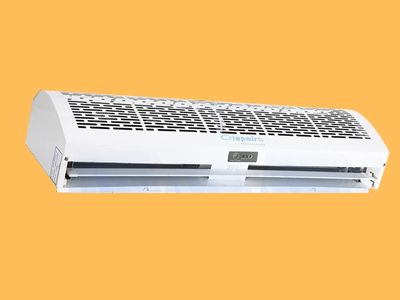 Highlights:
Remote control or button control 
2 adjustable speeds 
Pure copper motor and low-noise wind rotor 
Easily installed and is wall mounted
Used for various purposes 
It is a new, modern air curtain that is essentially a decorative ventilation product with an attractive appearance. Crispaire is a commercial air curtain, working as an efficient barrier that blows wind out at a high speed to formulate an isolation air curtain. It has an all-metal high-quality casing with an electrostatic spraying process and a honeycomb design. Its installation height is 8.2ft to 10.5ft, and its maximum height can not exceed 11.5ft. 
The Cirspaire air curtain comes with remote control and free batteries. With the remote, you can easily control the switch of the air curtain to turn it on or off depending on your needs along with adjusting the air-blowing speed between high and low. Nonetheless, buttons are present on the machine's body, so you can choose to adjust these settings without the remote as well. These two available control methods allow convenience, comfort, and ease. This air curtain has 2 speeds you can pick from – high and low. You can freely select either one of them according to different usage environments or purposes. The low speed operates at 826 CFM and the high speed at 941 CFM. 
As tested by technicians, the air velocity's maximum reach is 2953 FM and a noise level of only 59 dB. The pure copper motor used for its mechanics, makes sure operation is smooth, there is protection from overheating and consumption power is low. The wind rotor, in the meantime, only makes 59 dB of noise contributing to the air curtain being mostly quiet. The package comes with an easy-to-use user manual that offers detailed descriptions with pictorial representation to explain how to install the Crispaire air curtain. Crispaire is highly applicable and versatile in its uses. It is suitable for shopping malls, offices, factories, hotels, and guesthouses. You can even use them in conference halls, refrigerators, kitchens, restaurants, and other commercial spots such as garage doors and salon doors. 
4. Mars Air Systems, LPV272-1UA-OB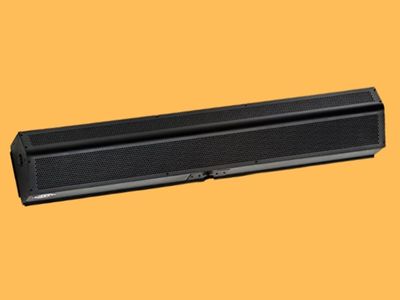 Highlights:
Adjusts at variable speeds 
Sleek, minimal, and consumer-friendly design 
Long warranty of 5 years for its parts 
HP direct-drive motor
Mars' LPV series is the anchor of its LoPro series. The Mars air system is made with a sleek and quiet design that makes it ideal for commercial installations where customer-facing is greater than in other places. The minimal design also oversees the maintenance of a low profile, contributing to an area's aesthetics. The variable speed control allows you to turn the air volume up or down, depending on your prevalent requirements. Made in America, the air curtain produced by Mars has an HP direct-drive motor.
5. Strongway Air Curtain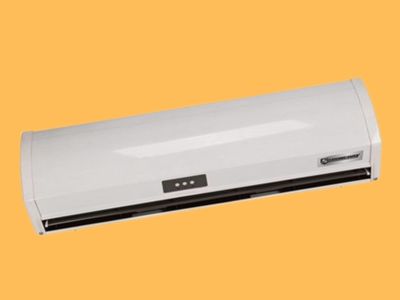 Highlights:
Remote control 
Improved sanitation 
High expected performance  
Diverse areas of usage
Strong built 
The Strongway air curtain results in the separation of the environmental flow of air and consequently produces lower energy costs. They are perfect to block cold winds reaching inside in winter, and blocking hot winds in summer. This model can be mounted up to 8 feet high and has easy installation and maintenance. The best part is that its operations are relatively quiet. It can be controlled via a remote control that is an already included component. The Strongway Air Curtain provides enhanced sanitation by preventing the entrance of flying insects. 
Its performance is supreme since Strongway fans utilize aerodynamically balanced aluminum blades to deliver an airflow of 816 CFM to quickly cool larger spaces. As a part of its energy-saving control measure, it uses 2 speeds. The Strongway air curtain is mainly designed to cater to regular users for their DIYs, as well as for professionals alike. It can, therefore, be used for customer entrances, concession stands, and drive-up windows, along with standard household outlets. 
All in all, its usage is highly diverse and you can be made to fit your needs. It is built with an all-metal casing and corrosion-resistant coating to ensure long-term durability. Moreover, the direct drive motor is fully enclosed to prevent the build-up of dust and debris to sustain the product for years to come. The drive motor is 1/2HP as it uses less power and proves to have low maintenance in comparison to other motors.
6. Wall Mounted Air Curtain Fan – DuraSteel Aerial Titan-2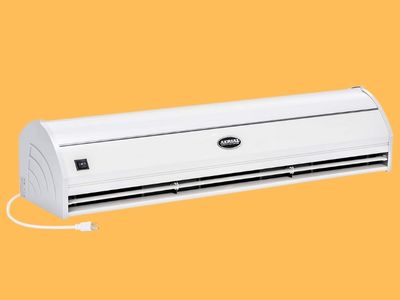 Highlights:
Electrically corded power source 
Remote control. 
Impeccable craftsmanship 
Plunger micro switch 
Variable speed switches
Safe to use because of its structure 
Easy installation  
DuraSteel Aerial Titan 2 is an air-curtain with German industrial electrical machinery for long hours of running. This model has specifically made safety its priority and can be used for various doors such as pull-and-push doors, roll-up doors or even sliding doors. The Aerial curtain is user-friendly, doesn't require much maintenance, and can be controlled by a remote. It is ideal for applying at doorways to restrict the inner environment from the outer environment. Aerial takes pride in its unbeatable craftsmanship because the air curtain is made from German electrical machinery that guarantees the motor's running for 5000 hours. 
It is also certified by the UL and permits commercial use in both safety, and reliability. It comes with a plunger micro switch that makes the air curtain turn on or off automatically, contributing to stretching its life usage considerably. The door pushes the rod on the switch to stimulate the automatic operations of the Aerial Air Curtain. The air curtain can be turned on at two different speeds, high and low both. The two air volume modes can be chosen according to one's use from a Hi/Lo/Off switch. High speed is preferred for high entrances, and low speed is preferred to use in areas that are usually low. 
DuraSteel Aerial air curtain is fireproof and is also made up of anti-corrosion material. It is even made up of an anti-rust case that ensures safety and avoidance of damage. The casing's structure makes it easy to clean and prolongs its life. For simple and reliable installation, all you have to do is remove the mounting plate. The manual provided additionally also makes the process easier and gives more insight on wiring and makes using the plunger door easy.
Benefits of an Air Curtain
Amongst many advantages of installing an air curtain, one is undoubtedly ample energy savings as it assists in confining cooled or heated air. Air curtains have also been seen to increase personal comfort when installed in commercial or industrial settings. They protect the contained area with cold air, or warm air, depending on the indoor and outdoor temperatures. Safety from insects and pests is also guaranteed, along with fumes, bad odors, dust, and pollution. 
The effects of wind draughts can also be prevented from air curtains. Due to these advantages, a clean atmosphere with increased health and hygiene is prevalent in areas where air curtains are found on doorways. Air curtains have numerous benefits, and they make the cooling and heating system inside more effective, and worth every penny.
Things to look for to choose the right air curtain
Once you know which air curtains are available in the market with their respective features; it's time you now see how to pick the best one depending on your usage. The way you use your product and the space it needs to be installed in will determine which air curtain is best for you. The key factors that you need to keep in mind are: 
1. The door's height 
The whole purpose of the air curtain is to isolate the internal and external environment, and that can vary with the airspeed. Too high an airspeed or too low an airspeed can have respective consequences. Typically, as the air outlet distance increases, the airspeed decreases. Low airspeed reduces the effect of air curtains, therefore, when the air reaches the ground, it is not at a suitable speed and will hinder isolation. If the airspeed is too high, it causes discomfort to those passing through the air barrier, and will also disturb the air need the door. High speed also results in increased bills because of higher power consumption. Therefore, measuring the door's height is important to ensure efficient and effective construction of the air barrier. 
2. The door's width
The width of the door will help you in purchasing an air curtain of the appropriate size. If the size of the air curtain is shorter than the width, then air will not be blown in the uncovered area, defeating the whole purpose of installing an air curtain. If the curtain's width is greater than the doorway width, then the money paid will be greater than your requirement and will also result in greater electricity bills. If the air curtain is not purchased with an appropriate length, it will either lose function or simply waste your money. Hence, make sure you measure the width precisely and put it up against the length of the air curtain. 
3. The general purpose of your air curtain
Air curtains are becoming increasingly because of their returns on investment. The purpose behind purchasing an air curtain will determine how much you're willing to spend on them. If you're using air curtains for commercial use, then the benefits of it will outweigh your initial investment as its benefits are uncountable. Almost every business user installs air curtains for their commercial use to reduce energy consumption, maintain hygiene, and truly isolate the indoors from the outdoors. 
If you're using air curtains for decorations, then your requirements will differ. If the store is small and works on a low scale, then it's best to use cost-effective air curtains. But, if they're being installed in shopping malls or larger stores, then air curtains are purchased for decorative effects as they can then be matched with the brand's benefits. Moreover, if you're using air curtains for industrial purposes such as warehouses, then more powerful air curtains will become the need of time. 
4. The climate in the installation's location 
Knowing the air temperature throughout the year helps in selecting a more suitable air curtain. In winter, if the temperature is 20 degrees or more, then a heated air curtain may not be required. However, if the temperature is lower in winter, then you will likely need a heated air curtain. 
In coastal areas, the humidity is generally higher. High humidity in the air is corrosive for equipment compared to other climates. For this reason, air curtains are specially designed for humid or coastal areas, so be sure to pick the right one. Lastly, If the installation location encounters frequent winds, then an air curtain with increased power is required. 
5. The pressure difference between the external and internal environment 
An air curtain's function is to isolate the indoors and outdoors, preventing an exchange between the temperature as well as the pressure. Thus, knowing the pressure difference is important as gas will flow from a region with high pressure to a region with low pressure. If the air pressure difference is high, then the air circulation between the two environments will be quicker. Hence, choosing an air curtain with a higher speed would be more suitable for this case. 
6. The door's structure
The door's structure dictates how an air curtain should be installed, and, subsequently, which one is most applicable for it. If the air curtain always has to remain turned on due to the door opening and closing frequently, then ensure that the air curtain you select can operate for longer hours. However, if the doors are induction doors, then air curtains can automatically turn on or off. 
If there is no space to hang air curtains on the doorway, then air curtains can be installed vertically – one on either side of the doorway or just on a single side. Revolving doors make the situation more complicated, and for that, you will need to contact an expert in the field before purchasing an air curtain. 
Conclusion
The factors mentioned above are key elements you should keep in mind before investing in expensive equipment such as an air curtain. Use these factors and their effects to properly understand what your exact expectations are from an air curtain, and how you can fulfill these requirements. Knowing this will help you in making the best decision when selecting which air curtain is the right one for you. So, use this buyer's guide and other best air curtain options to find your choice.