Like a wise man said once, a video is worth 100,000 words. There are pleanty of whole house fan installation videos are available on Youtube, so I don't see any point in writing a long article about the same. So I am linking here the installation videos that I think are the best.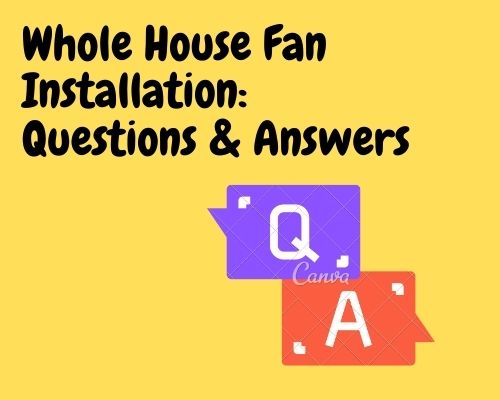 But before that, there are a few things to know about the fan you buy (if you haven't already bought one.) The distance between the joists of all houses in the USA is either 16 inches or 24 inches. There are many whole house fan models that are made to fit within these dimensions so you wouldn't have to cut the hoists for installation. If you buy one of those whole house fans (QuietCool fans are a good example) the installation will be much easier.
That being said, even if the fans are larger in size, some models can be installed over the joists (one joist at the center). It all depends on the model you buy. If you are new to buying whole house fans and wondering what the right size would be here is a detailed size guide.
Installation of QuietCool whole house fans
Here is a video explaining the installation of a whole house fan by QuietCool. This is a duct type whole house fan so the fan part is actually hung from a rafter.
Since these fans are designed to fit within 16 inch joist spacing there is no need to cut the joists, and the installation is relatively easy.
Installation of larger whole house fans
Here is the installation video of a Cool Attic whole house fan which is larger in size than the joist space. See how the fan is installed over a joist to avoid cutting it.
What is the best location to install a whole house fan?
The best location to install a whole house fan is the ceiling in the central hallway of your house. As this is an unobstructed location equally spaced from all sides of the house the fan will be able to draw air easily through all the rooms without much effort.
However, it is not mandatory that the fan is installed at the center of the house. Any location will do as long as the flow of air to the fan is unobstructed. The number of windows to open,and which ones to open vary depending on the fans location.
The best location to install a whole house fan for a two-story house is the ceiling above the stairs. This will allow easy flow of air from the ground floor as well as first floor.
How to install a whole house fan without an attic? What about vaulted/cathedral-like ceilings?
It is still possible to install a whole house fan even if your house doesn't have an attic, or if it has a vaulted ceiling. There are certain whole house fan models made specifically to suit this requirement. They can be installed on the roof of the house. Here are two such models;
Can a whole house fan be installed vertically?
A whole house fan should not be installed vertically unless it is designed to be so. For example Cool Attic fans are designed to be installed horizontally while Quietcool fans are installed vertically.
Installing a whole house fan vertically will cause more friction in its bearings and it will get damaged within a short time,and can even cause fire hazards. If you are unsure, please contact the manufacturer of your model before installing it.
Related Posts: