The ceiling fans offered by various brands are now equipped with lights to up their glam quotient. In fact, this is the most common use of ceiling fan lights. They are often used as an alternative to the chandelier in a dining room or any other room in the house.
In the unfortunate case when your fan is not working and need replacement, can you use the old light kit on the new fan? Are ceiling fan light kits interchangeable?
Many ceiling fan light kits are universal and can be interchanged. However, some light kits are made to fit some particular models of ceiling fans only. Therefore, whether or not your light kit can be used with another fan can be decided only after checking the manufacturer's instructions.
For example, for a brand like Casablanca, only a Casablanca light kit is compatible with their fans.
How do I know whether a light kit is suitable or not
It is possible that your ceiling fan is compatible with different light kits. There are a few ways to check this;
Check with your manufacturer to know if it is okay to use a different brand light kit. Most people will advise that you always buy a light kit to match your ceiling fan model and that is the safest option but you may not have to. Although you should consider the size and type, most universal ceiling fan light kits can work just fine with your fan. 
Another thing you should check is the bulb of the light kit. Some bulbs produce more light than others, if your room is big, you will need more than one bulb. Other bulbs like CFL (energy-efficient compact fluorescent bulbs) and LED bulbs save energy. For the style of the light kit, you can get the bowl design with a single light source or the multi-light kit with lampshades.
Some companies market their light kits as "universal" even though it is only universal for "their brand of ceiling fan", other "universal" light kits may be universal for a particular diameter of the housing unit. You may have to do a little research before buying a universal light kit to make sure you are getting the right one.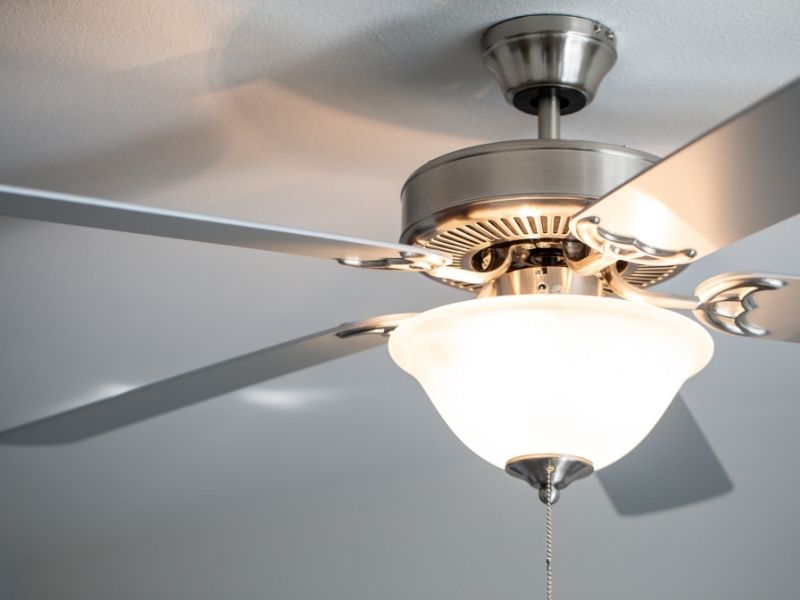 How to know if your fan is light kit compatible? 
If your fan doesn't already have a light kit but you would like to have one, you need to check whether it has the provision to add a light kit. To do this, first, make sure your ceiling fan has a housing unit at the center, this can be hidden under some decorative covers. 
Next, You have to remove the screws in the area to check for light attachment points and wires inside the housing cap. The wires may even be labeled for lighting, if they are not, the blue wire and white wire are usually connected to the light kit. If your fan has a switch housing cap with a center hole, there is a high chance that it is light kit compatible, if it does not have a housing unit cover that can be opened then it is not compatible.
How Do You Install A Universal Ceiling Fan Light Kit?
Installing a ceiling fan light kit is not as hard as you may think, you can do it yourself at home with no hassle at all. If you are attaching the light kit to a ceiling fan with no previous light fixture, first make sure that the fan allows for light installation.
You have to do a little prepping before diving into the installation. Get a screwdriver, wire caps, electrical tape, and of course, the proper light kit to fit your fan. 
Turn off the electricity at the circuit breaker to avoid accidents.
The light kit will be attached to the fan through the switch housing. You will need to remove the cover plate by taking out the screws holding it in place at the bottom edge. Remember to keep the screws safe.
Remove the center stud of the cover plate.
Unwrap the wires of the light kit and stretch them out. Remove the nut and washer.
Pull the wire through the center hole of the switch cap and secure it with the nut and washer you earlier removed. 
Connect the white wire from the fan to the white wire of the light kit. Do the same to the blue wire from the fan and the black wire from the light kit.
Some light kits may come with a quick connect instead of open wires, this makes the connection process easier . 
Once you have properly connected the wires, reattach the cover plate tightly using the screws you saved earlier.
Now you can attach the light shades and bulbs. Turn on the electricity to try out your new ceiling fan light kit.
5 Best Universal Light Kit for Ceiling Fans
Don't know where to get started on buying a universal light kit? Check out our recommendation.
Kathy Ireland Home Seaside Ceiling Fan Light Kit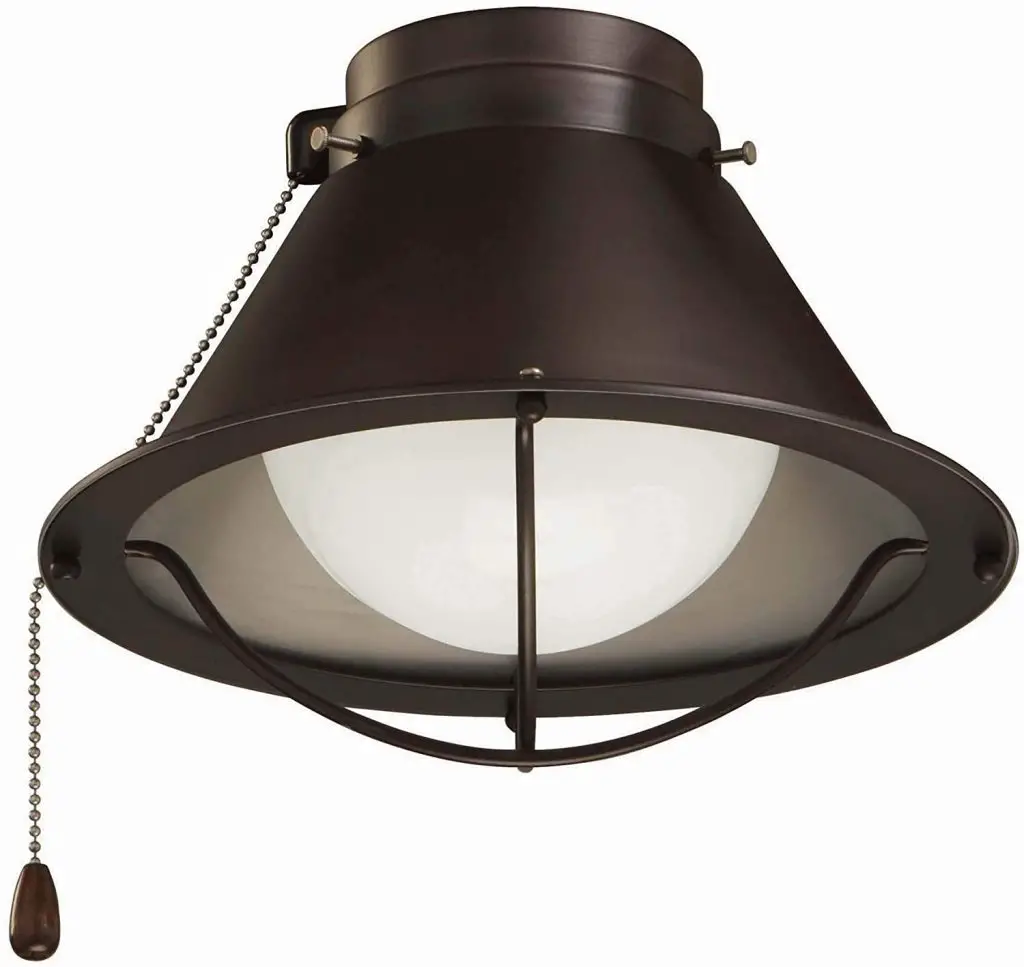 Kathy Ireland ceiling fan light kit is the perfect choice for your outdoor and indoor décor. The simple yet stylish design would enhance the beauty of your living room, bedroom, bathroom, or kitchen. It enables you to create different lighting ambiance in any place. With a caged-shaded globe light to give it a vintage look, this light kit tops the list. Add a nautical flair to your interior with this elegant and stunning ceiling fan light kit by Kathy Ireland Home. The oil-rubbed bronze finish with opal matte glass gives this ceiling light a warm, charming look that's perfect for both indoor and outdoor spaces. The light is wet location rated for outdoor spaces, regardless of exposure to precipitation. The ceiling fan light kit measures 9-inches wide by 7-inches high and provides a vintage, nautical light.
Progress Lighting P2621-09EBWB Ceiling Fan Universal Light Kit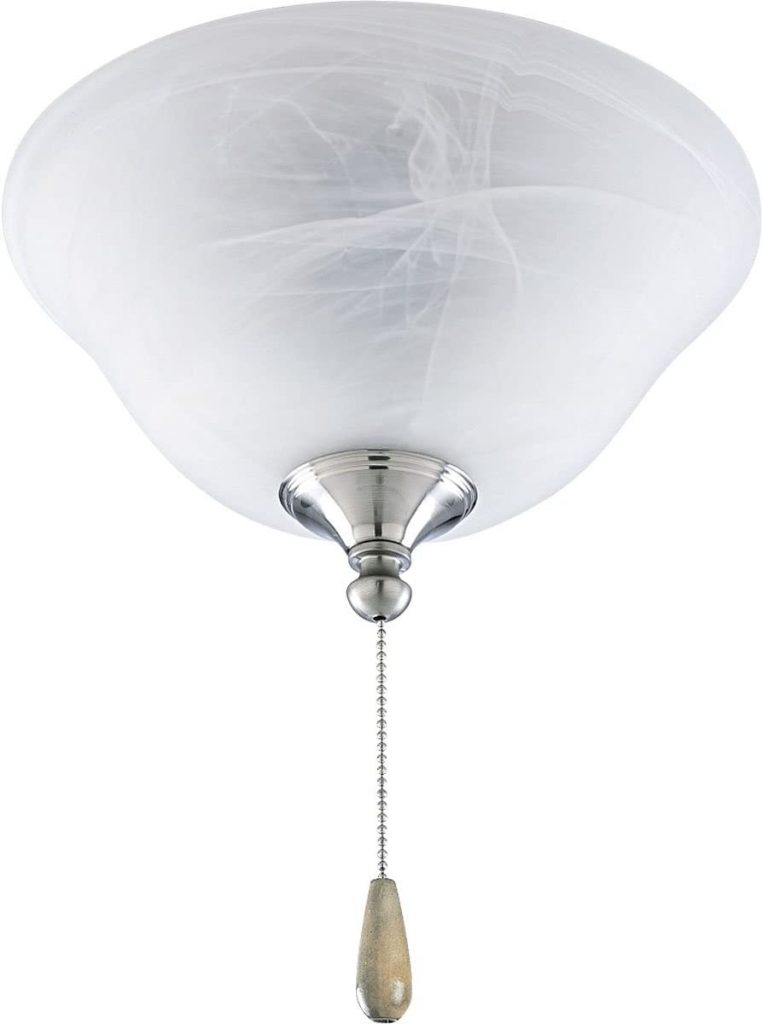 Progress Lighting's Alabaster Glass universal ceiling fan light kit will add a welcoming sparkle to any room. This ceiling fan light kit comes UL listed and is made with Elegant Alabaster Glass that casts an inviting illumination. This ceiling fan light kit features a brushed nickel finish w/ white fob and a chrome pull chain for ease of use. The universal light kit fits most fans, and the light kit's size is 10-3/4 dia x 6 height. The bulb type included is compact fluorescent (CFL). This ceiling fan light kit uses two 13 watt CFL bulbs.
Progress Lighting P2643-20WB Fan Light Kit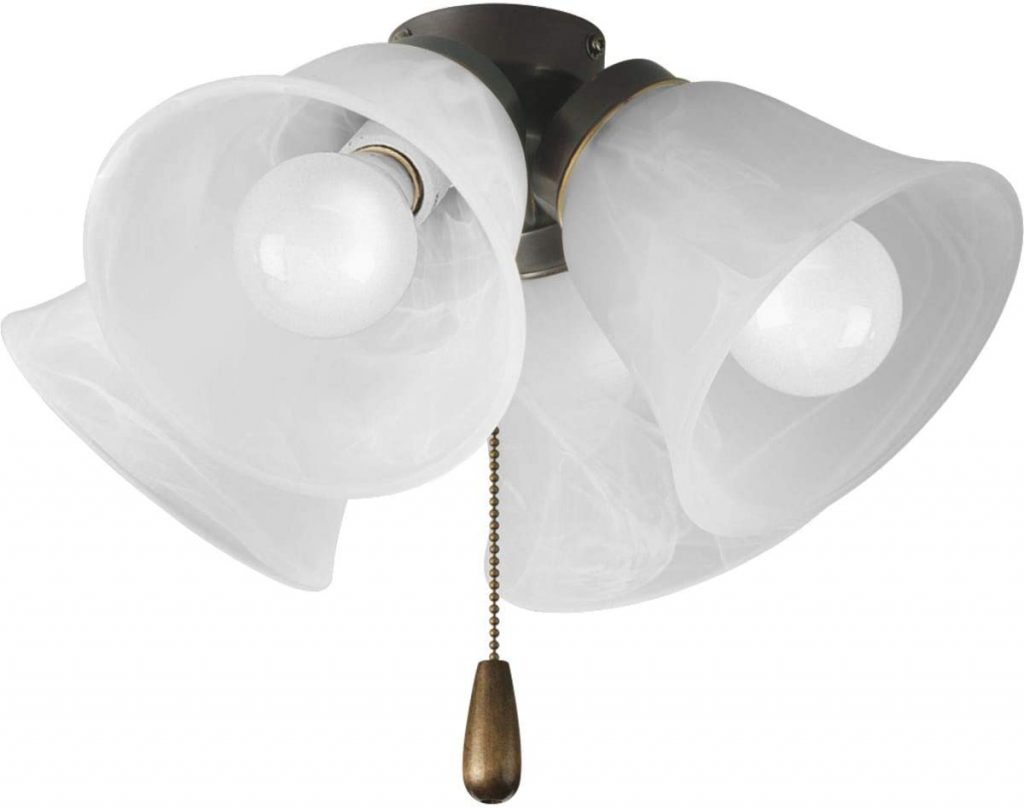 This is another universal light kit from the company Progress Lighting. It has a very nice look to it. The Alabaster Glass Shades are also great for adding some extra lighting in dark areas of your home or office. This particular model comes with an Antique Brass Pull Chain with a Medium Oak Wood Fob. This light kit is pretty easy to install on any ceiling fan compatible with it. And yes, most ceiling fans are compatible with it. The light kit consists of 4 lights each with an 800 lumen LED light bulb.
Westinghouse Lighting 7784600 LED Schoolhouse Ceiling Fan Light Kit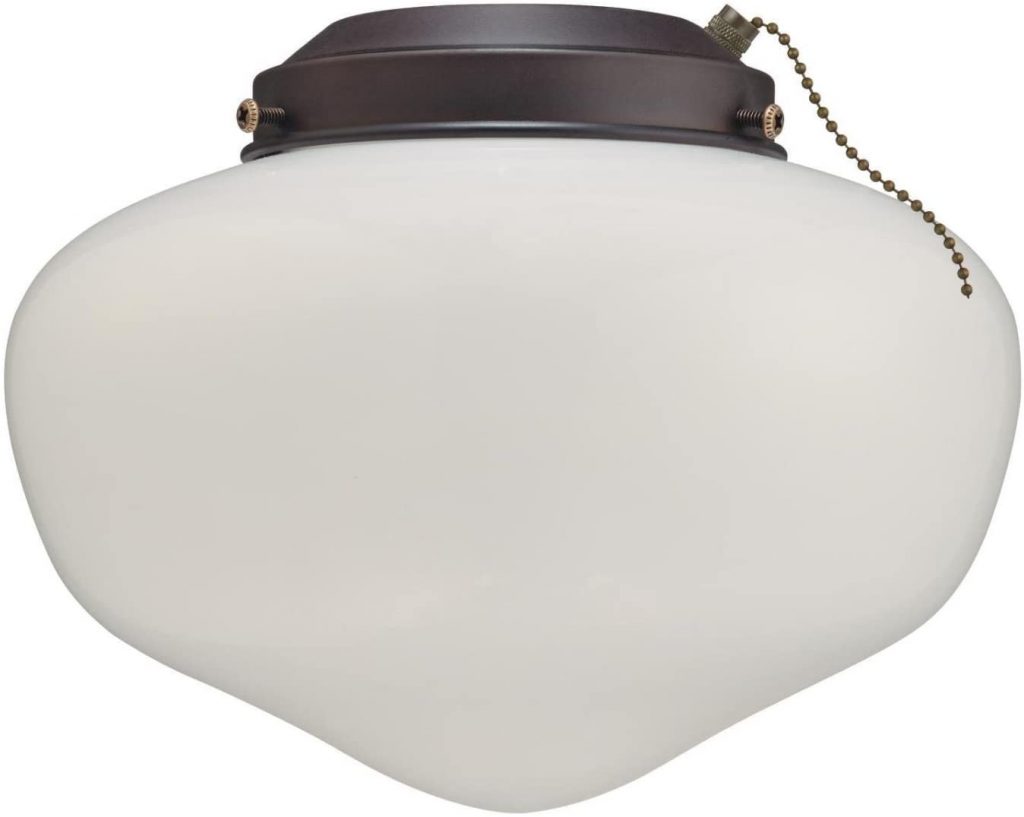 This is a well sold universal ceiling fan light kit by Westinghouse Lighting. It can be used on any type of ceiling fan that has an opening at its center. The fixture comes complete with all necessary hardware including screws, washers, nuts, etc. This product features energy efficient lighting technology which saves you money over time. Its 9 Watt LED bulbs are as bright as a 60-watt incandescent bulb, that means it is six times more energy efficient. This universal fan light kit can be used indoors as well as outdoors.
This fan is best suitable for fans with blades spans of 42 to 52 inches. It also comes with a 5-year warranty.
Westinghouse Lighting 7784800 Three LED Cluster Ceiling Fan Light Kit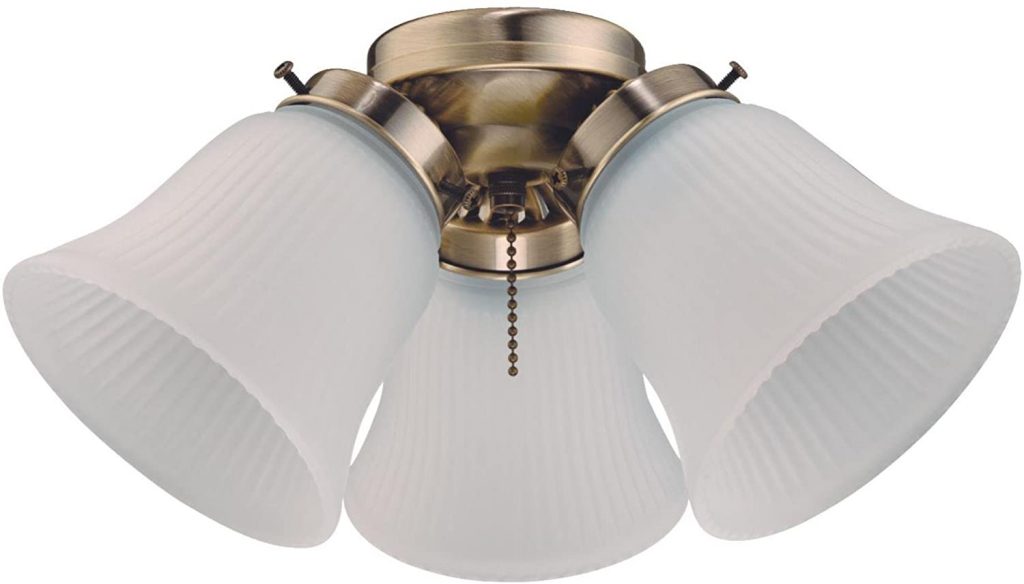 Here is another great looking universal light kit which you can install on any ceiling fan. It also comes with an instruction manual so it's easy for anyone to do this project. The light kit has three 5 watt LED bulbs that is as bright as three 40 watt incandescent lamp. This means that this light kit is very energy efficient and at the same time provides enough lighting to your room. You will be amazed by how much brighter these lights look than regular fluorescent lamps or halogen lamps. They have a classic antique brass finish and they feature frosted ribbed glass shade. All of them fit perfectly into the standard size holes found on all types of ceiling fans. Installation is pretty simple too because there is no need to drill new holes since the fixture already fits onto the existing ones.
Conclusion
You can find many light kits that can be installed on any ceiling fans irrespective of their brands. However, you should make sure to check the manufacturer's guideline before buying. This is because the suitability of the light kits depends on the blade span of the fan too.