When you install a new ceiling fan, the old one has to go somewhere. Your first instinct might be to chuck that old fan in the trash; however, there are many things you can do with your old ceiling fan so that you don't waste your hard-earned money or energy on something that could still be beneficial to someone else.  
Old ceiling fans can be useful even if they are not in excellent working condition. You can recycle, up-cycle, revamp, donate or even sell these classic pieces of home décor. Making various crafts from ceiling fan blades and motor housing are the most popular uses of discarded old ceiling fans.
So, before throwing the old fan out to be part of the landfill, consider this handy guide on why you should never throw out an old ceiling fan.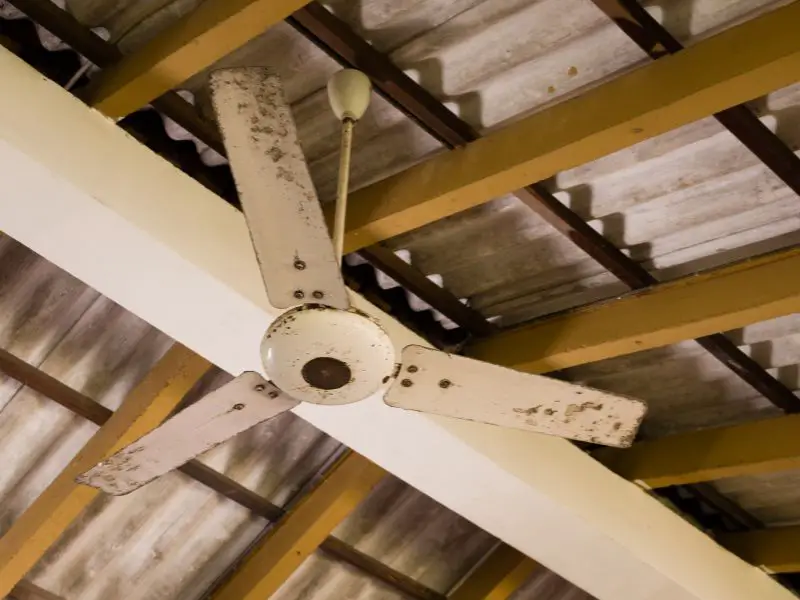 5 Ways to give your old ceiling fan a new life
If your current fan is over 15 years old, it may be time for an upgrade. If your old ceiling fan is out of style or needs a little TLC, don't be too quick to throw it away. Here are some practical uses of old ceiling fans:
1. Recycle it
One option for disposing of an old ceiling fan is to recycle it. It can be done by taking it to a local recycling center or by finding a company that will pick it up for you.
2. Modernize it
If you have an outdated model in good working condition, why not give your old fan a makeover? With some good paint and a bit of elbow grease, you can modernize your old ceiling fan and give it a new look and life.
3. Up-cycle it
Up-cycling is a great way to give your old ceiling fan a new life. Plus, it can save you money and be eco-friendly. The blades and motor housing can create new and exciting decorations.
4. Donate it
Places like Habitat for Humanity Restore or The Salvation Army accept donated items like ceiling fans to sell them in their stores. The proceeds from these sales go towards their mission. Remember that they will take the old fans even if the fan is not in working condition.
5. Sell it
There are a few options for what to do with an old ceiling fan. One option is to sell it. It can be done by posting it on websites like Craigslist or eBay or even having a garage sale. Many people are eager to buy old fans for various arts and crafts projects.
What is the best option for putting an old ceiling fan to use?
As mentioned in the above section, there are many options for putting an old ceiling fan to use. However, up-cycling the old ceiling fan is the most versatile, making it a go-to choice for many homeowners with a flair for arts and crafts and DIY projects. With some readily available essentials, you can up-cycle the blades into a new piece of art or use the fan motor for a beautiful DIY decoration piece.
What is up-cycling?
Up-cycling is the process of reusing materials or products to create something new and improved. Various materials can be used for up-cycling, but ceiling fan blades and motors are a great place to start. Many people confuse up-cycling with recycling, but both are two different processes. In recycling, you extract different materials from discarded items to create something new. In contrast, in up-cycling, you take different parts of an object, such as an old ceiling fan, and transform them into something different and unique.
7 Interesting ways to up-cycle old ceiling fan's blades and motor
If you've got an old ceiling fan in your attic or you just replaced an old fan with a new one, consider turning them into something new and valuable with a bit of creativity. You can use the blades and motor housing of the old ceiling fans to create several exciting pieces. Let's look at some up-cycling options: 
Chalkboard for children's room
Spray paint fan blades for a quick update on an outdated children's room. If you're feeling artsy, use chalkboard paint so your children can draw pictures on them and erase them when they're finished. You can use this fan blade chalkboard in the kitchen as a memo board or write a grocery list.
Themed decorative wall hangings
Simply remove the blades from the fan and sand them down if necessary. You can then paint or stain them any color you like. You can also add decals or other embellishments to give them a unique look. With the fan blades, you can use paint and accessories to create Halloween, Christmas, or any other themed or seasonal decorations.
Motor housing planter
It is a great way to up-cycle an old ceiling fan. Remove the blades, and motor housing, then use the housing as a planter. The hole in the housing is the perfect size for a small plant. You can paint it or decorate it however you like. Add some soil, plants, water, and voila – you have a beautiful new planter for your home!
Popular dragon-fly decorations
Visit Pinterest and search for these decorations. You will be amazed to find countless styles of Dragonfly decorations for the garden and patio. You can choose any type that looks good in your space and create an excellent craft to upgrade your backyard.
Motor cover wind chime
You can use the motor cover of an old ceiling fan to make a beautiful wind chime. All you need is a motor cover, some repurposed material, and a little bit of creativity. It's an easy DIY project that kids will love to do.
Circular mirror decoration
Up-cycling old ceiling fan blades into a circular mirror decoration is a simple and elegant way to add a beautiful and nostalgic touch to your home. To make this decoration, take a metal circular plate and screw 5 or 6 fan blades in a circle. You can get a starburst effect if you have more blades for this decoration. Use gold or silver spray paint on it and attach a round mirror with some strong glue.
Fan blade brackets garment rack
If you're looking for a way to up-cycle your old ceiling fan's blade brackets, one great option is to use them as coat hanging hooks. It can be a great way to add extra storage space to your home while repurposing an old ceiling fan's sturdy metal parts.
More craft ideas using different parts of the old ceiling fan
You can use the blades, fan housing, blade brackets, fan light covers, and light shades to create a variety of exciting and easy crafts. Some popular uses of these parts are:
Fan light bird feeder
Motor housing organizers
Light shade candleholders
Garden solar lights using light covers
Blade bracket towel holder
Frequently asked question
You will have many questions regarding old ceiling fans. Here are answers to some questions that homeowners frequently ask:
Are ceiling fans recyclable?
Most ceiling fans are made of recyclable materials, so there's no need to throw them out. Recycling your old ceiling fan is a great way to help reduce landfill waste. Many ceiling fan parts can be scrapped, so they will be melted and used to make different items. If you contact the local recycling facility in your area, you can be at ease knowing that the unusable parts will be disposed of safely. 
How can I revamp my old ceiling fan if it is in good working condition?
If you have an old fan that works efficiently otherwise but has yellowing paint or has an old–fashioned light fixture that looks from a gone-by era, it is time to give it a modern look. 
It is not a costly project to get a contemporary-looking fan. Firstly, thoroughly clean all parts of the fan using some mild cleaner. Then apply some fresh paint that will breathe a new life to your old model. Lastly, changing the old light shades with new sleek designs will completely transform the look of your ceiling fan. These simple changes will give you a ceiling fan that looks as good as new at only a fraction of the cost.
Can I paint the ceiling fan without taking it down?
You can paint the ceiling fan without taking it down, but there are a few things you need to do first. Ceiling fans are usually made of metal, so you'll need to use a primer designed for metal surfaces. When the primer dries, paint the fan with any color you like. Ensure that you are using the paint meant for use on metal surfaces. Also, use a foam brush instead of spray paint, as it will allow you to paint it without taking down all of the fan parts. You will only need to detach the blades.
Conclusion
If you're considering throwing out an old ceiling fan, think again! There are excellent reasons to keep that useful piece of home decor around and reuse it to create various works of art. If you're not interested in using your old ceiling fan for crafts, consider donating it to a local thrift store or charity. Remember never to throw out the fan to be wasted in a landfill and harm the environment while it can be effectively reused by someone else for creative DIY projects.