Ceiling fans have been around since the late 1800s and early 1900s, when some of the first electrically powered ceiling fans were used in movie theaters and stores in order to create airflow in cool environments. These days, however, you are more likely to find ceiling fans in people's homes than anywhere else. Ceiling fans come with all sorts of perks that make them worth using on a regular basis. These fans are often installed in bedrooms, living rooms, and kitchens because they help keep air circulating throughout the room to prevent it from getting stuffy or muggy.
If you are wondering whether ceiling fans are outdated, the answer is no. Ceiling fans are not outdated, they are very popular even today. In addition to looking good in any room, they also help to reduce air conditioning costs.
So ceiling fans are still in demand today, and they will be so for the foreseeable future.
Why did ceiling fans become popular?
Before we start looking for answers to the title question, let's find out why fans became popular in the first place. Ceiling fans became popular during a time when central air conditioning was not as common. So, ceiling fans were used to move hot air out of rooms and circulate cooler air into them. Another reason that added to ceiling fans' popularity is you can install them without compromising any floor space.
Moreover, ceiling fans have a great ability to blend in and compliment any home decor which makes them a sought-after decorative item along with being a functional home appliance.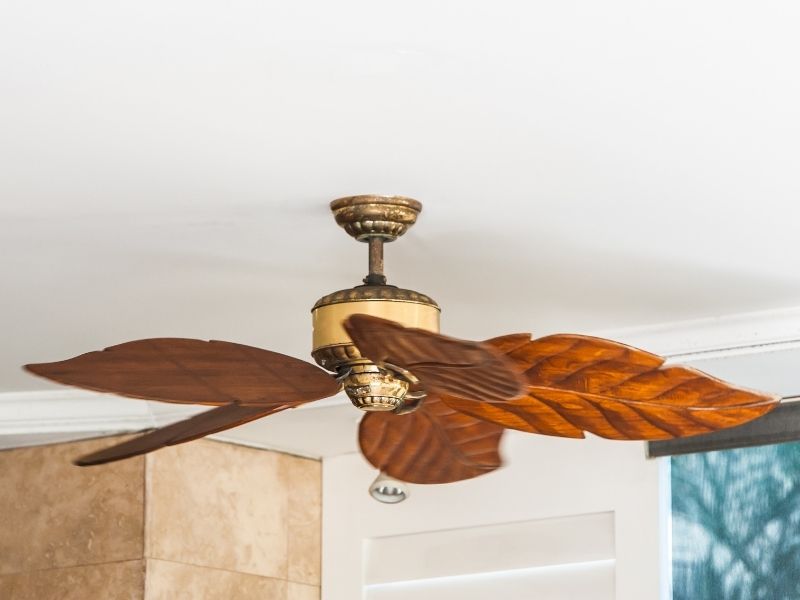 Are ceiling fans a thing of the past?
Ceiling fans may have been a fixture in homes all across the country at one point, but they've fallen out of favor in recent years as new cooling technologies have entered the scene. Since central AC is more common today, ceiling fans are losing their popularity. This shift, while understandable, may actually be doing your home more harm than good, since ceiling fans can help you stay comfortable without sacrificing the environment or your wallet. 
Ceiling fans have been around for more than a century. During their peak time, they became quite popular among homeowners and renters alike. But, if you look at the data carefully, you'll see that fewer homeowners are opting for a ceiling fan for their homes in recent years. So, is it time to retire the ceiling fan in favor of something newer and more efficient? 
The simple answer is "No"! 
Why? Because ceiling fans have many benefits. It includes improving air circulation, reducing energy costs, and increasing the life of your air conditioning system by decreasing its workload. Keep on reading to understand why you should consider bringing them back into your life!
Reasons to install ceiling fans
If you're looking to improve the functionality of your home, there are lots of things you can do efficiently. Installing ceiling fans is one of them. Ceiling fans are relatively easy to install and can provide more than just aesthetic value. But, many people don't know exactly why they should be using them. To convince people to install ceiling fans, here are some reasons why they should invest in ceiling fans as soon as possible.
Space Saving
When it comes to space-saving there are few things better than ceiling fans. Not only will they free up floor space in living rooms and bedrooms but they are also suitable for smaller and cramped places such as kitchens, ironing areas, dryer rooms, and bathrooms. Ceiling fans come in different sizes and even a small size fan performs exceptionally well in restricted spaces. 
Perfect for every season
Many ceiling fans come with a reverse feature that allows you to change which direction it spins. This comes in handy during cold weather when you want to feel a warm breeze, rather than a cold one. In summers, this feature helps in dispersing cool air from the air conditioning system uniformly throughout the room.
Solves lighting problems
If you're not buying a fan with lights, that's fine. But, if you choose a ceiling fan with a light fixture, it is going to illuminate your room and entire ceiling with its wide-angle lighting. Plus, most fans today offer some variety of mood lighting, so choose a hue or color tone that works for your needs. If you don't want to go full-on color spectrum, consider amber or blue bulbs to achieve a more tranquil atmosphere.
Constant and comfortable airflow 
A ceiling fan helps you create a constant home temperature with its steady breeze. If you have a large room that doesn't have air conditioning, ceiling fans can help keep everyone comfortable. Just like an air conditioner, when you turn on a ceiling fan, it circulates warm air throughout your space to make it feel cooler. But unlike an air conditioner, ceiling fans are better at distributing heat evenly and don't create uncomfortable wind chill in some areas.
Cost-effective
Since you don't have to keep your AC on as much, ceiling fans are great for lowering utility bills. A ceiling fan helps lower the temperature by 8 degrees, saving you up to 40% on electricity bills. Also, installing a ceiling fan will pay for itself in one year by reducing your energy consumption.
Aesthetically pleasing
A ceiling fan is more than just a way to keep cool during those hot summer months. It's also an attractive fixture. Depending on your tastes, you can choose from many different styles that will easily blend into your existing decor. If you prefer a plain fan, there are options for that. Also, if you want something with a little more flair, plenty of fans come with or without lights attached.
Noiseless experience
One of the reasons to install ceiling fans is because they are very quiet. Old ceiling fans used to have an annoying rotation sound but not anymore. Even on its highest setting, it's hard to hear a modern ceiling fan spinning above you. Not only that but these days ceiling fans are designed to be as unobtrusive as possible. So, they're perfect for bedrooms and living rooms. And you can enjoy a comfortable sleep without worrying about the noise!
Customizable designs
Not every room requires a fan. In some cases, an overhead light fixture works better. In other cases, maybe you don't need to use fans at all and you just want them to complete your decorating scheme or boost energy efficiency. 
With so many styles, finishes, colors, and other unique features, you can easily find a ceiling fan that goes with the ambiance of your room. And if you don't find a suitable option you can even contact a fan manufacturer to get a customized design according to your taste and desire!
The convenience of remote control
One of modern ceiling fans' most appealing qualities is its remote control functionality. Fan remotes allow you to turn your fan on and off with a touch of a button so you don't have to get up if you want to change your settings. Plus, new fans have different speed settings that you can select through the remote. Also, you can turn on or turn off the lights using the remote without leaving your couch!
Keeps bugs away
Did you know that ceiling fans can also be used to keep flying pests away? Insects like mosquitoes, flies, and moths are repelled by moving air so having a fan on can reduce instances of getting bitten. If you're living in an area where there is a high risk of mosquito-borne diseases, installing a ceiling fan could be helpful to your health as well as your home's aesthetic. 
Moreover, you can install a ceiling fan on your patio and keep these insects away while holding a family dinner or barbeque!
Eco Friendly 
When you choose to install ceiling fans instead of air conditioning, you are choosing a more eco-friendly way to cool your home. Yes, ceiling fans use electricity. However, they use less energy than air conditioning units and can be just as productive. So, think of switching to ceiling fans if you want to reduce your carbon footprint.
What do interior designers say about ceiling fans?
Ceiling fans have great benefits but their usage has declined in recent years. Does it mean that ceiling fans have gone out of style? Well, that depends on who you ask! 
The truth is, many interior designers don't include ceiling fans in their designs and it's mainly because their clients don't want to go with ceiling fans. However, many designers advocate for incorporating ceiling fans according to the location, weather, and air circulation needs of the house.
Also, according to many designers, ceiling fans are not outdated; there are only some styles of ceiling fans that are outdated and old-fashioned!
Moreover, while they used to be considered strictly decorative, ceiling fans have become much more functional since the mid-20th century. Nowadays, interior designers often recommend ceiling fans when designing new houses and commercial spaces. 
If you have an old-style house with old-style ceiling fans it's time to make some changes. So, even if you cannot change your house's style, you can probably change your ceiling fans. You will just need to know which fan goes well with your overall home vibe and then upgrade them accordingly.
What makes a ceiling fan fashionable?
Ceiling fans don't have to be your grandparents' fans. They can be a stylish addition to any room!
And, no, I'm not talking about bright colors and bulky light fixtures. A ceiling fan can be so much more. 
A ceiling fan should blend in with its surroundings. Rather than being a focal point, it should complement existing furniture and decoration. A ceiling fan also needs to have a timeless design. Rather than following current trends, you should look for a style that will still look good when future trends come and go. If it's made from classic materials like metal or hardwood, it has an excellent chance of looking just as stylish in 50 years as it does today.
My recommendations are to keep it simple and minimal as you can never go wrong with simplicity!
Top Considerations When Choosing a Ceiling Fan
When you're shopping for a ceiling fan, make an informed choice that fits your needs, style, and budget. Always keep these factors in mind when selecting a ceiling fan.
Area weather 
Before choosing a ceiling fan, make sure you select one that will be suitable for your area's weather. For example, if you live in an area with high humidity, select a fan with moisture-resistant capabilities. 
Room Type
Select a ceiling fan according to room type. A fan perfect for the living room will not be a perfect option for let's say the kitchen. So choose wisely.
Decor Style
While ceiling fans come in a variety of shapes, sizes, and colors, they aren't necessarily suited for every home decor style. For example, if you have an art deco living room that's decorated with stylish furniture and bold colors, your fan should match your style accordingly. 
Ceiling Height
For a high ceiling, you will need a longer down-rod to provide ample airflow. On the other hand, a fan that's too close to a low ceiling also may not provide enough airflow or produce enough cooling power for any individual room.
Room Size
Although you can choose any ceiling fan size, you will want to consider the room size where you are going to install it. A large fan installed in a small room will not work efficiently and may cause you to use more energy trying to get the same effect as it would in a larger room. 
Lighting Options
Fans without lights provide more air movement, which is better for small spaces where you don't need additional light. Lighted fans are great in large rooms that have other light sources
Wall Controls or Remote Control
Most ceiling fans are equipped with one of two types of controls—wall or remote. A remote control gives you the option to sit back on your couch and turn your fan on or off without having to get up. 
Easy to clean
If you're going with an old-school design, you can use a handheld duster or rag to clean your ceiling fan. If it's one with fancy blades and woodwork, you may need to buy special cleaning supplies for safe upkeep.
Final Thoughts
Ceiling fans are an old-school home appliance. When people think about a fan, they usually picture one with blades attached to a rotating device that hangs from above. However, many manufacturers have taken their fans in a new direction and these innovative models might be better than the traditional designs.
Ceiling fans can be one of the best investments you make in your home, as they offer several advantages over regular air conditioning units. Having withstood the test of time, ceiling fans are still some of the most popular pieces of home decorating equipment in homes across the world. From controlling your home's indoor temperature to adding a personal touch to your living room, they're still a relevant, useful, and stylish fixture in a modern home.