Solar attic fans are basically attic fans connected to solar panels. They use solar energy to work instead of drawing electricity from the mains. Their solar panels are mounted on the roof of the house where the panels convert solar energy to electricity to run the attic fan.
Solar attic fans also do not have batteries to store electric current produced by the solar panels. So their performances depend entirely on the amount of sunlight available at any given time.
Now, let's take a look at the best solar attic fans in the market;
Best solar attic fans – List and detailed review
When it comes to picking a solar attic fan, there aren't many choices as some other products.
I went through 28 units before finally making a few best choices. Here are the best picks;
| Solar attic fan model | CFM | Max. area covered |
| --- | --- | --- |
| 1. Natural Light | 1628 CFM | 2625 Sq.ft |
| 2. Broan | 537 CFM | 768 Sq.ft |
| 3. iLiving | 1750 CFM | 2000 Sq.ft |
| 4. Remington | 1280 CFM | 1800 Sq.ft |
| 5. Rand 8 Watt | 435 CFM | 700 Sq.ft |
| 6. Armtrak 40 Watt | 1500 CFM | 2250 Sq.ft |
| 7. Rand 30-Watt | 1911 CFM | 2720 Sq.ft |
A list of best solar attic fans
1. Natural Light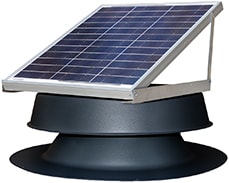 Natural Light Energy Systems is a trusted brand in the USA which specializes in making solar attic fans.
This attic fan comes with an adjustable solar panel, a roof dome, and a quiet running motor.
At its peak power, it can deliver around 1628 CFM of airflow; this can cool an attic of size 2625 sq. ft.
This Natural Light fan has a DC motor. Therefore, its speed is adjustable, you can connect it to a thermostat via a speed controller to automatically control the fan speed to suit different temperature settings.
This fan runs quietly, partially due to the high number of blades (it has 5) and also due to the DC motor.
Its blades are made of corrosion-resistant aluminum. It comes with a heavy-duty roof flashing, heavy-duty housing, a stainless steel protective wire mesh, and an adjustable mounting bracket. The bracket can be adjusted from anywhere between 0 to 45-degree angles to get maximum exposure to sunlight.
The fan comes with a 25-year warranty on the housing, solar panel, and motor, so just install it and don't worry about anything.
2. Broan 28 Watt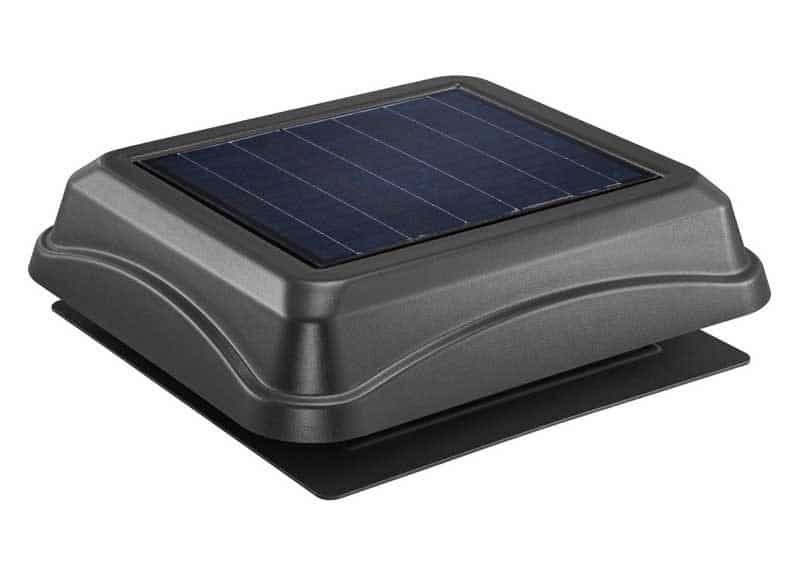 Without a doubt, this is a very good-looking unit.
Broan products have been in the market since 1932. They specialize in ventilation and heating systems.
This solar attic fan moves 537 CFM of air at its peak power. This is not exactly a heavy-duty fan, it can cool only an area of up to 768 sq. ft.
The fan is connected to a 28 Watt solar panel that comes fixed on a rectangular-shaped dome. So this fan can be mounted only on the roof, not on the gable.
I like the design of its dome. It is low-profile and looks great on any roof. The height of the dome is only 9″ so it looks like it is part of the roof. Moreover, the base footprint of the whole thing is only 14″ in diameter so you don't have to cut a big hole on the roof to accommodate it.
The fan has a blade span of 12 inches. Its Aluminum blades are made in one-piece ie, it is not five separate blades fixed on a rotor but a single piece of metal made into 5 blades. Since made of Aluminum, the blades are light in weight and resistant to corrosion. Its housing is made of durable ABS plastic resistant to UV rays.
Like all the above solar-powered attic fans, this one too runs on a variable-speed DC motor. This means you can connect it to a thermostat to adjust airflow based on ambient temperature.
This Broan solar attic fan comes has a 6-year warranty but unfortunately, the motor is covered for only 2-years.
3. iLiving smart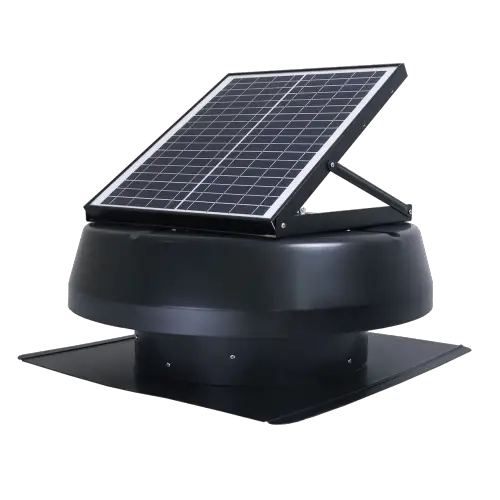 The iLiving solar attic fan is much similar in design to its competition from Natural Light. It comes with a 20 Watt solar panel that can be adjusted to 0, 15, 30, and 45-degree angles to get maximum exposure to sunlight.
This fan can move 1750 CFM of air at its peak power and can cool attic areas up to 2000 sq. ft. So, if you have a large attic requiring ventilation, this fan is an ideal choice.
The blade span of the fan is 14″ and is made of Aluminum. Aluminum is lightweight, which is perfect for low-powered fans, and it is resistant to corrosion.
The iLiving solar attic fan comes with a DC motor that is capable of running at variable speeds.
One of the downsides of solar attic fans is that they produce no or less power during the night. But fortunately, this fan can also be connected to an AC supply through an optional ON/OFF switch accessory. This means you can run the fan at night from the mains, and during the day through solar energy.
This unit comes with a manufacturer warranty of 15 years.
4. Remington
CFM: 1280
Capable of cooling up to 1800 sq.ft of attic space
preinstalled thermostat/humidifier which turns on at 75% humidity, 80 degrees F.
Stainless steel construction with poly-vinyl blades for quiet operation.
Texas windstorm certified
Another good solar attic fan of my choice is from Remington. No, it is not the gun company, the actual company name is Remington Solar. This is a 20 Watt fan producing a CFM of 1280 at its full power. The fan is capable of venting attics of sizes up to 1800 square feet. Similar to the 'Natural Light' fan, this one comes with an adjustable frame for its solar panel which can be tilted at 15, 35, and 45-degree angles to get maximum solar exposure.
What makes this fan different from the other models listed here is that it comes with a preinstalled humidistat and thermostat that is set at 75% humidity and 80 degrees faranheit. So if the temperature and humidity go above these preset values, the fan will start working. You can also disable these settings if you want to run the fan all time. Since this is a solar-powered fan, costing you nothing in electricity, I don't see any problem with bypassing its thermostat.
You can also buy a hybrid adapter (sold separately) to run this fan at night.
The blades of this fan are made of poly-vinyl, and the base is stainless steel, which is just the opposite of what other fans listed here. But I think it makes sense; plastic blades are less likely to make noise than Aluminum ones, and they are also weather resistant.
This solar attic fan is also available in 25 and 30 Watt ratings. It also comes with a Texas Windstorm certificate, which is a requirement to get wind and hail insurance for coastal properties. You can find more details about it here on their official website.
5. Rand
CFM:435
Can cool up to 700 sq.ft of attic space
9″ blades
heavy duty ABS plastic housing
20-year warranty for parts
Quiet operation
automatic speed control included
This is a light-duty solar attic fan that is only 8 Watts. It produces around 400 CFM at peak sun hours and can vent attics of sizes up to 700 square feet. This fan is small in size, and it keeps a very low profile being only 4.75 inches in height. So I am pretty sure people won't be noticing it sitting on your roof.
This fan is pretty cheap compared to the others on this list. Its housing is made of ABS plastic, and the fan blades are made of a single piece of Aluminum, just like the Broan fan listed above. I am not sure if they are cast or metal worked, and I don't know about the advantage of making blads from a single piece of metal. If you know feel free to comment.
Back to the review, this solar fan comes with a 20-year warranty. The motor, just like the others, is DC type, so you can use a thermostat with it, and it runs very quietly.
6. Armtrak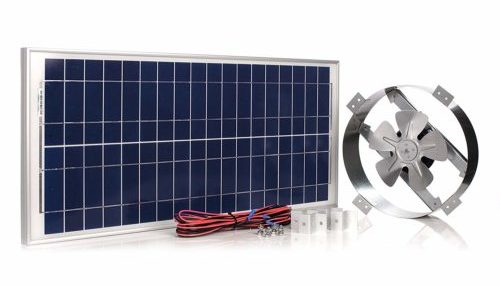 The other attic fans listed above on my list are all installed on the roof of the house. But in many cases, people need one that can be installed on the gable of the attic. This Amtrak fan is an excellent choice for such cases.
This solar attic fan comes with a 40 Watt remote solar panel with a 25′ long wire. That means you can put the solar panel anywhere on the roof (or maybe on a tree next to the house!) and still connect to the fan on the gable.
This fan doesn't have an ON/Off switch (none of them) so it will start immediately as soon as it is connected to the solar panel.
This fan can move up to 1500 CFM of air and can effortlessly cool an attic area of 2250 sq. ft.
It has a 14″ housing and a bigger, 5-blade fan made of Aluminum. It comes with 4 mounting brackets for the solar panel. Like all other fans mentioned here, this too works with a thermostat but that needs to be purchased separately.
This attic fan is covered under a manufacturer's warranty of 25 years. I should say this is a really good option if you are looking for a powerful and reliable gable mount solar attic fan.
7. Rand 30-Watt
This is another solar attic fan from Rand. I briefly mentioned its 8-watt version above.
This one has a 30 Watt solar panel, and produces 1911 CFM is which enough to cool an attic area of 2720 sq. ft.
And it is installed on the gable of the house rather than on the roof.
It comes with a pre-installed thermostat which controls the speed of the fan depending on the ambient temperature. According to the manufacturer, it can reduce up to 50 degrees of temperature in the attic.
The solar panel comes with a tilt-adjustable frame which can be angled anywhere from zero to 90 degrees! Of course, you won't be needing that 90 degrees setting but just in case, this is the perfect choice for you.
The fan and its housing are entirely made of stainless steel which makes it a bit heavier than other fans but it's good nevertheless. It comes with a 20-year warranty.
Things to look for when buying a solar attic fan
1. Size of the attic fan
What size solar attic fan do you need? The size of a solar attic fan is measured in CFM which is the short form of Cubic Foot of air per minute. A fan with a 100 CFM rating on it means that it can remove 100 cubic feet of air per minute.
Here is a simple formula to calculate the size required for a solar attic fan; you will need a fan of size 700 CFM per 1000 sq. ft of attic area. So if you have an attic area of 2000 sq. ft the size of the solar attic fan should be 1400 CFM.
You can also use more than one fan for the same attic. If the fan size requirement is 1400 CFM, you can use two fans of 700 CFM each. Furthermore, make sure that your attic has enough vents as per your local building code.
If you are interested in reading how we reached this size calculation here is my detailed sizing guide.
2. Location of installation
Depending on where they are mounted, there are two types of solar attic fans;
roof mount
gable mount
As you guessed the roof mount ones are installed on the roof while the others are installed on the gable of the house.
Unlike regular attic fans, a gable mount solar fan cannot be installed on the roof and vice versa. This is because in the case of roof-mounted type the solar panel comes fixed on the fan. So it is not possible to install it on the gable. Gable mount-type fans come with a detached solar panel and a long wire. You can install it on the roof if you really need to, but it is just too much work, and not worth it.
Choosing between roof mount and gable mount fans depend on the type of attic you have and also the availability of sunlight during the day. If your attic doesn't have a gable you have no other options than to buy a roof mount type fan. If yours have a gable, then decide which place gets the most and longest sunshine during the day. The solar panels of gable mount fans too are installed on the roof, however, they have the disadvantage of being installed near the gable (limited by the length of the connecting wire). If you think that the solar panel will get more exposure on some other side of the roof, maybe a roof mount type attic fan is better.
3. Warranty
The warranty of a product is an indicator of its durability. A manufacturer won't be confident to give a long warranty for a product that is not well built.
If you are buying a solar attic fan definitely go for one with the longest warranty, and it should be at least 15 years. Some companies offer lifetime warranties for the fan and the solar panel. I recommend going for the longest warranty period because it will take at least 15 years for you to recoup the money you spend on buying a solar attic fan, so a fan with a warranty of 15 years or more is a safe bet.
However, be sure to check the terms and conditions of the manufacturer's warranty. Most manufacturers make it clear that the warranties are not transferrable ie, if you buy the fan and later sell the property, the new owner will not get the benefit of the warranty. Also, make sure that the fan's motor and solar panels are covered under the warranty.
4. Cost of the fan and installation
A solar attic fan can cost anywhere between $160 to $420.
Basically, it is simply a fan connected to a solar panel. You can buy an ordinary attic fan and a solar panel separately and connect them together, it will work. And it may be cheaper too.
Then why are solar fans pricier than ordinary ones? This is because most of them are mounted on the roof, and for that, some accessories like a dome are included. So the total cost of the fan you see is the cost of the solar panel + attic fan + accessories.
In the case of a gable mount fan no dome is required, that's why they are much cheaper than the roof-mounted tyes.
If you are not an experienced DIYer, installing a roof mount attic fan can be difficult. If you do a faulty installation it may even void the warranty of the roof. So in this case you will have to hire a professional. Professional service costs vary from place to place, according to Angieslist attic fan installations cost an average of $550.
How much tax credit can I get for installing a solar attic fan?
Buying a solar attic fan can get you a tax credit on your federal income tax. A tax credit means that the amount will be deducted from the tax you owe the government. For eg: If you get a tax credit of $1000, it means that you can deduct $1000 from the tax you owe.
Here is how much tax credit you can claim:
| Year of installation | The tax credit you can claim |
| --- | --- |
| Before 31st December 2019 | 30% |
| 2020 | 26% |
| 2021 | 22% |
Solar attic fan tax credit slab
If you bought and installed the fan before 31st December 2019 you can claim a tax credit of 30%. If it was in 2020 you will get a tax credit of 26% and for 2021 the tax credit is further reduced to 22%. Please note that this tax credit cannot be claimed for the cost of the attic fan but only for the cost of the solar panel. But the good thing is, that you can also include the installation charges and the cost of accessories to claim this tax credit. For eg: if you bought a solar attic fan costing $400 where the solar panels cost $200, and the installation charges are $300, then the total tax credit you can claim is (200+300)x30% = $150. Currently, there is no cap on this tax credit.
This tax credit is available only if you own the property where the attic fan is installed. Source
You may also be able to claim a state tax credit depending on the state you live in, in addition to the federal tax credit.
5. Hybrid power option
Solar attic fans cannot run at night because there is no sunlight at that time. Also when it gets cloudy the power generated by the solar panels fades affecting attic ventilation.
In order to overcome this problem, some companies give you the option to buy a hybrid power adaptor. Having this adaptor will let you switch the fan from solar to electricity.
These adaptors are not always compatible with each other so make sure you contact the manufacturer before purchasing. Also, keep in mind that many adaptors require you to manually switch the power to electricity while some others don't. I always recommend going for the type that automatically switches the power for its ease of use (This Remington Solar adaptor is a good choice). Also, this type of adaptor switches to electricity even if there is sunlight but it is below a certain threshold. This automatic switching will ensure that the fan will perform its best even under cloudy weather.
6. Control options
As solar attic fans do not consume any electricity many people just let them run the whole time. In fact, there is no way to turn off this type of attic fan other than by disconnecting it from the solar panels.
However, many of these units come with a thermostat as well as a humidistat. On these, you can set the temperature and humidity at which the fans should turn on. This will prevent the fan from running throughout the day thereby reducing wear and tear. On the flip side, damage to the controller can cause the fan to not start at all. Still, I recommend going for a solar attic fan that comes with a thermostat controller as this helps to increase the fan's running life.
7. Adjustable mounting
When it comes to roof mount type, the solar panels of many models are glued to their domes. This can prevent them from getting maximum exposure to sunlight. If they had a setup that lets you change the angle of the solar panel which lets you tilt it up or down, it would help to get more sunlight exposure. There are some models that come with this type of tiltable solar panel. Depending on the location of your house and where you want to install the fan, decide whether you need an attic fan with adjustable mounting.
8. Build quality
A solar attic fan should last for at least 20 to 25 years. So it is important that they are built to withstand adverse weather conditions. As the majority of the units are fitted on the roof of the house they are more prone to damage. Luckily most solar attic fans are built with durable materials. Some models use high-quality plastic parts whereas some use stainless steel frames. Whatever the material of the construction is, a good indicator of build quality is the warranty coverage; the longer the warranty the better the build quality.
9. Looks and design
Most solar attic fans are mounted on the roof. So they are visible from the outside. Nobody wants an ugly-looking thing sticking on their roof. Luckily most solar attic fans have a low profile design that blends into the roof design. Also, looks are subjective, so I can't tell you what is right or wrong for you. Even if you are buying online they usually have pictures of these units on the roof, so it is not hard to decide how the fan is going to look on your roof.
Is a solar attic fan worth it?
The cost-effectiveness of solar-powered attic fans is a much-debated topic. According to a study conducted by Florida Solar Energy Center it takes at least 15 years to get the ROI from a solar attic fan.
But,
Over the long term, solar attic fans are definitely worth it because most popular companies offer a 20-25 year warranty for their fans. That means you get to run them for at least 5-10 years after getting your investment back. Also, solar energy is green energy, so they are better for the environment as well.
Pros of solar attic fans
Using solar attic fans has some benefits over others. Here are they;
1. Zero electric bill
This is considered to be the biggest advantage of a solar attic fan. It is true that you will save the electric bill but don't have super high expectations. It often takes 10-15 years to get the return of your investment. However, if you buy the gable mount version they are cheaper and so you should make up for the investment faster.
In addition, solar energy is renewable, you will be doing your environment a big favor by using a solar-powered fan.
2. Quiet operation
All solar attic fans use DC brushless motors. These motors are super-efficient and whisper quiet. Whisper quiet may be an exaggeration but yes they are really quiet.
In case you are looking for some quiet attic fans but not solar-powered ones feel free to check this post.
Cons
Solar attic fans are not perfect. They have some cons. Here are they;
1. Their performance depends on sunlight
Since solar energy is the only source of power for these fans even a shadow can reduce its performance. So when it comes to consistent performance the solar fans are far behind regular models. It is also very important where you install these attic fans. Roof-mounted fans tend to perform better than gable mounted ones since they get more exposure to sunlight.
Also, these fans won't work at night.
There are some 'hybrid' fans that you can connect with external power, like the iLiving solar fan reviewed above. You can consider them if you want to work the fan for extra hours.
2. They are not as cost-effective as manufacturers claim
There is a common argument that solar attic fans cost more than they save, this is wrong. Definitely, they are not as cost-effective as 'hyped' by manufacturers. But they do provide a return on your investment in the long run and may work for 5 to 10 years more after that.
Installation
I don't see the point of writing a long article when there are many videos on youtube that shows the detailed installation of solar attic fans. Please beware that the installation process can vary slightly based on the brand of the fan and the locations where you install it.
On gable
If you buy a gable mount type solar attic fan, its solar panels are fixed on the roof and they are positioned to get the maximum solar exposure. You can also use a tiltable mounting to point the panels in the direction of the sunlight. The panels and the attic fan are electrically connected via a long wire. The limitation of this type of installation is that you cannot put the solar panels at a long distance from the gable.
On the roof
The majority of the solar attic fans are mounted on the roof. These fans can be installed in any location that has good exposure to sunlight throughout the day. The location of installation is usually near the ridges for the effective venting of hot air that rises to the top of the attic. The fan is installed by cutting a hole on the roof which cuts through the shingles and all of their layers. So unless you are an experienced person it is always recommended to get professional help for this installation.
On a tiled roof
Many people think that it is impossible to install an attic fan on a tiled roof. But that is not the case. Below is a video showing how you can install a solar attic fan on a tiled roof.
Just searching with the brand name of your fan will give you tons of videos showing installations, so feel free to use youtube as your DIY instructor.