Attic fans can be quite noisy. After all, they are machines working at high speeds, and without much insulation. Having such a noisy machine in our home is definitely annoying. This is why more and more people are opting for quiet attic fans.
Here are 5 whisper quiet attic fans that are the popular choices of many homeowners;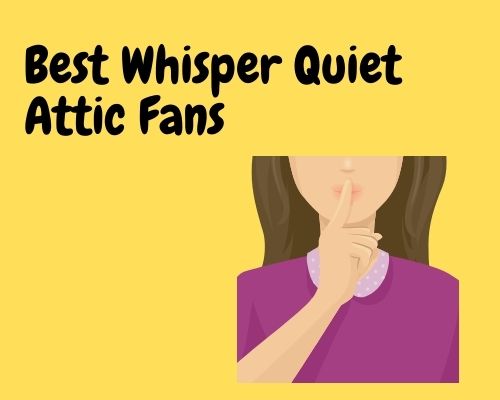 1. QuietCool AFG S MT-3.0 Smart Attic Gable Fan
An attic fan can be mounted on the gable of the house as well as on its roof. Even though the name of this fan says gable, it can be mounted on the roof as well (just make sure you buy the roof vent cover).
Like its name, this quiet attic fan can cool an area of up to 3300 sq. ft. It has 2830 CFM at the highest speed, meaning it can move that many cubic feet of air from the attic in a minute. It can lower the temperature of the attic by up to 50 degrees Fahrenheit.
Definitely, this fan is really quiet thanks to its ECM motor.
This is a 'smart attic fan'. It comes with a built-in thermostat and a humidistat, and its 10-speed motor will adjust its performance based on its input. The humidistat makes sure that the humidity in the attic doesn't exceed 60%. This fan can move 963 to 2830 CFM of air depending on the motor speed, making it suitable for any attic area ranging from 1100 to 3300 sq. ft.
In addition, this smart fan consumes only a maximum of 145 Watts. At its lowest speed, its power consumption is only 15 Watts.
According to CEC, this one is the most efficient attic fan; it is 15 times more efficient than a traditional model. It also has a more powerful variant, called AFG Pro 3.0, which can move up to 3013 CFM of air.
Another attractiveness of this Quietcool attic fan is its warranty, it comes with a 15-year manufacturer warranty.
Overall, this is an excellent quiet attic fan available at an affordable cost. If you decide to buy this, look no further.
2. Cool Attic CX24BD2SPD 2-speed belt drive attic fan
Cool Attic is a very popular attic fan made in the USA. It is 24 inches in size and can draw air up to 4500 CFM. This attic fan comes with two-speed settings. At its lowest speed it moves 3100 CFM of air, and at the top speed achieves the figure of 4500 CFM.
This is definitely a very powerful fan for an attic. The company recommends that the attic needs to have at least 1200 sq. ft area and 8-10 sq. ft Net Free Exhaust Area to use this fan.
This fan can be used as a whole house fan as well.
One thing to note is that this fan shouldn't be used with any speed controllers. It uses a PSC (permanent split capacitor) motor so speed variations are not possible. Using any speed controls can damage the motor of this fan.
This attic fan is belt-driven. So it is quieter than many direct-drive models available. It also has four blades, which makes this one quieter than its competitors (More the blades quieter the fan.
This Cool Attic fan has galvanized steel blades that are resistant to corrosion and such defects.
It comes with a 10-year warranty.
3. QuietCool 40 Watt Solar Powered Roof Mount Attic Fan
This is a roof mountable solar attic fan by QuietCool. QuietCool is a company renowned for making the quietest attic fans, and this product is no exception.
This attic fan runs with the help of a 40 Watt solar panel. It produces a maximum CFM of 1092 which is enough to ventilate an area of 1560 sq. ft.
One problem with solar powered attic fans is that they don't deliver consistent performance. When the skies are cloudy their performance goes down. But in the case of this QuietCool fan weather conditions are not a problem. Why, because it comes with an inverter that will store electric energy from the sun to run the fan when the current flow is low.
This fan also has a built-in thermostat which switches it ON if the temperature exceeds 88 degrees F and switches it off at temperatures less than 77 degrees F. This fan helps to maintain the attic temperature no more than 10 degrees of the outside temperature.
Being solar-powered, and also roof mounted, this QuietCool fan is the quietest of all fans on this list. I can confidently say that this is the quietest attic fan of all. One reason for this quietness is that it is mounted on the roof so it is away from the living areas of the house. Any noise from the fan is hard to reach your ears due to this distance. Another thing is the ECM motor which all solar attic fans use, they are whisper quiet.
This attic fan is designed to run at a single speed. It is simple to install and is covered by a 15-year long warranty.
Reference: Specification sheet
4. Broan-NuTone 345SOWW
Broan NuTone is another solar-powered attic fan on this list with whisper-quiet operation. It is a comparatively weak attic fan that produces only a maximum of 537 CFM, which is capable of cooling an attic area of 767 sq.ft.
Unlike other solar attic fans, the design of this Broan fan looks much more attractive thanks to the low-profile design and placement of the solar panel. This solar panel can generate 28 Watts of power which will keep the fan running at its full speed.
This fan doesn't come with a thermostat but you can opt for one. This thermostat which is specially designed for this fan will shut it off when the temperature goes below 50 degrees F. The reason why the thermostat is optional with attic fans is that experts recommend using attic fans even in winter times to remove moisture from the attic, and in such cases, the fan won't work if it is connected to a thermostat.
As mentioned before this is a small attic fan suitable for smaller areas. The unit houses a 5-blade fan which runs whisper quiet in the attic. This is a roof-mounted attic fan, and the solar panel and the mountings are hail resistant. One downside of this fan is that the solar panel is non-adjustable, many competitors offer adjustable solar panels to improve the reception of sunlight.
The fan comes with a manufacturer warranty of 1 year which is pretty low compared to many offered by the competition.
5. iLIVING ILG8SF301
iLiving ILG8SF301 is another whisper quiet solar attic fan that is installed on the roof of the attic. iLiving is a known name in the country and this is one of the best products they offer.
This is a huge fan with a power rating of 1750 CFM and it is capable of cooling an area up to 2000 sq. ft. This is pretty large for a solar attic fan with a power rating of 20 Watts.
This is a 'hybrid' attic fan ie, it is powered by both solar and electric energy. However, to make it work with electricity you will have to buy some additional equipment. Out of the package, it comes as a solar-only attic fan.
The solar panel of this attic fan is adjustable at four angles; 0, 15, 30, and 45. In addition, the solar panel can be horizontally rotated. These allow you to adjust the unit in the direction of the sun to get maximum solar exposure.
The iLiving fan also comes with a Smart thermostat with an on/off feature which gives you more control over the attic fan even from a distance. This unit is covered under a 15-year warranty.
What causes noise in attic fans?
Attic fans make noise due to different reasons. Some of them include;
1. Damaged ball bearings or sleeve bearings
Attic fans use either ball bearings or sleeve bearings. It is generally believed that the fans with sleeve bearings are quieter, but with better technology, the bearings have improved, and they have almost the same quietness.
After prolonged use, it is not uncommon for the bearings of attic fans to get damaged. Such a damaged bearing will surely make a lot of noise when the fan is running. And not only that the fan will be noisy, but it can also be dangerous. So it is recommended to check the unit's bearings if your fan starts to make a lot of noise.
2. Lack of lubrication
As you know, attic fans run at high speeds to generate enough airflow to vent the attic. Therefore, like all machines, their parts need to be lubricated. Lack of proper maintenance results in friction between the moving parts. This not only causes loud noises but also results in faster wear and tear.
3. Unbalanced blades
The blades of the attic fan should be properly balanced. Even if they were accurately balanced during installation, the accumulation of dust and dirt could cause imbalance. Since these fans run at high speeds, even a small change in balance results in noise as well as wear and tear.
How to find a quiet attic fan?
There aren't many things you can do in terms of insulation to make an attic fan quieter. Most of the noise comes from the motor, blades, and vibrations. So what you can do is;
Look for a fan with more blades
For any fan, the more blades it has, the quieter it will be. This is because, for a fan with more blades, each blade does not have to work as much as that of a fan with a lesser number of blades (for the same CFM).
That means a 2000 CFM fan with 4 blades is quieter than one with the same CFM but has only 3 blades.
Go for a quieter motor
The noise from the motor contributes much to the overall noise produced by the attic fan. So going for a quieter motor is ideal.
Brushless motors are much quieter, and they have better performance and efficiency than brushed motors. So if you want a quiet attic fan go for one with a brushless motor.
To identify which motor is brushless, go through the specifications of the attic fan. If ECM (Electronically Commutated Motor) technology is mentioned anywhere, then that fan has a quiet motor.
Prefer a belt-driven attic fan
Belt-driven attic fans are much quieter than direct-driven ones. This is always mentioned in the specification sheet of the fan, so look for it, go for it.
Prefer an attic fan with bigger blades
A large fan running at slow speed will be much quieter than a small one running at high speeds. So opting for a large attic fan that runs at a low RPM can give you quieter performance. However, the size of the fan depends on a lot of other things, so make a learned decision.
Balance the blades during installation
As mentioned before, unbalanced blades make a fan noisy and dangerous. It is wise to check the balance of the attic fan blades before and after installation. A perfectly balanced fan will be quiet, and it will last long.
Use professional help for installation
Attic fans can be installed by yourself. But having professional help makes sure that the fan runs quietly.
This is because for the fan to run quietly, the installation needs to be done perfectly with proper insulations to prevent any vibrations. Any slight vibrations, in time, may lead to bigger ones.
Conclusion
Whether your attic fan is quiet or not depends not only on your choice of buying but also on how it is installed. If you really want a quiet attic fan, I recommend hiring a professional for installation.