Attic exhaust fans, aka powered attic ventilators, are good for increasing the attic ventilation of your house. On a hot day, they reduce the temperature in your attic by maintaining a constant airflow through that space. This will take some load off your air conditioner, which in turn, will reduce the energy bills.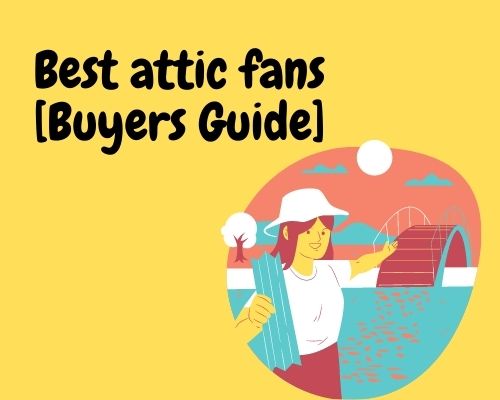 Here is my list of six attic fans you should consider for your attic;
Quick overview of top attic fans
1. QuietCool AFG SMT PRO-3.0
QuietCool is one of the leading manufacturers of attic fans. Like the name says their fans are comparatively much quieter than many other models. The AFG SMT Pro model is a feature-rich attic fan from their collection.
Here is a quick overview of its specifications;
CFM: 2860
Speeds: 2
Suitable for attic spaces up to 4085 sq.ft
Power source: Electric
Suitable location: gable
Controls: Smart app
Thermostat: Yes
Humidistat: Yes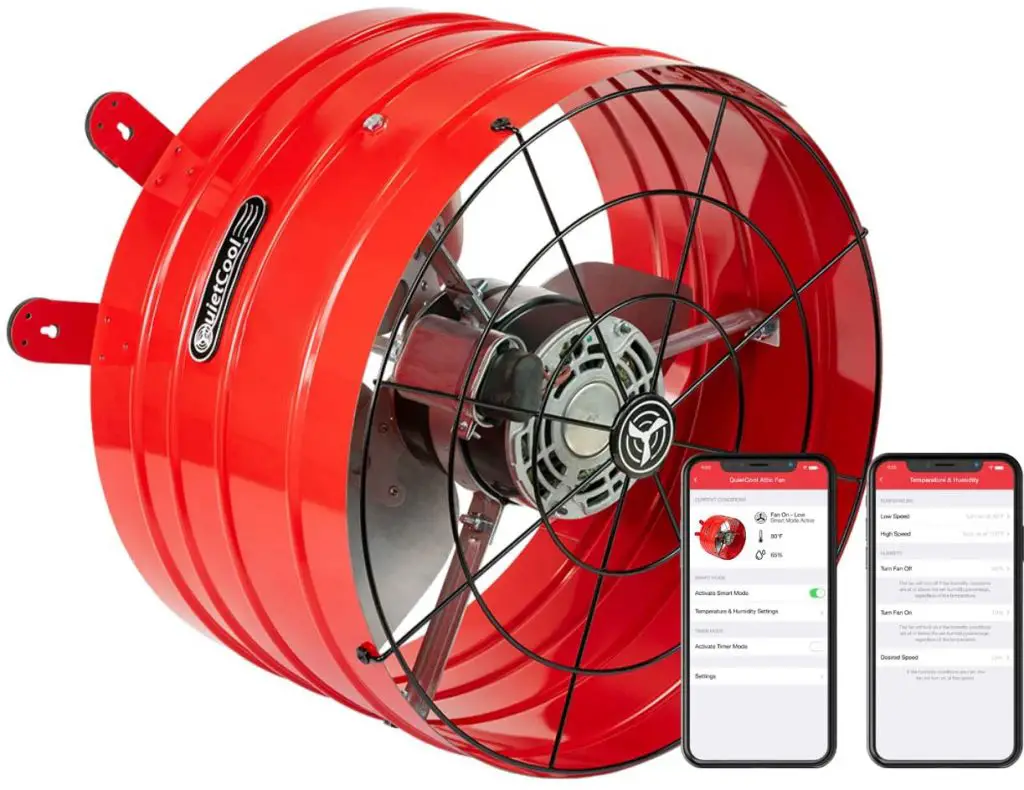 This attic fan comes with a 2-speed setting. It can produce a maximum CFM of 2860. That means it moves 2860 cubic feet of air per minute at its highest speed. At its lowest speed, this fan is capable of moving 2081 CFM of air. It can vent attics of areas up to 4000 sq.ft.
This attic fan is powered by electricity. However, there isn't much wiring required for its installation. This is a plug-and-play unit that comes with a long, preinstalled power cord. It also has built-in mountings tabs; you can install them without the help of a professional.
This is a gable mount-type attic fan, so it cannot be installed on the roof. It uses a Permanent Split Capacitor (PSC) motor that consumes only half the power as a regular motor does. The fan comes with a Smart Control App, which lets you control it using your mobile phone. You can switch it off and on at your convenience. Update: The smart app now connects with the fan via Bluetooth and not wifi.
The fan comes with a built-in thermostat and humidistat, and the two-speed motor adjusts its speed automatically based on the attic's temperature and humidity level.
This fan is light in weight; it weighs less than 28 lbs. It has a strong steel construction, and it comes with a warranty of 15 years. The package also includes vent covers and anti-vibration pads.
Pros
A smart fan that automatically adjusts its speed based on the temperature and humidity levels in the attic
Powerful enough to cool 4000 sq.ft area
Long warranty and reliable build quality
Easy installation even for inexperienced DIYers
Cons
The smart app is bluetooth based, not wi-fi enabled.
2. Cool Attic CX1500
Cool Attic is a brand owned by Ventamatic Ltd, another big player in the attic fan space. The CX1500 is one of their most popular attic fans.
Here is a quick overview of the specifications of CX1500;
CFM: 1300
Speeds: 1
Suitable for attic spaces up to 1850 sq.ft
Power source: Electric
Suitable location: gable
Controls: Power switch
Thermostat: Yes
Humidistat: No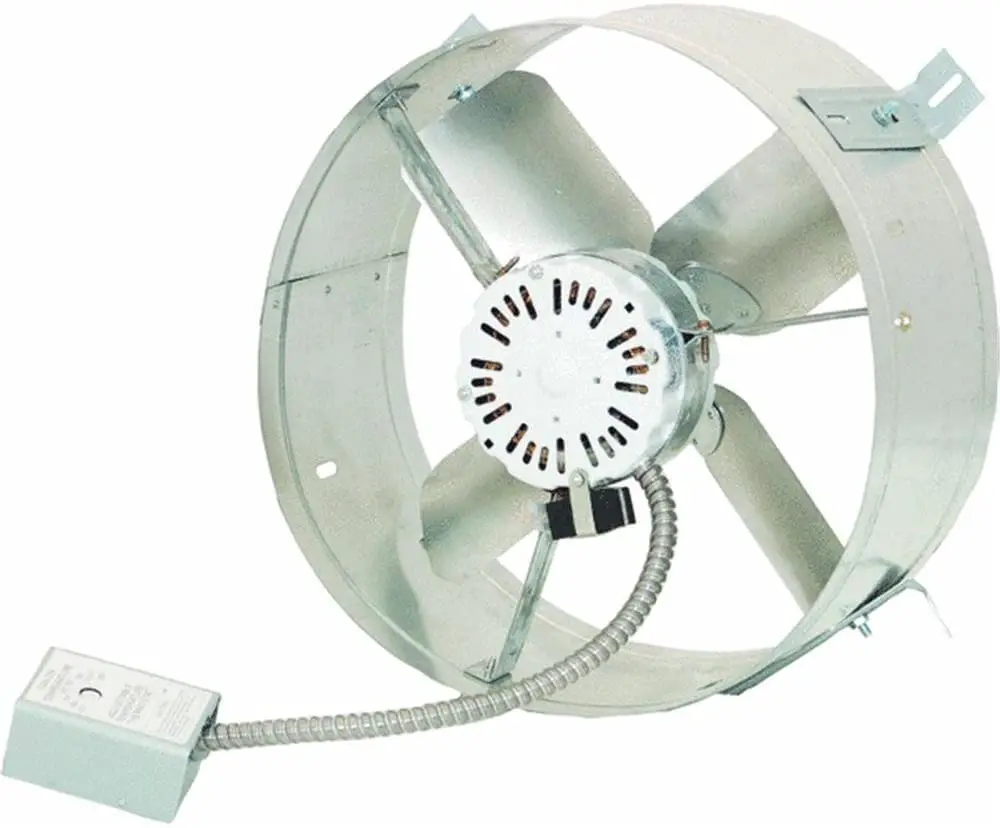 Cool Attic CX1500 comes with a single-speed setting. It can move up to 1300 cubic feet of air in a minute. It is suitable for attic spaces up to 1850 sq. ft area.
This fan is installed on the gable of the attic. It is powered by electricity. It uses a direct drive PSC motor which consumes approximately 3.4 amps, which is not that much. The fan is pretty basic with no extra accessories. It needs to be hard-wired to the mains. It doesn't have a power switch, so it should be connected to a separately installed switch if you want to turn this off. It also doesn't come with louvers or vibration dampers, or any other accessories for installation. So if you are thinking of DIYing this fan, it won't be easy.
In terms of performance, CX1500 does its job. The preinstalled thermostat that comes with the unit does a good job of running the fan based on the temperature in the attic. This temperature setting can be changed manually anywhere between 50 to 120 Fahrenheit.
This fan is made of galvanized steel. It is 14 inches in diameter and is pretty lightweight. Its build quality is average, and the warranty coverage is only for 2-years. One of the main reasons behind the popularity of this product is the pricing. It is priced very competitively, it works, and it lasts for some years, so this is a popular choice for many.
Pros
Competitive pricing
Works as described
Comes with a thermostat
Cons
Short warranty coverage
No plug and play option
Difficult for DIYers to install
3. Air Vent WCGA attic fan
This attic fan by Air Vent is a popular choice for many homeowners. It follows a different design than conventional attic fans. Before going into further details, let me share with you a quick overview of its specifications.
CFM: 1050
Speeds: 1
Suitable for attic spaces up to 1500 sq.ft
Power source: Electric
Suitable location: attic gable
Controls: Power switch
Thermostat: Yes
Humidistat: No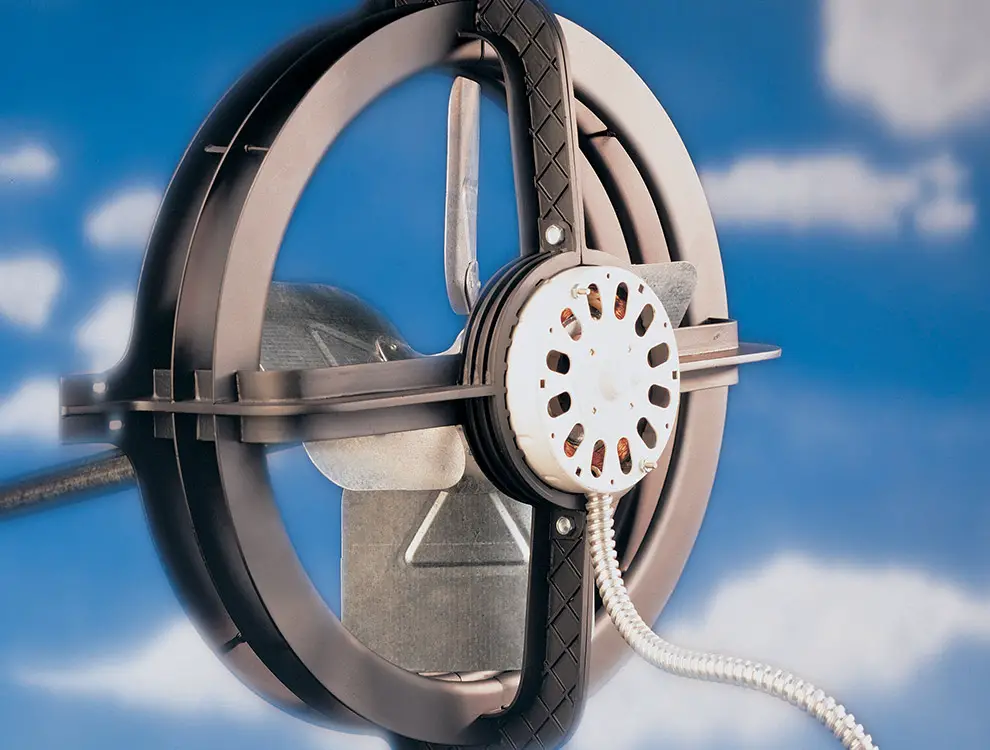 The first thing you will notice about this fan is its housing. Unlike other attic fans which use a closed housing, this one uses patented rings. The company claims that this design improves airflow.
This attic fan can move 1050 cubic feet of air in a minute. It is suitable for attics of an area up to 1500 sq. ft. It is electrically operated, and the motor is connected directly to the fan. It consumes around 3.2A, which is pretty normal for an attic fan.
The Air Vent attic fan doesn't come with a power switch. It needs to be directly connected to the mains. Just like the 'Cool Attic' fan listed above, you will need to install an additional power socket/switch if you wish to control the fan. The fan has a thermostat that switches it on and off based on the attic temperature. Using it, you can set the fan to start and stop at any temperature between 50 and 120 Fahrenheit.
This unit doesn't come with louvers, but you can buy it separately. The fan has six blades. Generally, a fan becomes quieter with more blades. True to that, this Air Vent attic fan is around 30% quieter than other attic fans.
The build quality of the fan is excellent. It is covered under a 10-year limited warranty which speaks volumes about its reliability.
Pros
Efficient design
Long warranty
Quieter operation
Comes with a thermostat
Cons
Lacks a power switch so switching the fan off is not possible
4. iLiving 10 inch attic fan
iLiving USA is a retailer/wholesaler of many products that are not necessarily made in the USA. This 10-inch attic fan of theirs is one of the top-selling products in its category. Here is a quick overview of its specifications;
CFM: 600
Speeds: 1
Suitable for attic spaces up to 900 sq.ft
Power source: Electric
Suitable location: attic gable
Controls: Power switch, optional remote control
Thermostat – Yes
Humidistat: Yes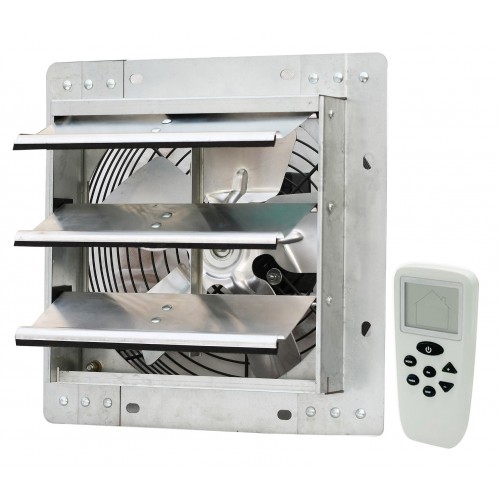 As you noticed, this is a small size attic fan with only a CFM of 600, but there are many size variations available for this one ranging from 600 to 6000 CFM. This particular model can cool attic areas up to 900 sq. ft. This is a gable mount attic fan, and I don't recommend it to be used on the ceiling.
This fan has only a one-speed setting by default. But when combined with a speed controller by iLiving, this fan can run at multiple speeds. This will let you run the fan faster and slower, depending on your comfort levels.
This fan doesn't come with a thermostat, but you get a humidistat and a thermostat if you purchase the optional remote control. You can set the temperature and humidity levels using the remote control, which has a range of up to 1000 feet. The fan will turn on itself when the temperature and humidity levels fall below the preset levels. This fan is very quiet and produces less than 45 decibels. You can also use the timer function with the remote to run it for a specific time.
The frame of the fan is made of galvanized steel. Its shutters and fan blades are made of aluminum. The fan is covered under a 1-year warranty.
This fan is a very popular choice for garage ventilation.
Pros
Quiet operation
Remote control operation with many features
Plenty of models to choose from
Cons
5. Remington Solar attic fan
I first thought that Remington Solar is part of the original Remington company that sells firearms. But that is not so; this one has no relation with the latter. This is a company that specializes in solar products. In addition to attic fans, they also have attic insulators, pest defense, pool cleaners, etc.
This 30 Watt solar attic fan is a very popular product by this company. Let's see more details of this product;
CFM: 1550
Speeds: 1
Suitable for attic spaces up to 2200 sq.ft
Power source: Solar (optional hybrid)
Suitable location: roof
Controls: NA
Thermostat – Yes
Humidistat: Yes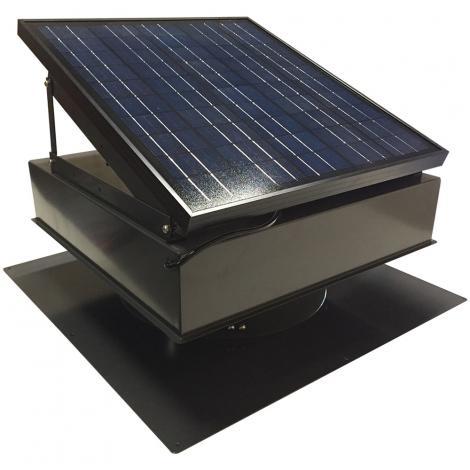 As mentioned before, this attic fan is powered by Solar energy. It comes with a solar panel that generates 30 watts of energy to run the fan throughout the day.
What if you want the fan to run at night? Fortunately, this company has a solution. You can buy a hybrid adaptor that automatically switches the fan to draw power from the mains if the solar power levels are low. This not only helps the fan to run at night but also makes sure it doesn't lack in performance during cloudy times.
Remington Solar fan produces a CFM of 1550, which is enough to cool an attic area of 2200 sq. ft. If you are not sure how much CFM your fan needs, feel free to check my attic fan sizing guide.
This fan is mounted on the roof, not on the gable. It comes with an adjustable tilt mount so you can adjust the solar panel to an angle that gains the most sunlight.
The inbuilt thermostat and humidistat help to run the fan without hassle. Unfortunately, the thermostat and humidistat are preset to 80 degrees F and 75% relative humidity, and you cannot change this. The fan doesn't require any electrical installations unless you are using the hybrid adaptor. I won't say that the installation is easy as it requires cutting a hole on your roof and insulating it properly against rain and cold, but an experienced DIYer can get this done in no time.
The Remington Solar attic fans come with a lifetime warranty. I recommend checking this guide before buying a solar attic fan.
Pros
Works on solar energy
Lifetime limited warranty
Quiet operation
Optional hybrid power adaptor
Powerful enough to cool large attic areas
30% federal tax credit
Cons
Roof mount installation can be difficult for amateur DIYers
6. Broan NuTone solar attic fan
Broan is a leading manufacturer of residential ventilation products in the USA. They have many products under their belt ranging from exhaust hoods to ventilation fans.
Here is a quick over view of one of the popular solar attic fan by this company;
CFM: 537
Speeds: 1
Suitable for attic spaces up to 767 sq.ft
Power source: Solar
Suitable location: roof
Controls: NA
Thermostat – Optional
Humidistat: No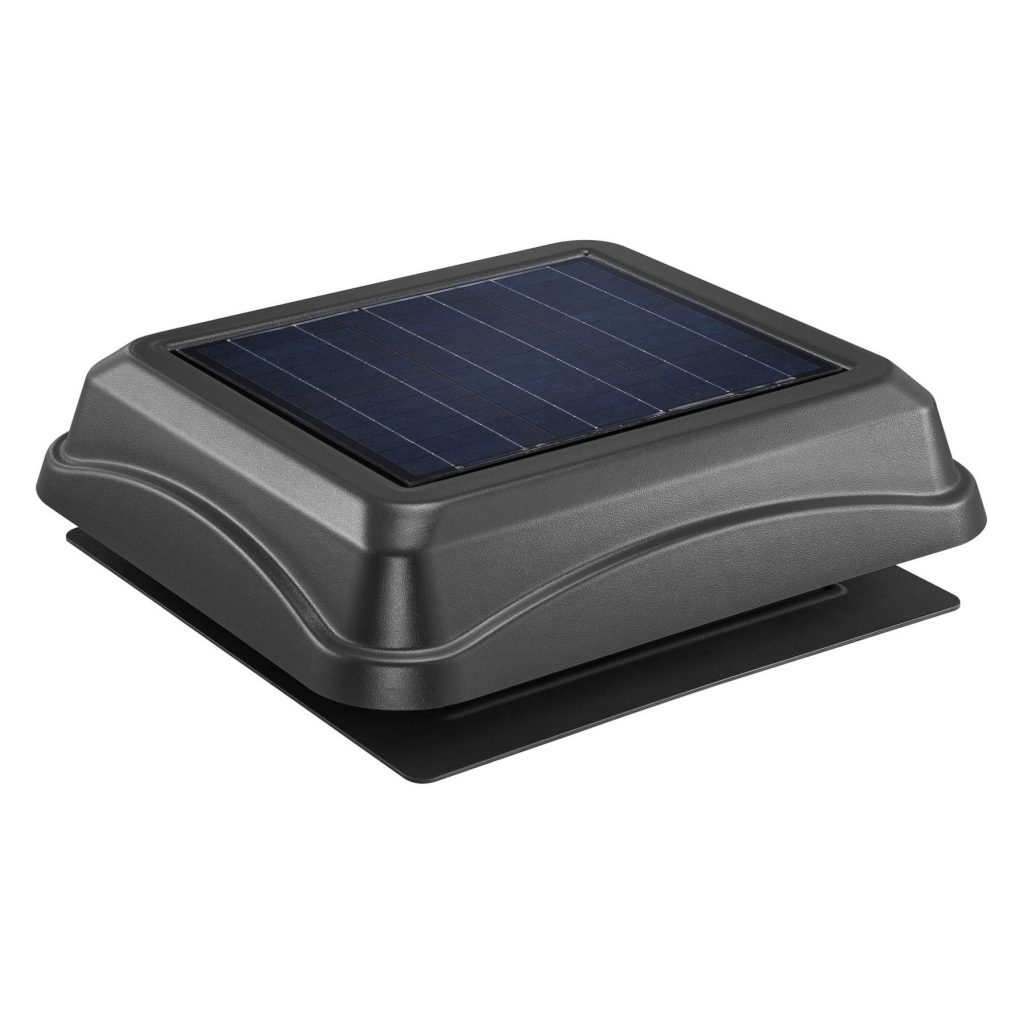 The Broan attic fan is 12 inches in diameter with 5 aluminum blades made from a single sheet. It has a CFM rating of 537, and it can cool an attic area of up to 767 sq. ft.
This attic fan is mounted on the roof of the house. You cannot tilt the solar panel it has, so you should install the fan on the side of the roof, which gets the most sunlight. This is a low-profile fan that looks really cute, and it blends into the roof. It is mostly made of durable plastic with an Aluminum net to prevent any insects from getting into the house through the exhaust.
It doesn't come with any sort of controls. It doesn't have a thermostat or humidistat, so the fan will simply continue to run for the whole day. An optional thermostat is available to buy. But since this is a solar-powered fan, I don't see the need of having a thermostat; just let it run the whole day; it won't cost you anything.
One drawback of this fan is that it doesn't have any hybrid adaptor, meaning the fan will be dead at night. So if your attic needs ventilation at night or evenings, this may not be the best choice for you.
You will get a 30% federal tax credit on the purchase of any solar fans, including this one.
One disappointing thing about this fan is the warranty which is just 1-year. I really wish they could give a lifetime warranty just like their main competitor.
Pros
Solar-powered
Quiet operation
Low profile and good looking
Cons
No hybrid power option
Short warranty
Do I really need an attic fan?
Choosing the right attic fan is never easy, and installing the wrong will cause you more bad than good. If you are planning to buy an attic fan, I highly recommend reading this before you buy.
The first question you need to ask yourself is whether you 'really' need an attic fan. I am pretty sure attic fan companies will do everything in their power to convince you that you really need this. But the truth is not everyone needs an attic fan.
In fact, whether an attic fan is good or bad is a long-debated topic. One thing I know is that they don't save you any money. I know this is not what attic fan companies want you to believe, but the claim that attic fans reduce your air conditioning load is bogus. This is because the heat transfer from your roof to the ceiling is through radiation, not through conduction. Therefore removing hot air from the attic doesn't significantly cool your ceiling or your living spaces.
But that being said, having attic fans have many other advantages, like they prevent the growth of mold. They also cool the attic, so if you have any business in the attic, it is good to have an attic fan installed. If you are not sure whether you need an attic fan or not, this is a good article to read.
Things to look for when buying an attic fan
If you have already decided that your house needs an attic fan, here are the things you MUST know before buying one;
Mounting location
Where do you plan to mount the attic fan, Gable, or roof? There are two types of attic fans; gable mount and roof mount. Gable mount attic fans are easier to install (if you already have a gable vent); they are also cheaper. If you like to DIY and save costs, a gable mount fan is a good choice. On the other hand, Roof mount fans are a bit more costly, and you need to cut a hole on the roof to install this. So I won't recommend this to amateur DIYers as in some cases, a faulty installation can void your roof's warranty.
Attic ventilation
Does your attic have enough ventilation? The US Federal Housing agency recommends 1 sq. ft of attic ventilation for every 150 to 300 sq. ft of the attic floor area. If your existing attic ventilation is less than this, then using a powered attic ventilator will create negative pressure in the attic, leading to other problems. So before installing an attic fan, make sure that our attic is properly ventilated.
CFM requirement
How much CFM does your attic fan need? To get this, multiply the area of your attic by 0.7, and that will give you the CFM required for the attic fan. If you have a steep roof multiply this CFM value with 1.2 as it will take more power to vent such a roof.
If the roofing is particularly dark, then the heat absorbed by the roof will be more, so you will need a more powerful attic fan. So multiply the CFM value you initially got with 1.5 in this case.
Here is a detailed guide on calculationg your attic fan size.
Power source
Attic fans can be powered by electricity or solar. Of course, the fans are powered by electricity, but the electricity is generated using a solar panel in the latter case! Which one do you prefer? The benefit of buying a solar attic fan is that it doesn't add up to your energy bills. You will also get a 30% tax credit for using these fans. But on the flip side, these fans cost much more than the traditional fans. And it will take years (even decades) to break even the cost of that purchase (I am not considering inflation here, I am not an economist). Moreover, they don't work at night. Some fans have hybrid power adaptors that will take power from the mains when necessary, but not all solar fans have those.
On the other hand, traditional attic fans are cheaper, have more control options, and there are plenty of models to choose from. They are less environmentally friendly, though. The choice is yours.
Control options
One major problem with many attic fans is that it is difficult to turn them off. You will have to climb to the attic and switch it off, and that is if it comes with a power switch. Some people connect the fan directly to the mains, and those fans will run forever. I always recommend having a power switch installed accessible from a living area or at least near the attic door.
Many attic fans come with a thermostat and humidistat, which is a good thing. They will prevent the fans from running the whole time, switching on them only when the humidity/temperature levels exceed the settings.
The best option to control an attic fan is using a remote controller. Some models are preinstalled with one; for others, you can buy them optionally. I highly recommend buying a remote-controlled attic fan as it gives you more control.
You can also connect the fans to a smart plug like this one, which can be controlled via Alexa.
Belt drive vs direct drive
Attic fans are connected to their motor via either direct drive or belt drive. Direct drive means that the axle of the blades is welded to the axle of the motor. In such a case, the fan runs at the same speed as the motor. This setup will prevent any power loss between the motor and the fans.
Belt drive means that the axle of the attic fan is connected to the motor via a belt. The speed of the motor and the fan will be different in most cases.
The good thing about belt drive type attic fans is that they are usually quieter than direct-drive ones. Other than this, there is no significant difference in the performance of both types of fans, and most available models in the market are direct drive. So if you are unsure which type you want, skip this part.
Build quality and warranty
This is perhaps the most important thing to look for after the CFM rating. Attic fans come in contact with heat, cold, moisture, dust, and whatnot. So they must be built strong, and a long warranty should back them. It is tough to know the build quality of a product until you get it in your hands, but a warranty is a good indicator of build quality. If a product has a long warranty period, it is very likely to be built strong.
Once you decide what CFM fan you need, look for the one with the longest warranty in that power range. Please note that in most cases, the warranty applies only to the first buyer. If you sell your home and the attic fan stops working, the new buyer is not eligible for that warranty.
Noise
Another important thing to look for is the noise. Unfortunately, you can't know how much noise a fan makes without actually running it. Solar fans are the quietest, usually. If a fan is quiet, then the manufacturer will clearly say that in the product description, so if you don't find it, don't go for it. Here is a list of the quietest attic fans.
In most cases, the noise of attic fans doesn't affect you as they are far away from the living areas, and there are layers of insulation and a ceiling between. But if you really want a quiet fan, check the list above.
Price
There are cheap attic fans as well as pricey ones. Solar fans tend to be the priciest, and gable mount fans tend to be the cheapest—plan according to your budget.