Are you ready to learn about the latest and greatest decorative fireplaces on the market? Water vapor fireplaces look nothing like traditional fireplaces, but they still provide an inviting atmosphere without the mess and drawbacks of conventional fireplaces. Many people are hesitant to purchase these units because they don't know what they are or how they work, but this buying guide will help you find the suitable unit for your home and your needs.
What is a water vapor fireplace?
A water vapor fireplace uses electricity and water to create the illusion of flames. The fireplaces use LED lights and a water reservoir to produce fire effects that look real but are cold and completely safe to touch. And last but not least, these fireplaces can be with or without a heating option so that you can use them all year round for a dreamy ambiance.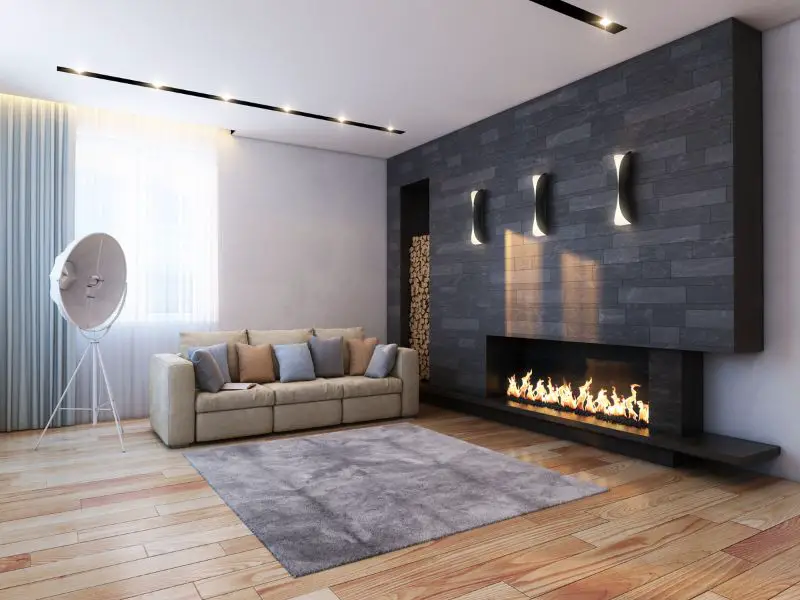 How does a water vapor fireplace work?
To understand how it works, it's essential to know what goes into a water vapor fireplace system and how they work together to give you your simulated fire experience. Let's look at the components of a water vapor fireplace and how they work to create your desired environment.
Reservoir
Water vapor fireplaces run on water and electricity. The reservoir is a crucial component of this fireplace which holds water used throughout the operation. As you turn on the fireplace, water from this part goes towards the evaporator.
Evaporator
The mist maker module or evaporator is the component of the water vapor fireplace that produces the water vapor. It comprises a ceramic disc that vibrates at an ultrasonic frequency to generate a cool mist. When turned on, water flows into this component to produce mist. You can feel the moisture on your hand. if you place it above the fireplace.
Lamp or LEDs
It is a vital component of the water vapor fireplace. When the light from the LEDs falls on the mist or water vapors, it reflects in the form of realistic-looking flames. In addition, the lamp serves a vital function of keeping the mist up as it tries to settle down. 
Heater
It is an optional choice in the water vapor fireplace. All the other components are used to create the illusion of a real fire, while the heater provides the heating element to the fireplace. You can opt for a water vapor fireplace with or without the heater.
Are water vapor fireplaces warm?
Most water vapor fireplaces provide unbelievably authentic but cold flames that can be touched with hands without fear of burning. Most water vapor fireplaces serve as decorative pieces, but some brands offer a heating option in water vapor fireplaces so that you can choose a model according to your design needs. A water vapor fireplace can provide ample heat for up to 400 square feet of area.
What are the benefits of a water vapor fireplace?
With so many innovative technologies and lifestyle preferences, homeowners are constantly looking for ways to add a dramatic fireplace feature to their homes that don't emit harmful gases or result in humidity or condensation. A water vapor fireplace is an excellent way to add the beauty of a fireplace without having to deal with the hassles and risks of a traditional fireplace.
The benefits of having a fireplace are numerous, including the fact that they can increase your home's resale value and provide the perfect ambiance to relax at any time of year. When deciding whether or not to invest in a water vapor fireplace, there are many benefits to consider. Following are some of the top benefits of having one installed in your home!
Requires less maintenance
One of the best benefits of a water vapor fireplace is that it requires less maintenance than a traditional wood-burning or gas fireplace. You won't have to worry about ashes, soot, or smoke, and you won't need to worry about cleaning your chimney. In addition, you wouldn't need to buy and store wood logs.
Budget-friendly
One of the best things about water vapor fireplaces is that they are much more budget-friendly than traditional fireplaces. Not only do you not have to worry about the fuel cost, but you also don't have to worry about the maintenance cost. Initially, you'll have to invest in installation, but the cost of running a water vapor fireplace over its lifetime is much lower than the other standard fireplaces.
Better heating efficiency
A water vapor fireplace with a heating option is up to 99.9% efficient, making it one of the market's most efficient home heating solutions. All the electricity used goes into generating heat without any waste. That means that for every penny you spend on fuel, almost all of it goes towards heating your home – not up in smoke.
Eco-friendly
Water vapor fireplaces don't produce emissions or pollutants, so you can feel good about using them in your home. If you are concerned about the side effects of using a traditional fireplace on the environment, then go for a water vapor fireplace. You will not have to use wood and fuel to operate this fireplace, making it a perfect environment-friendly option.
Safe to use
One of the best things about water vapor fireplaces is that they are safe to use. Because there are no emissions, there is no fear of carbon monoxide poisoning. Additionally, there are no fire risks involved with using a water vapor fireplace, making it the perfect choice for families with young children or pets.
How to install a water vapor fireplace
Most water vapor fireplaces are easier to install. However, the simplicity of installation also depends on whether it's a new or existing installation. Generally, these fireplaces come with easy installation directions, and you only need to plug them into an existing outlet.
For larger units, you will need to hire a professional to install them properly. However, complete directions are always provided by the manufacturer. Always check the installation requirements before buying a fireplace, so you don't waste time or money.
Usually, water vapor fireplaces or inserts can be easily installed within an hour. But more time and consideration are needed to design and create the surrounding décor for a perfect finished look.
Generally, the following steps are involved when planning to install a water vapor fireplace:
Finding the right location for the fireplace
Take correct measurements
Place order for all the materials required
Hire a professional for perfect installation
How to maintain a water vapor fireplace?
After you turn on your fireplace and enjoy its ambiance for a while, you must ensure it continues to function at peak performance. Check out these maintenance tips to keep your water vapor fireplace running smoothly for years to come.
Don't let dust accumulate on your fireplace or insert. Use a soft cloth to regularly dust off the outer casing of the fireplace.
Use soapy water to clean the top cover of the fireplace every two weeks. Letting it stay dirty for extended periods will make it difficult to clean the fireplace later.
The water tank and evaporator need monthly cleaning because the water in these parts can result in the build-up, which can compromise the fireplace's efficiency.
Keep the air filter clear of any build-up or discoloration by washing and drying them weekly.
Considerations for choosing a water vapor fireplace
Selecting the right water vapor fireplace for your home can seem daunting, with so many options to choose from. Here are five things to consider to ensure you get the right product for you and your living space.
Size
The size of the room where you want to install the fireplace and the size of the fireplace itself are essential considerations. Don't just pick the largest fireplace available. You'll want to ensure that the fireplace is the right size for the room. Otherwise, it will look out of place and be too overwhelming. Also, choose a suitable size if you don't want the fireplace to be too small for the space.
Style
When it comes to fireplaces, there are many different types and styles to choose from. Pick a style that complements the overall vibe of your home instead of looking like a foreign object.
Brand
Not all brands are created equal, and some offer features that may better suit your needs than others. Research the brands available to find the one that is right for your home. Decide on the brand that gives you more options at less cost. However, don't overlook the quality and reputation.
Budget
Your budget is the most important thing to consider when choosing a water vapor fireplace. Water vapor fireplaces can range in price from a few hundred dollars to several thousand, so it's essential to know how much you're willing to spend.
Installation
There are many things to consider from the installation point of few. Most water vapor fireplaces are simple to install, where you only need to plug them in an outlet, while a few can have specific installation requirements. Ensure that you understand the installation requirements before buying a model.
Conclusion
A water vapor fireplace is an excellent option if you're looking for a fireplace that adds style and functionality to your home. They are much more efficient than other fireplaces and can save you money on your energy bill. Moreover, they are also safer for your family, as there is no risk of exposure to harmful chemicals or fumes. 
However, before you purchase, consider the size of your room and your design needs. Doing so will ensure that your new buy complements your existing decor. Enjoy a great ambiance with a water vapor fireplace without any fire risk!