There are several alternatives to wood-burning fireplaces. Ventless gas logs are an excellent way to get the cozy feel of a wood fire in your home without the hassle of opening and closing the damper or putting in fresh wood every few hours. It is a more energy-efficient option that also comes with added heat benefits. But with so many different ventless gas log options available on the market today, it can be hard to know which one will best fit your needs and budget. 
You might be reading this article to look for the best ventless gas logs, or you are just curious to know about an alternative heat source. So, if you want to know what ventless gas logs are and take a closer look at the essential features of ventless gas logs, jump to the next section. If you are interested in the best ventless gas log options, keep reading!
You may think logs are logs, but let's be honest: they're not. Wood ventless logs can range in quality and style, so choosing one that will complement your fire pit or gas insert should not be taken lightly. I have scoured and found these brilliant ventless gas logs for your ventless fireplace:
1. Stanbroil Fireplace Ceramic Wood Logs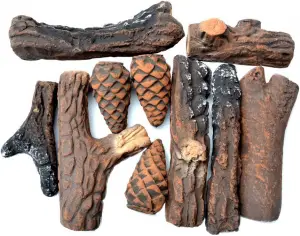 Highlights:
It comprises 7 logs and 3 pine cones
Made of glass and ceramic with a wood feel
Lightweight and durable
A realistic dancing flame pattern
Do not release any ash or residue
These logs are a great way to enhance your fireplace and make it look more natural. They come in different styles and sizes, with each log looking as though it was hand-carved. These logs are not just good-looking but are also very safe and can be placed in your fireplace without causing any harm to you or your family. These logs fit into any vent-free insert, propane gas fire pit, or indoor fireplace.
2. QuliMetal Gas Fireplace Log Set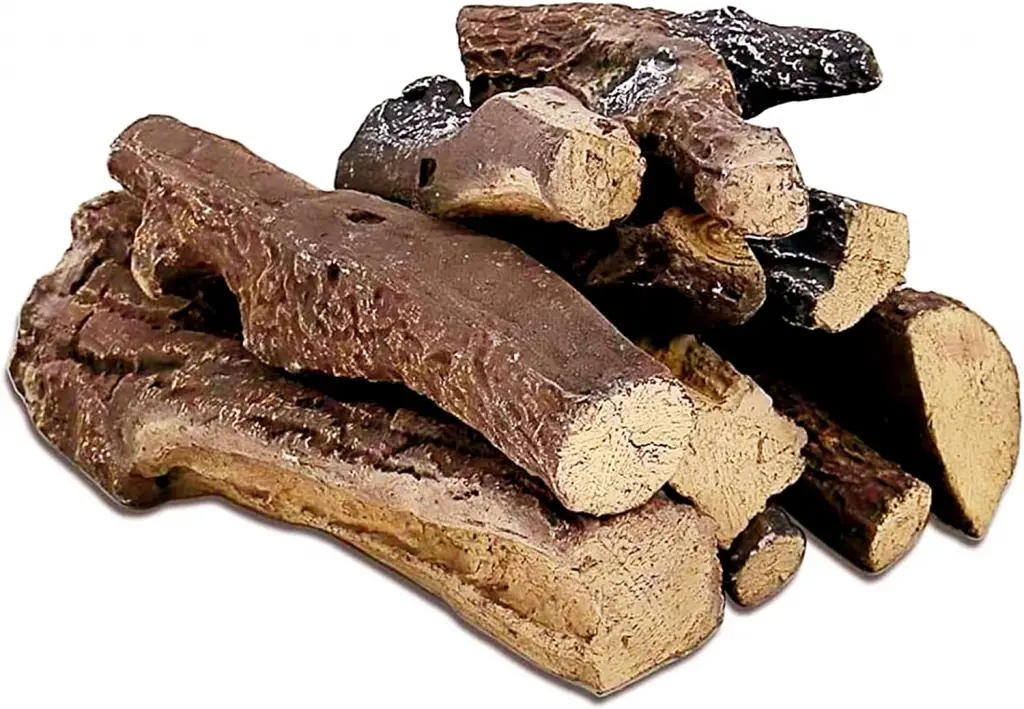 Highlights:
Hand-painted to look like natural wood
No smoke or toxic fumes
Extremely heat resistant and will last for years
No irritating odor
Work best with natural gas
These will perfectly complement any current logs in your fireplace. Their addition will make your fireplace look fuller and will go along well with fire starters or lava rocks. These ceramic logs burn without polluting the air and don't leave any residue. The logs cool down quickly, making them a safe item to use in your home with pets or small kids.
3. GASPRO Ventless Gas Fireplace Logs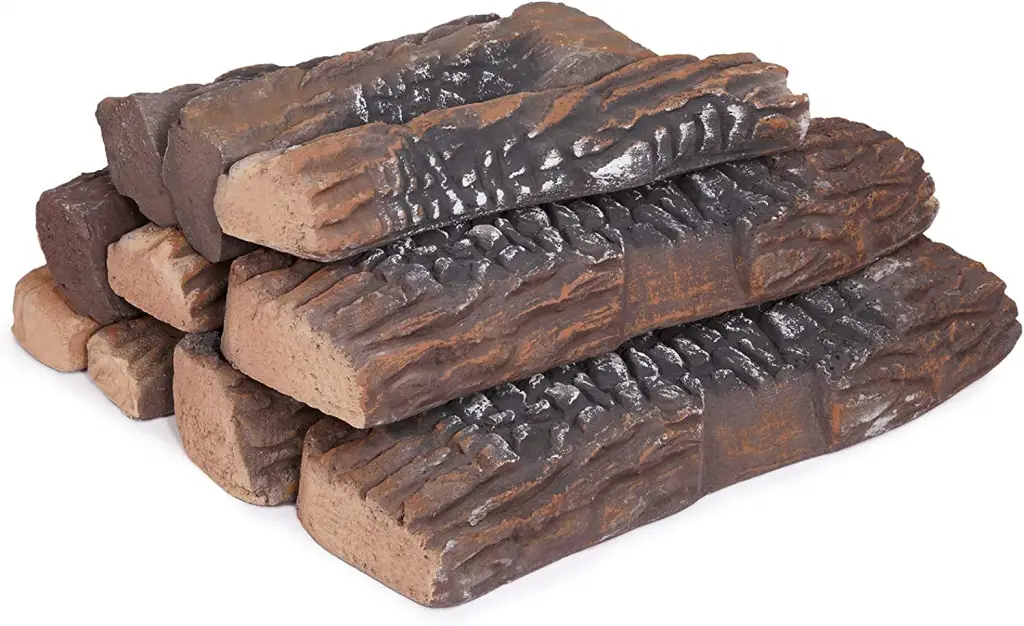 Highlights:
10 pieces that look like natural wood when burning
Long-lasting
Lightweight for easy stacking
Safe and non-toxic without ash and residue
Glow deep red for a perfect wood-fire ambiance
These low-maintenance gas logs add a touch of authenticity and coziness to your fireplace without mess and fuss. These realistic-looking logs are crafted from ceramic fiber and can be used with ventless or vented wood-burning fireplaces. The size of the logs is between 10 inches to 15 inches, so they're full size but very lightweight.
4. IBS Ventless Gas Fireplace Logs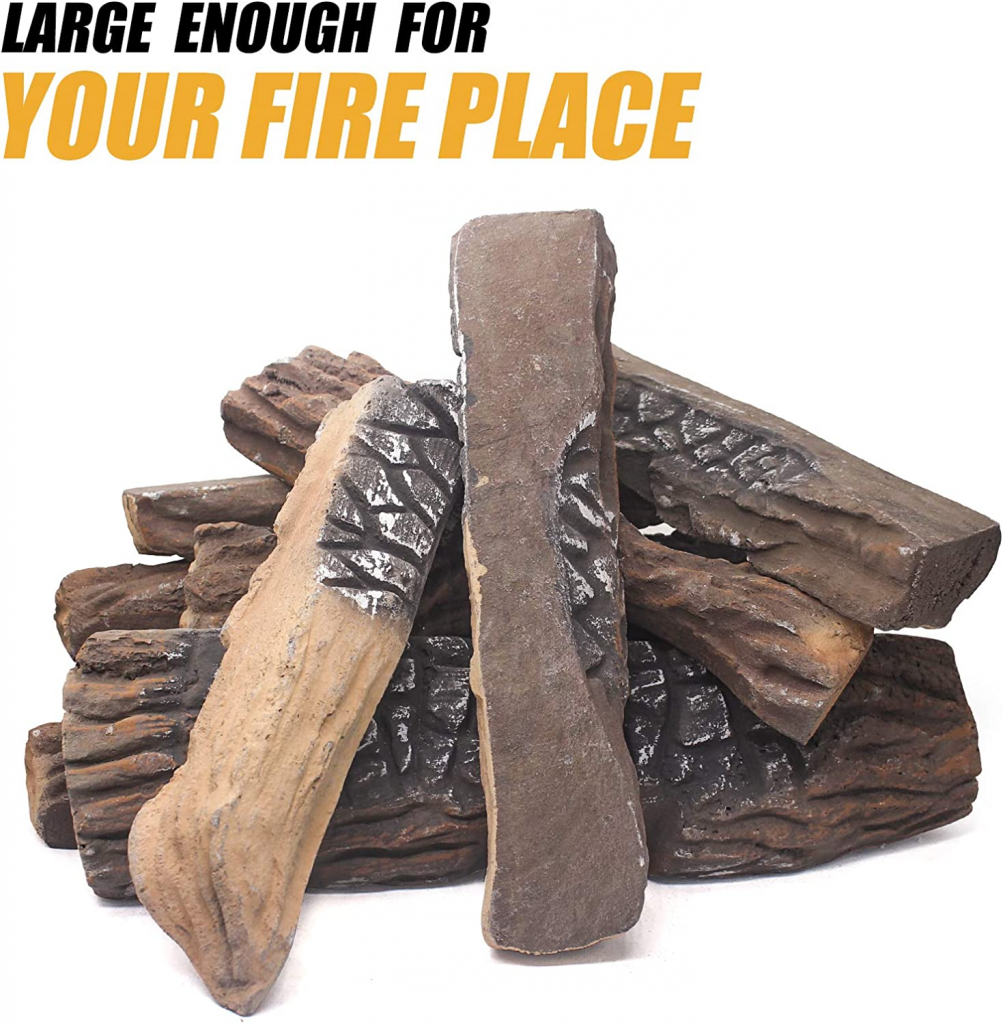 Highlights:
Seven differently shaped wood logs and 3 pine cones
Size ranges between 3 inches to 8 inches
Made from highly durable ceramic fiber
Great design that doesn't leave any scratches on the fireplace surface 
It can be used aesthetically with other items such as glowing embers, rockwood, etc.
The logs will add a genuine warm feel to your fireplace. Also, they're well-built and are easy to set up. IBS gas log set can be used in any fireplace, including zero-clearance and with vented or ventless fireplaces. These quality logs are smaller than traditional vent-free gas logs, measuring less than 8 inches long.
5. 8 Small Pieces Set of Ceramic Wood Gas Fireplace Logs. Indoor, Gas Inserts, Ventless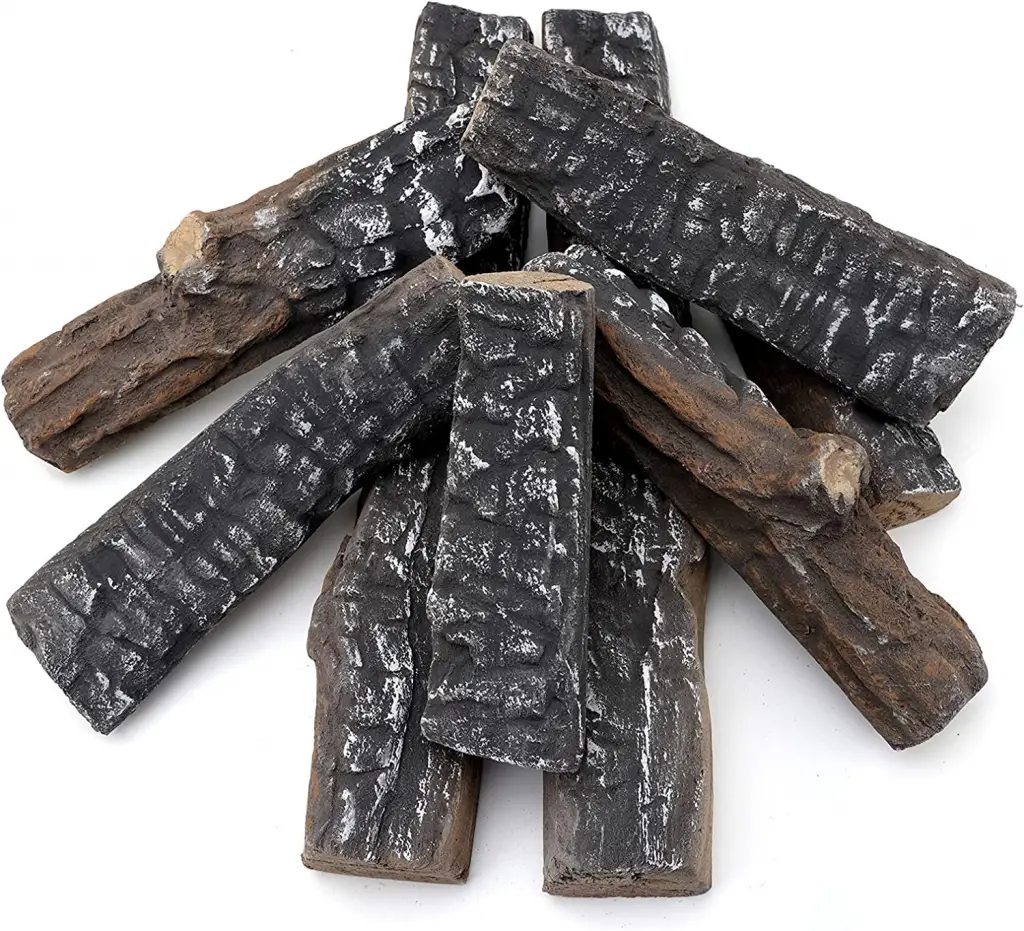 Highlights:
8 logs in 4 different sizes from 5.9 inches to 13 inches
Feature glowing spots like real embers
Environment-friendly with toxic exhaust
It can be used in zero clearance fireplaces
Long-sized logs offer more flexibility in the arrangement
With bright and elegant flame, these logs look like natural wood. By combining it with other styles of ceramic logs, you can enjoy a perfect fireplace ambiance as per your liking. These are lightweight and portable to carry from room to room or storage when not in use. Moreover, these porous ceramic fiber logs provide better warmth than cut glass or cement logs.
6. ZBXFCSH 10PCS Small Decoration Ceramic Wood Gas Fireplace Logs for Gas Inserts, Ventless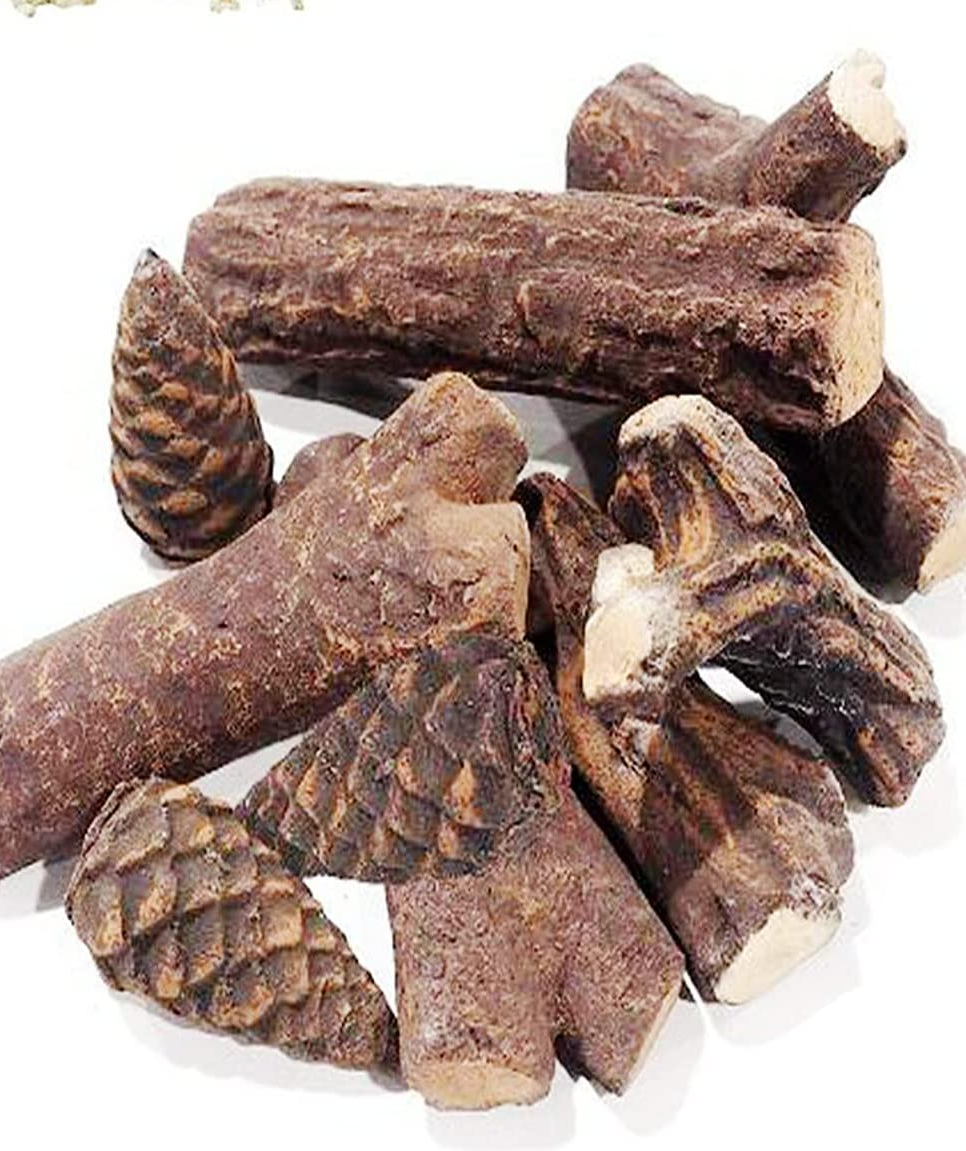 Highlights:
Aesthetically pleasing branch and twig set 
Included rock wool and vermiculite granules add authenticity to the setup
7 wood logs and 3 pine cones ranging from 3 inches to 8 inches
Environment-friendly without toxic fumes
Safe to use and don't leave ash and residue 
Decorating your fireplace can be expensive, so make a unique statement with long-lasting ceramic gas logs. These logs also include 3 oz. rock wool and 2 oz. vermiculite granules in the package as a bonus. It makes an ideal Christmas gift as the items can be used as Christmas decorations.
What are ventless gas logs?
If you're unsure what ventless gas logs are, they're essentially logs that provide a mini fireplace—but without any pesky venting. These fireplaces heat your home in much the same way as traditional wood-burning fireplaces, and some models even offer features like logs that crackle.
Ventless logs are an efficient source of heat that allows heat and moisture to stay indoors because they don't require a chimney to operate. They also recirculate the same indoor air without introducing fresh air into the room.
How do ventless gas logs work?
Ventless gas logs are made from refractory cement, allowing them to assume any shape easily. These logs are made to look exactly like natural wood logs. You won't be able to tell them apart from the natural wood at a glance. Unlike traditional gas logs, ventless gas logs do not need a flue. They're designed for use in fireplaces that don't have an open chimney (like a zero-clearance fireplace) or where installing a traditional wood or gas log set is impossible due to space limitations. Ventless logs are inserted directly into your existing firebox and are installed using special hangers.
What type of fireplace uses ventless gas logs?
Ventless gas logs are used in fireplaces with gas burning and heat-producing features. These are ideally used in ventless fireplaces or where the chimney is sealed to avoid the heat produced from escaping outside the room. They are perfect for use in apartments and other joint living spaces because they don't need a chimney or flue to operate.
What are the advantages of ventless gas logs? 
It's essential to learn about the pros and cons of ventless gas logs to make an informed decision that works best for your home and your family. Here are some important advantages of using ventless gas logs:
Don't require a chimney
Many homeowners prefer ventless gas logs for their ease of installation. As a ventless log set heats, it produces zero emissions, so it doesn't require any venting to the outside. It gives ventless sets an advantage over traditional fireplace logs in terms of safety and cost savings because no chimney is required for installation. There are no vents to connect or draft openings to seal, making them a hassle-free option than conventional fireplaces.
Produce more heat
While ventless logs may produce more or less the same heat as vented logs, they heat the room better than the vented logs. Without a chimney or open flue, the heat stays indoors rather than being lost through your roof.
Environment-friendly
Ventless gas logs produce less pollution because they consume almost all of the fuel for combustion, resulting in less soot and emissions. Understandably, only a negligible amount of exhaust can justify them being ventless. Also, you are not cutting down trees to feed your fireplace, so ventless gas logs are a perfect choice for those conscious of their environmental impact.
Less fuel consumption
These ventless gas logs are 99 % efficient in converting the gas into heat. It means they don't waste any fuel in the process and use less fuel to produce more heat than vented gas logs. If you are looking for ways to keep your gas bill low, then ventless logs are an ideal option. 
What are the drawbacks of ventless gas logs?
Like any other product, ventless gas logs also have a few drawbacks that can affect your final buying decision. Here are some of the important cons:
Flames don't look as authentic
This disadvantage has more to do with your aesthetics. If you want your fireplace to look like a real wood fireplace, ventless gas logs can compromise that realistic touch. However, it might not be an issue for you if you are looking for more heat rather than the looks.
Not permitted everywhere
Depending on where you live, ventless gas logs may not be permitted. Some states and cities have banned ventless logs; others have specific regulations regarding their use or installation. It's essential to check with your local government before installing ventless gas logs. You should also check to see if your home insurance company has any specific restrictions or requirements for gas logs in your area, as they may not cover damage caused by ventless gas logs.
Lack of flexibility
You can't rearrange the logs as their design is fixed. These logs are designed so that flame doesn't touch the logs to prevent carbon monoxide emission. So, if you want to rearrange logs in another way, you're out of luck. However, the designs differ from brand to brand, so you may find sets with individual logs that can be arranged in any way you want.
Mold formation
Burning gas produces carbon dioxide and water vapors. In the absence of ventilation, ventless gas logs release moisture indoors, which can result in mold and mildew issues in the house if the ventless logs are regularly used for heating. 
Needs professional installation
You have to consider necessary specifications when installing ventless gas logs. Also, specific building codes need to be followed for safe installation. So, you will need to hire a professional to run proper safety tests before you can run your fireplace to avoid any future hazards.
Things to consider before buying ventless gas logs for your place
It would help to consider several factors before purchasing ventless gas logs to ensure they're suitable for your home and lifestyle. Here are some of the most important factors to consider when buying ventless gas logs.
Fuel type
You have to choose between natural gas and liquid propane. Natural gas is the first option for many homeowners as natural gas line is present in most residential areas. But a propane tank is the only option for those who have opted not to install a natural gas line in their home, or it's not reached their place for any reason. Propane tanks are easy to set up and take down. Once you've installed them, your log set should last approximately 2-4 weeks per tank of propane, depending on how frequently they're being used. An important thing to consider here is that natural gas is cheaper than propane, but propane burns hotter than natural gas.
Log size
Most ventless gas logs are designed for a firebox similar in size to a traditional wood-burning fireplace, so don't forget to measure your available space before purchasing. The size of the logs is crucial. Be sure to use logs that are compatible with your fireplace's firebox. Using too large logs can cause damage and safety hazards while using too small ones will result in inefficient burning. Measure the front, back, height, and depth of the fireplace before purchasing gas logs. Also, follow the manufacturer's instructions for recommended clearance.
Flame control options
One of many things to consider when looking for ventless gas logs is what kind of ignition system you prefer. You can buy gas logs with electronic ignition or a manual pilot system. In any case, you should opt for gas logs with multiple lighting options and safety features such as auto shut-off and thermocouple protection. Also, remember that most ventless gas logs need a more robust and dedicated heat source than fireplaces. Four flame control or ignition options are:
Non-piloted ignition system
Manual piloted ignition system
Manual pilot with remote
Electronic ignition system
Gas log style
These gas logs are highly efficient and made of refractory ceramic or ceramic fiber. Refractory ceramic logs are more durable and of better quality than fiber logs. You have several options in log style and designs. You can invest in premium brands for accessories such as crackling sounds and flame styles that look more realistic.
Frequently asked question
I have compiled some FAQs to answer your concerns regarding ventless gas logs. Go through these to help you make an informed decision.
Will ventless gas logs heat a room efficiently?
Ventless logs convert the fuel into heat with any substantial waste, so they are extremely good at heating where they are installed. Plus, ventless gas logs' efficiency depends on how sealed your area is. The feeling of warmth comes not only from the burning fire but because of the trapped heat that is not vented outside. 
Do ventless logs cause breathing issues?
Burning ventless logs with closed doors and windows for extended periods can decrease oxygen levels which can cause breathing problems for sensitive people. Moreover, burning ventless gas logs produces a peculiar odor that can irritate vulnerable residents. And if you open the windows periodically to avoid this issue, the heating efficiency of ventless logs will be affected.
Are ventless gas logs safe to use?
It is an important point. One potential risk with ventless gas logs is carbon monoxide poisoning. But if you live in a well-ventilated home or have another source of heat, it shouldn't be a concern. Using a carbon monoxide detector and oxygen depletion system (ODS) will give you peace of mind when using ventless gas logs. Still, if you live in a home with poor ventilation or are running an energy-efficient furnace, check with your gas company to see whether there are safety concerns before buying.
Can you use ventless gas logs in a vented fireplace?
You can effectively use ventless logs in a vented fireplace. However, ensure that the damper is closed as these logs don't need venting. Keep in mind that even if the damper is closed in a fireplace having a chimney, some heat might escape, making the use of ventless logs in a vented fireplace somewhat inefficient.
Do all ventless gas logs smell?
Because they're not connected to a flue, the odor of burning gas produced by the ventless gas logs stays inside. All ventless logs give a particular smell with varying intensity depending on their quality and brand. If you feel that the smell is stronger than it used to be or you don't find it normal, it might be a sign that they could use some cleaning. The best way to deal with a clogged or dirty burner is to call a professional for help.
How do I stop my ventless gas logs from smelling?
You cannot stop the ventless gas logs from smelling, but many tips can help reduce the smell from burning ventless logs. Some tips that can help are:
Vacuum dust and pet hair from around the logs
Don't use air fresheners in the room
Avoid using strong-smelling cleaning products in the area
Smoking inside can worsen the situation, so go outside to smoke
Use an air purifier for fresh and clean air
Final thought
After weighing all factors, ventless gas logs are an excellent option for many homeowners. They are less expensive than their vented counterparts, don't require venting through a chimney or otherwise, and emit more heat than vented gas logs. If you live in an area that doesn't ban ventless gas logs or if you want to save money while keeping your home extra warm, ventless gas logs are probably the right option for you.