Induction cooktops have witnessed a great surge in their popularity and demand in the last one and half decade in different continents, starting from Europe followed by Asia and America. Induction cooktops have really grasped the attention of the commoners and elite alike because of the wide range of advantages they offer over their competitors. They are replacing the traditional Gas and Electric cooktops as the preferred means of cooking food all around the globe. As a result, market is flooded with a variety of these products and it will be worth our time to gather some information about different types of induction stove available in the market.
Single Element Induction Cooktop
In a single element induction cooktop there is only a single cooking zone where the cookware is placed. Since they have only one burner, these units cannot be used for simultaneous preparation of different dishes. They usually have a maximum wattage of 1800W and operate at 120V. These units are comparatively less costly and are extremely portable and are generally used in tandem with some other cooking unit. They are generally used for limited cooking.
Multi Element Induction Cooktop
In multi element induction cooktop there are multiple elements creating multiple cooking zones where different cookware can be kept for simultaneous cooking of different dishes. When someone opts for multi element cooktop people generally intend to completely replace their existing gas or electric cooktop, as the case may be. These multi element units are comparatively expensive and are less portable as they require more space for installation. Further since they are intended for simultaneous cooking on different cooking zone, there power rating is considerably higher than single element cooktop. The power rating can go upto 3600W and are operated at 220V.
Built-in Induction Cooktop Units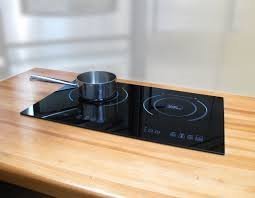 These are integral multi element built-in units coming in different dimensions depending on the number of elements or cooking zones. They are generally placed or set into cut-outs customized as per their size in countertops. These units can be perfectly installed to look like a part of the countertop and are pleasing to the eyes. Placement of these units should be done carefully so that it should be a correct fit and in level with the countertop. If the cost of customisation needed for their installation is also considered, buying and installing these units can be a costly affair.
Freestanding Countertop Induction Units
These are, as the name says, freestanding induction cooktops, they doesn't require a countertop, they are the countertop. They are usually placed between countertops but you can also use them for outdoor cooking. These cooktops are multi-burner  and also include single or multiple oven units below the induction top. These units give us freedom of movement as these can be placed without doing any major changes in the kitchen layout. These are ideal cooktops for people living in rented houses or students living away from their homes or people who love outdoor cooking. They come in different power ranges depending on our use.
Commercial Induction Unit
Induction cooktops for commercial installations are much rugged in construction as they have to withstand considerable weights and bad handling for an elaborated period of time. Moreover their power ratings are also considerably higher and wide so that large quantities and numbers of items can be prepared in less time. They are offered with electrical circuits having better industrial protection ratings to avoid any accidental mishap. They might not have the shine and wow factor of smaller residential units but they offer value for money considering their intended service.
Today market has a plethora of induction cooktops manufactured by different brands. But irrespective of their brand names and model number, they work on the principle of electromagnetic induction. Irrespective of the type, all inductive cooktops score heavily over their rivals in terms of energy consumption, efficiency, speed with which food can be cooked, all round safety and ease of use. All these factors combined make them environmentally friendly money saver unit as their energy foot print is considerably low and they reduce our utility consumption by a considerable margin.
More info: