The scope of this review and discussion is to inform you of metrics you should look at when selecting a garage exhaust fan, and we have the best garage exhaust fans for you included in this article to choose the best fan.
Garage exhaust fans help to ventilate a garage by exhausting the air in it. They are usually mounted on the wall of the garage, however, there are some models that can be mounted on the ceiling of the garage as well. Many of these exhaust fans can be noisy but many are quiet as well.
Given below is a list of some quiet exhaust fans for a garage.
1. iLiving ILG85F20V Wall mounted Exhaust Fan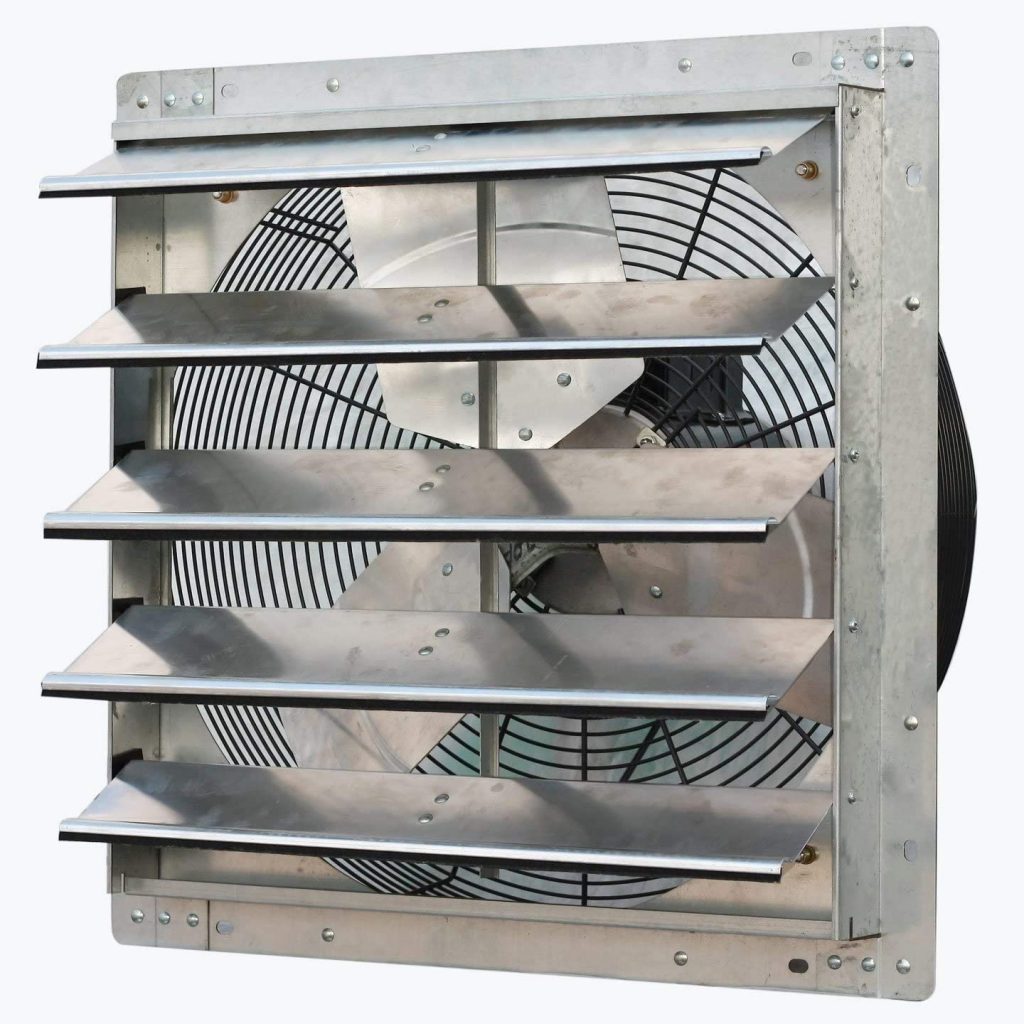 With this fantastic wall-mounted fan, you can cut cooling costs by reducing expensive cooling bills due to an automatic shutter fan that will keep your garage cooler and more comfortable for the whole year.
The fan is corrosion resistant, and the fully enclosed motor is thermally insulated while the electric motor is permanently lubricated, which makes maintenance easy.
If the fan is bought with the IlivingILG8FSC speed controller, you have access to adjustable speed functionality, and you will be able to customize your comfort as you please.
The fan has weather-resistant shutters constructed from high-grade, durable aluminum that can withstand moisture and heat. The manufacturer claims that it is more durable than the competitor's fans and that it will add to the longevity of the fan.
The fan is powerful and efficient, with the 20″ blade running on standard 120 volts with a 1/4 horsepower motor at 2,59 amps. The fan motor's speed is 1075 r.p.m and can cool and ventilate an area of 3368 cubic feet per minute.
2. AC Infinity AIRLIFT S14 Shutter Exhaust Fan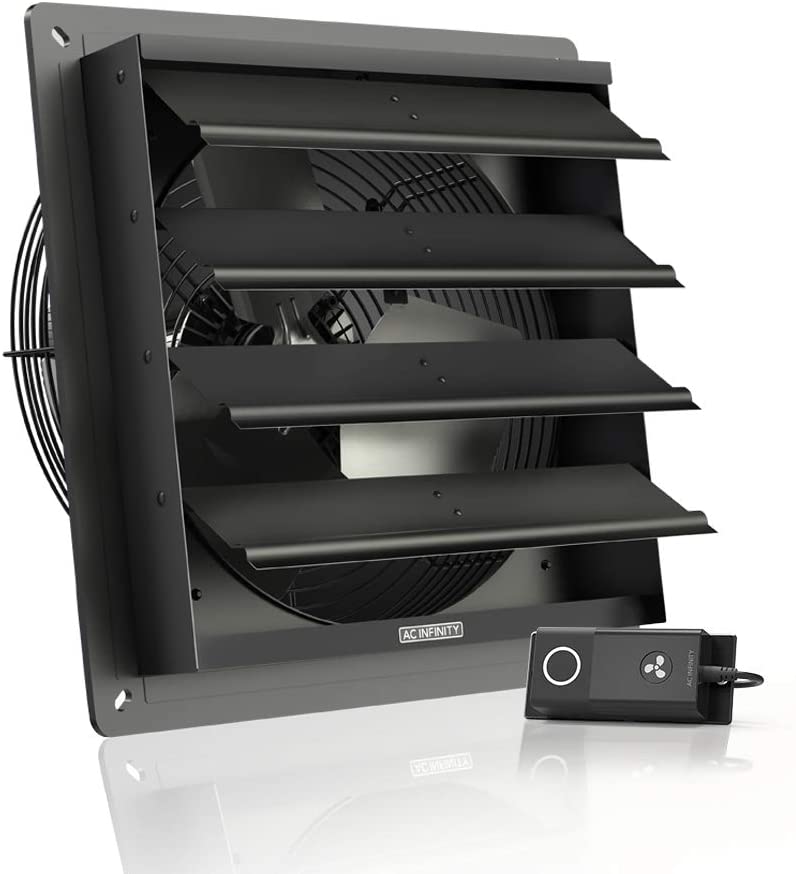 This high airflow exhaust fan is designed to ventilate and get rid of heat, moisture, odors, and dust in various spaces, while other series are available for temperature and humidity control.
The fan features an eight-speed  Pulse Width Modulation control. The innovative EC motor, in combination with the PWM control, reduces energy consumption and noise levels. The motor is rated at a lifetime of 67 000 hours.
Another advantage of the EC motor is that it can save up to 40% in energy costs related to AC motors and can thus pay for itself in the long run.
The fan features steel shutters with aluminum blades that are IP-44 rated, thus resistant to liquid and dust. The fan size is 14″ with exact dimensions of 16.93″ X 16.93″ X 6.42″.
Dual Ball bearings ensure a noise level of only 68dBA and have a CFM 2418.
3. GRELWT 20″ Wall Mounted Exhaust Fan With Automatic Shutter.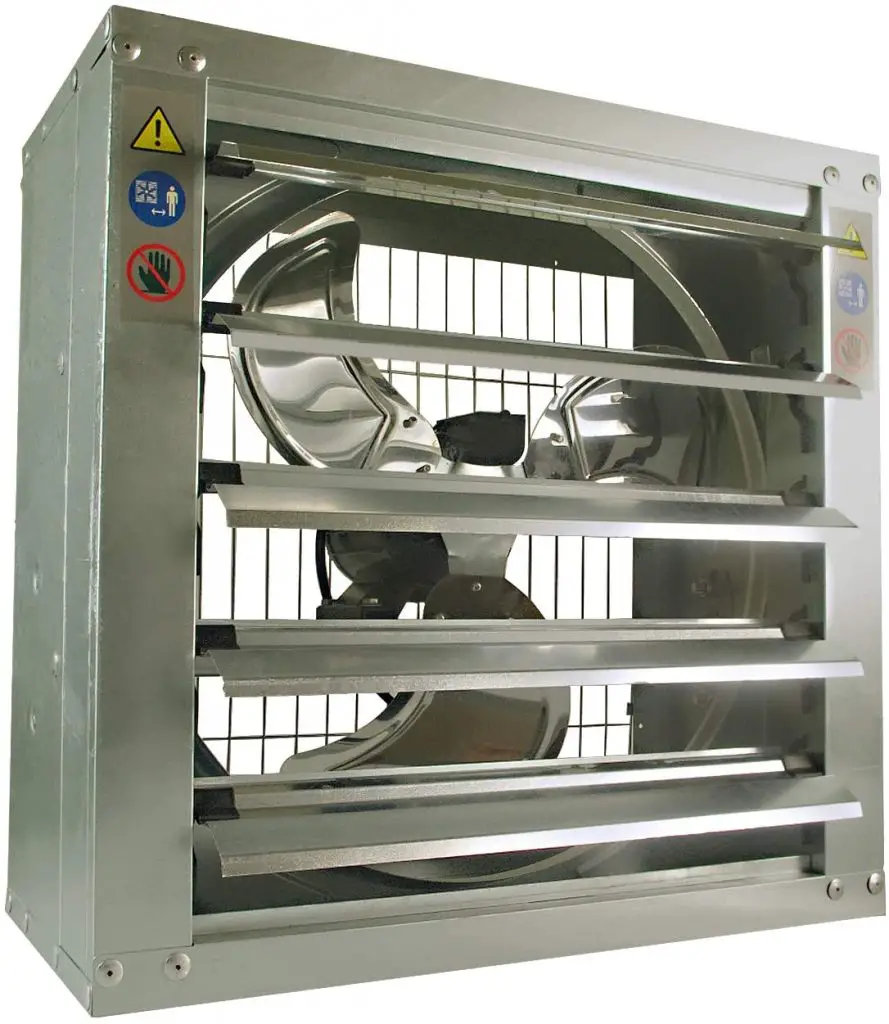 With this fan, you can cut on cooling bills. It is ready to install and remove excess heat and moisture and will keep the garage cooler and more comfortable year-round.
The fully thermal enclosed motor is permanently lubricated, which makes it easy to maintain.
The weather-resistant shutters are constructed of durable galvanized steel, making them rust-free and ensuring a long lifespan for the fan. They also open and close automatically.
The small but strong motor runs on standard 120 volt and 2,59 Amps while the r.p.m is 1400 r.p.m and ventilating an area of 3877 CFM.
Except for the housing made out of rust-free galvanized steel, this heavy-duty exhaust fan has a limited warranty of 1 year. It needs to be hardwired by an electrician during installation.
Worry-free after-sales service will ensure a satisfactory solution from the manufacturer if there is any damage during transportation to your address. This is on top of the Amazon customer service.
4. QuietCool GA ES-1500 Garage Ventilation Fan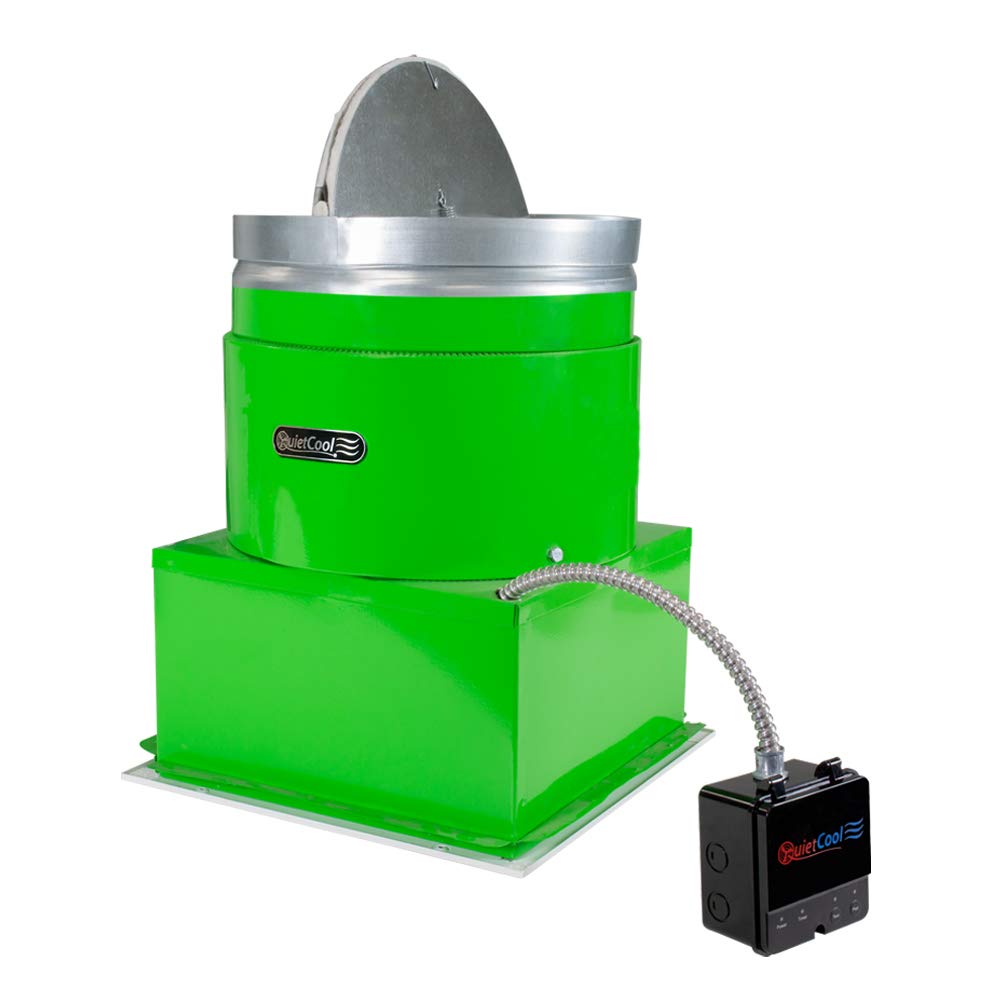 This ceiling-mounted fan with integrated fire damper includes an ultra-high efficiency electronically commuted AC/DC brushless motor with only a one-speed setting and a CFM of 1452 CFM, running on 120 volts.
A Radio Frequency control is included, and it comes with a 15-year manufacturer warranty.
5. iPower 7 inch Shutter Exhaust fan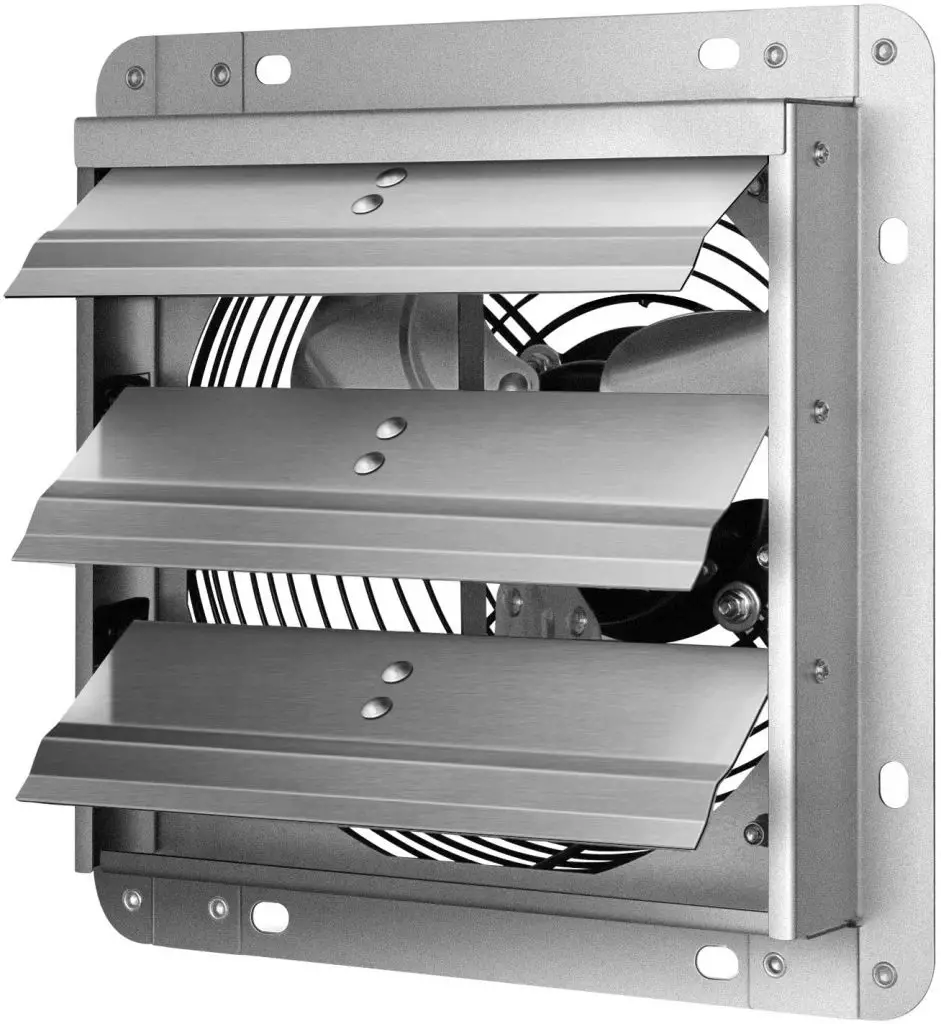 This 7-inch exhaust/shutter fan with automatically controlled shutters will provide excellent cooling with a CFM of 760 and operating with 115 volts at 60Hz and use 28Watt to generate 1680 r.p.m.
The fan can easily be installed in a window opening, in a wall, along with a thermostat to optimize cooling. The industrial-grade shutter fan can solve all your cooling needs.
The rustproof aluminum shutters and blades will ensure that no rust is formed and will contribute to the longevity of both the shutters and blades.
6. Broan – Nu Tone L300 High Capacity Ventilator Fan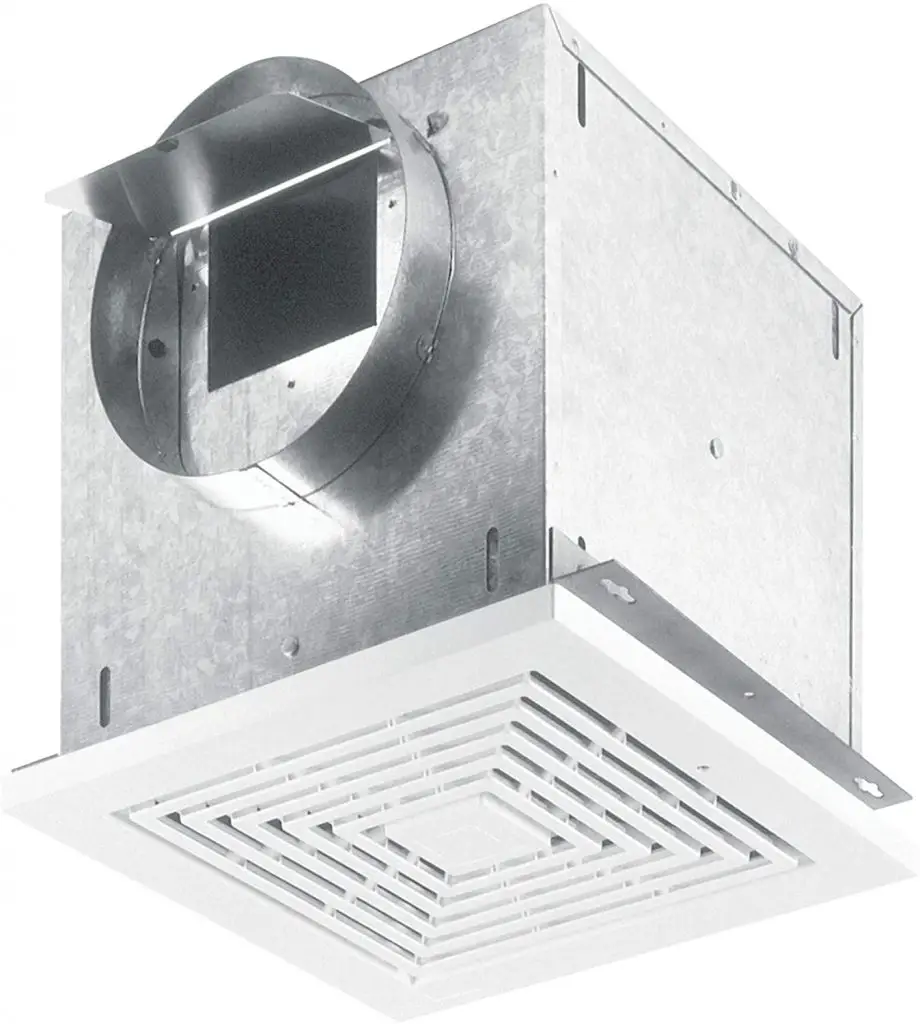 This high capacity ventilation fan operates through a single impact-resistant centrifugal blower wheel at 308 CFM and 120v that supply a powerful, compelling performance in your garage.
The heavy-duty housing is constructed using 20-gauge galvanized steel with an 8″ round metal duct to provide a product with longevity in mind.
You can customize the fan to suit your specific needs by aligning fan ducts horizontally, vertically or inline by using a separate adapter.
The motors are effective in that they are permanently lubricated to allow continuous and quiet operation with no maintenance.
The high-capacity ventilation fan is excellent, even for big garages and other areas that require ongoing ventilation.
7. Tru North Vent 300 CFM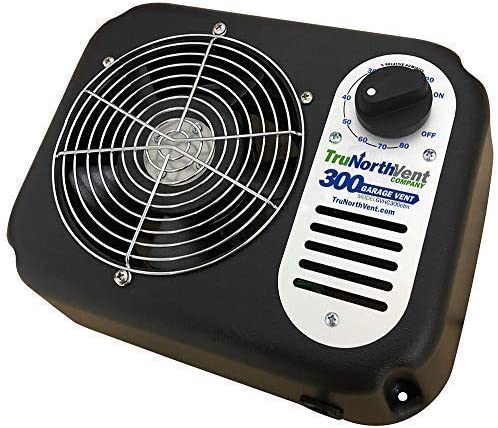 This fan can effectively remove garage moisture and humidity, dry out garage puddles and improve the air quality in the garage.
Everything is constructed of plastic, and thus all possibility of any rust is negated.
The wall-mounted fan operates on 110 volts with a noise level of 68 Db.
Detailed comparison of the above garage exhaust fans
We will compare all the fans on their selected features to give you a better idea when looking for selected features on which you can base a buying decision. 
Comparing Fans Regarding Rust Resistance
Rust resistance is a very important feature that will influence the life of a fan. Most exhaust fans are utilized to extract warm moist air from a building, and the excessive contact with moist air will cause rust of the blades of impellers if it's fabricated from a material that rust easily. So let's go and take a look at the selected fans for rust resistance.
| Fan Model Name | Rust Resistant? |
| --- | --- |
| iLiving ILG85F | Yes |
| AC Infinity | Yes |
| GRELWT | Yes |
| QuietCool GA ES-1500 | Yes |
| iPower | Yes |
| Broan – Nu Tone | Yes |
| Tru North Vent | Yes |
Are these exhaust fans rust-resistant?
All of the specific fan manufacturers have taken care to ensure that the fan you will buy has a long lifespan. All fans in the selection have been made of materials that vary from Aluminum, Stainless Steel, Galvanized Steel, and plastic. None of these materials rusts easily, and the weakest of them is the galvanized steel. The galvanizing might work off over time, leaving only the steel that is prone to rust. However, this process might take from months to years to lay the steel barren. 
Comparing Fans Regarding Displacement (Cubic Feet per Minute)
Displacement in (CFM) is a metric whereby the displacement or movement of air is measured. For instance, if we have a garage with measurements 20′ length with a width of 20′ and a height of 10′ (20X20X10=4000 Cub ft), We need to replace the total air volume in the garage every half an hour, so the total volume has to be displaced two times in an hour. Therefore we multiply the total volume of the garage by 2 (4000 X 2 =8000 Cub ft) of air that must be circulated in an hour. By dividing the 8000 Cub Ft by 60 min (8000/60 = 133 CFM) So for your garage, you will need a Fan with a CFM = 133 to circulate the air every half hour.
Here is a great guide to finding the right CFM for the fan for your garage: Garage exhaust fan size guide.
| Fan Name | Airflow Rate (Cubic Feet per Minute) |
| --- | --- |
| iLiving ILG85F | 3368 CFM |
| AC Infinity | 2418 CFM |
| GRELWT | 3877 CFM |
| QuietCool GA ES-1500 | 1452 CFM |
| iPower | 760 CFM |
| Broan – Nu Tone | 308 CFM |
| Tru North Vent | 300 CFM |
Comparison of airflow rates
The TRU North Vent fan has the lowest CFM, while the GRELWT has the most considerable CFM value. By using the measurements of your garage and how many times you want the air circulated in your garage, you can now do a calculation to ascertain which garage fan will work the best for you.
Comparing Fans Regarding Noise levels (dBA)
Noise levels of a fan give us an idea of the amount of noise that is produced when a fan operates in dB. If we don't have that metric, the speed of the motor can also give you an idea of how noisy a fan will be. Noise levels will generally increase with an increase in the speed of the fan.
| Fan Model Name | Noise level(dB) |
| --- | --- |
| iLiving ILG85F | 56 dB |
| AC Infinity | 68 dB |
| GRELWT | – |
| QuietCool GA ES-1500 | 44 dB |
| iPower | 56 dB |
| Broan – Nu Tone | 40 dB |
| Tru North Vent | 68 dB |
Comparison of noise levels of the garage exhaust fans
Given above are the noise levels when the fans are running at their highest speed. The noise levels lower when the fans are run slow. As you can see from the above table, the Quietcool fan has the least noise. Even though the decibel ratings are not given, the GRELWT exhaust fan is the noisiest in the above list.
Comparing Fan Speed of Selected Fans
| Exhaust Fan Name | Fan Speed (RPM) |
| --- | --- |
| iLiving ILG85F | 1075 RPM |
| AC Infinity | – |
| GRELWT | 1400 RPM |
| QuietCool GA ES-1500 | – |
| iPower | 1680 RPM |
| Broan – Nu Tone | – |
| Tru North Vent | – |
Speed comparison of exhaust fans
The iPower boasts the highest speed for the ones where speed is known, with the iLiving ILG85F, having the slowest speed. On the one hand, speed is an indication of effectiveness, but with an increase in speed, the noise levels can go up.
Comparing Fans On The Basis of Where They are Installed
The position in which fans are installed is discussed in this section.
| Fan Name | Location Of Installation |
| --- | --- |
| iLiving ILG85F | Wall |
| AC Infinity | Wall |
| GRELWT | Wall |
| QuietCool GA ES-1500 | Wall, Ceiling |
| iPower | Wall |
| Broan – Nu Tone | Ceiling |
| Tru North Vent | Wall |
Most of the fans are installed in the wall with an extraction duct through the wall. The QuietCool GA ES-1500 can be installed either in the ceiling or in a wall, whatever your preference is. The Broan–Nu Tone is the only one that's only suitable for installation in the ceiling.
In Conclusion
With this review and discussion, you are enabled to select the best garage fan for your specific purpose based on the facts in the article as well as your personal preference to keep your garage or large living space cooler.