A vent cap or vent hood is essential in completing your kitchen's ventilation system, but there are many types to choose from on the market, which can make choosing the best one confusing. In this article, I have taken the time to research what types of caps or vents are available so you can easily pick one from the list that fits your needs and your budget perfectly. 
Here are eight different styles of vent caps to choose from if you can't decide which one is suitable for your kitchen's range hood venting system.
1. Generic Cone Top Chimney Cap with Screen (10 Inch)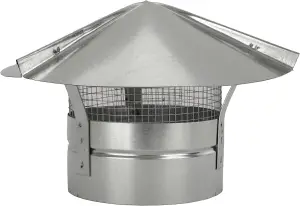 Heavy-duty performance: Being constructed from 28-gauge galvanized steel, it is a heavy-duty performer for all weather types. The cone-type design ensures that snow or rain cannot enter the vent pipe.
Sturdy Insect screen: It features a metal insect screen to protect against unwanted bug entry.
Available sizes: You can select a suitable-sized vent cap from multiple available sizes according to the duct vent size.
Secure fit: This vent cap can be mounted over a single vent size. It will fit securely if you order the same size as your vent pipe.
Warranty: It is made in the USA and has a one-year warranty against defects or craftsmanship.
2. Goose Neck Painted Exhaust Roof Vent with Extension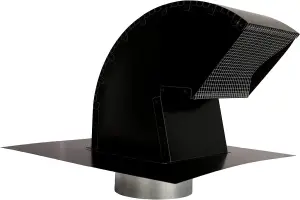 Quality construction: It is made with 28 gauge pre-painted galvanized steel for heavy-duty performance. You can get it in black or brown shade.
Available sizes: Different sizes are available to suit your needs. You can choose from 4", 5", 6", 8", or 10".
Reliability: With a backdraft damper and ¼" insect screen, you can expect reliable performance from this 
The flexibility of usage: It is designed for use with both kitchen and bathroom exhaust venting systems.
Additional feature: This model comes with flex tubing for a bottom extension making installation easier.
3. Builder's Best 84033 Galvanized Steel Roof Vent Cap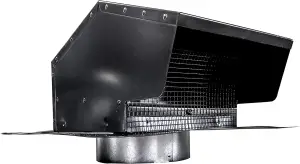 High-quality material: It is made with 26-gauge polyester powder-coated galvanized steel for heavy-duty performance
Non-corrosive: Compared to other leading brands with zero or very little protection against corrosion, it is ASTM B117 tested for anti-corrosive properties. 
Easy mounting: It is easy to install with pre-drilled holes, making it a great choice.
Made in the USA: Builder's Best is an American registered trademark providing quality products made in the USA.
Other features: Comes with a backdraft damper making it ideal for both kitchen and bathroom vents. The removable screens allow its use for venting clothes-dryer.
4. Broan-NuTone 634M Steel Roof Cap for 6″ Round Duct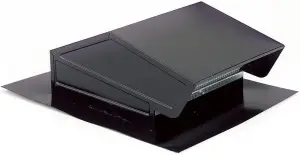 High quality: Unlike other alternatives, the damper is made of metal, not plastic, while the flaps are aluminum. The high-quality materials ensure that it will give optimum performance.
Reliable: Comes with a built-in screen to keep small animals from entering the ductwork. It also has a built-in backdraft damper to prevent cold air from entering. All-in-all, it's a dependable product.
Durable: It is sturdy and built to last longer with 24-gauge CRCQ steel construction and electrocoat acrylic finish.
Secure fit: Features a 6" round duct collar for a secure fit for a 6" round vent duct to prevent any leaks from happening.
Easy installation: It is easy to slide right into an existing or newly installed vent duct.
5. Vent Systems 6″ inch Round Roof Cap Galvanized Metal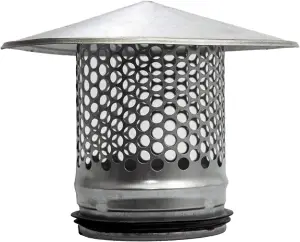 High quality: It is constructed with high-quality galvanized steel for durability. Also, it has a rubber ring around the pipe to ensure better fit and insulation.
Perfect fit: It will be suitable for a 6" vent pipe.
Easy to use: It can be used easily with all other Vent System HVAC products. Also, it is easy to install and easy to remove and clean whenever needed.
Flexible usage: this cap will give ample protection from wind and rain. It can be used as a roof rain cap, air exhaust, roof vent cap, or stove pipe cap.
Long-lasting: there aren't any moving parts so you can rely on it to be long-lasting.
6. Shasta Vent 6″ Dia. I.D. Class A, All Fuel, SS "Chimney Cap"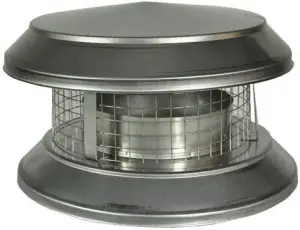 Construction material: It is made of .020" type 304 stainless steel.
Quality Built: It is stainless steel, double-walled, and solid-filled chimney for residential usage. The inner and outer walls have a 2" clearance to combustibles. 
Reliable: The cap is designed to contain embers and sparks. It also stops debris and small animals from entering the vent. Also, there is a removable spark screen.
Easy to install: This vent cap comes with twist-lock end rings and locking bands making installation quick and easy.
Additional features: It is listed on ETL (Electrical Testing Laboratories), having met HT requirements for UL 103.
7. Range Hood Roof Cap, Mill Finish, Up to 7″ Round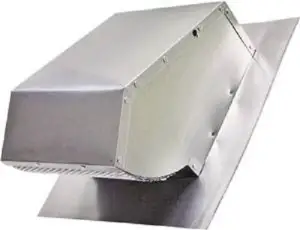 Material quality: It is constructed with rust-free aluminum making it quite durable.
Size: Suitable for vent ducts up to 7" wide.
Reliability: It comes with a screen to prevent animal infiltration and a damper that helps stop any backdraft.
Lightweight: Weighing only one pound makes it a lightweight product that's easy to handle.
Certification: certified frustration-free, meaning you can install it without any hassle.
8. Oatey Mushroom Vent Cap, 3 Pack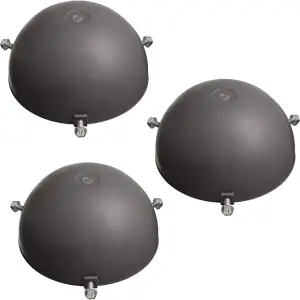 Quality construction: It comes in a pack of three and is made of high-quality PVC. 
Size: these caps can fit over 3" to 4" wide vent stacks.
Perfect design: The mushroom design doesn't provide any space for unwanted invaders to enter inside while still allowing proper airflow.
Easy installation: It is already assembled and has three bolts to help in installation. 
Trusted brand: Oatey products are made in China. It is in the market for over 100 years and has earned trust worldwide.
Frequently Asked Questions
What is a range hood roof cap or roof vent?
A range hood roof cap/ vent is an accessory that covers a vertical running duct system leading from the range hood and terminating above the roof. The purpose of this cap is to prevent debris and critters from entering and blocking the vent while still allowing proper airflow.
Is it better to vent the range hood through the exterior wall or the roof?
According to experts venting through the roof is better than venting through the wall. The hot air rises, so it helps throw the exhaust fumes outside more easily. However, it is not mandatory. If you cannot vent through the roof for any reason, venting through the wall is a viable option.
Should a roof vent have a cap?
The roof cap is essential for preventing foreign objects from entering the vent duct and affecting the efficiency of the range hood. Also, putting a cap on the vent eliminates the need to clean and maintain the ductwork more often. Moreover, it also prevents rain and snow from falling inside.
How do I know which roof cap size will suit my range hood?
As a general rule, the roof cap size should match the diameter of the vent duct. For example, for range hoods with up to 400 CFM, the allowed duct size is 4", so a 4" roof cap will be suitable. The following table will help you find a suitable roof cap size for your ductwork.
| Range Hood Size | Allowed Duct Size | Suitable Roof Cap Size |
| --- | --- | --- |
| Up to 400 CFM | 4" | 4" |
| 401-600 CFM | 6" | 6" |
| 601-900 CFM | 7" | 7" |
| 901-1200 CFM | 8" | 8" |
| 1200 CFM and above | 10" | 10" |
Range hood size vs roof cap size
Things to consider when buying the best range hood roof cap/roof vent
It can be tempting to buy the first one you come across at the local hardware store. But if you want to avoid regrets later on, take the time to think about your purchase before you commit to anything. Here are some essential things to consider when buying a range hood roof cap or roof vent.
Size
Size is the most vital consideration. No matter the quality, price, or other specifications, if the roof cap size is not correct, the roof cap will be useless. Make sure that the size of the vent matches up with the size of your range hood ductwork. If not, there's no point in buying it.
Price
The roof caps or vents have a wide range of styles and features. Knowing your budget will help you compare different designs and brands within that range and select a suitable accessory at a reasonable price.
Design
Roof caps or vent roofs with better design have better chances of performing the duties to the optimum level. A good roof cap design will ensure that debris or small animals can't enter the ductwork. It will keep the vent open for proper airflow and let the range hood exhaust the kitchen air efficiently.
Quality
A product's construction material determines how durable and long-lasting that product will be. Generally, low prices are associated with cheap-quality products, while high prices mean the product has better quality. However, it is not always true. A product can be inexpensive and durable also if it doesn't have additional features. Select a product that fulfills your basic needs and is sturdy enough to last years.
Brand
Trusted brands have better customer service and warranty giving you more value for money. Range hood roof caps and roof vents are not very technical items but buying a high-quality product from a brand known for its quality will ensure that you won't have to replace it again and again.
Ease of installation
You don't want to buy a roof cap at a reasonable price only to spend extra time, effort, and money on installation. Easy-to-install roof caps are the best as they make installation quick and effortless. This feature is helpful as anyone with DIY experience can install a cap without hiring an expert and save a lot of money.
Customer reviews
Heck out online customer feedback on a product before deciding to buy a roof cap or vent. Read both positive and negative reviews to make an informed decision. If there is more positive feedback, you may consider choosing that product if you find all other things according to your requirements.
Conclusion
Ultimately, it's up to you which range hood roof cap or vent design is suitable for your range hood roof vent. The best way to find out is by considering the five things we've listed in this article and seeing if they're a good fit for what you need. Keep these vital points in mind, and select one option from the best picks shared in this article.