The average radon level in an American house is 1/3 pCi/L. The EPA (Environmental Protection Agency) requires that if the radon levels are above 4.0 pCi/L, one should install a mitigation system. But how do you know what your current radon levels are? That's why testing is done; there are many radon detectors and test kits available that you can use to test for radon in your home.
Given below is a list of the best radon detectors and test kits I recommend. The list is a mix of detectors and test kits. The difference between a radon detector and a test kit is that detectors detect the presence of radon instantly and measure its levels but test kits take days to do this. But test kits give a more accurate reading. I am explaining the differences between the two later in this article.
Please note that you should also test for radon after the installation of a mitigation system to know if it is working properly.
1. Corentium Home Radon detector
Type: Radon detector
"Air things" presents a state-of-the-art radon measuring instrument in the name Corentium. This 4.7"×2.7"×1" digital instrument weighs about 0.3lbs and is powered by 3 AAA batteries.
Over its useful 10 years of lifetime, it boasts of producing accurate radon measurements (with only 5% variance) similar to the commercial radon detectors used by professionals. This accuracy is due to the implementation of an advanced algorithm that is rarely seen in other DIY detectors.
The Corentium radon detector has a digital display that indicates both long-term and short-term average radon levels in pCi/L. Since it is battery-powered, it can be taken to different spots of the house to detect the radon gas concentrations. The inaccuracies caused due to external factors like electromagnetic interference, dust, and even humidity (below 85%) are eliminated as this unit adapts to the surrounding environment easily.
Not only its installation is pretty easy, it is quite simple to use also. All in all, it is a good value for money product.
Pros:
Accurate measurement with only 5 % variance
Indicates both long-term and short-term measurements
Portable
Unaffected by EMI, dust, and other external environmental factors.
Cons:
Uses 3 AAA batteries which need to be replaced every 2 years.
You cannot rely on the readings for the first few days of installation. Only after a couple of days, do the readings come out to be accurate.
2. Safety Siren Pro
Type: Continuous Radon detector
The Safety Siren Pro is a continuous radon detector that sets off an alarm if the radon presence goes above a preset level. It has an LED display that shows both short-term and long-term radon levels in a clear and easy-to-understand format.
Hourly update of the radon levels is also indicated in its Display. This is recommended as the radon levels change according to the humidity and season.
The design of this professional-grade detector has been approved by the US EPA. The display which has a range of  .1 to 999.9 in pCi/L shows the short-term radon level value measured by averaging the radon samples over 7 days. The long-term level displayed is the measured value that is calculated by averaging the radon levels from the time the system was powered up to the last reset. It releases an alarm if the readings go beyond the EPA specified value of 4 pCi/L. This alarm can be set to mute or reactivated using a button.
Pros:
Clear, easy-to-read LED display
Displays both short term and Long term readings
Shows hourly radon level updates
An audible alarm which goes off when the radon readings go higher than 4 pCi/L
Cons:
3. RADEX RD1503 Radon detector
Type: Radon detector
One of the best-selling radon detectors by Quarta-Rad, the RADEX RD1503+ comes with power-packed features that make this scientific tool perfect for an average Joe.  It is specifically designed to be used as a personal Geiger counter that detects ionized radiation indoors, outdoors, and in objects.
With an LCD display, it shows the measured Radon gas levels along with other rays such as beta, gamma, and x-ray.
This pocket-sized detector is battery-powered and can be carried anywhere easily. The accuracy of this device has been tested by the Japanese consumer protection agency. The radon level is measured in modern micro Sieverts units. A Cesium-137 isotope has been used for calibration of the device which has a detection range of  0.05 – 9.99 uSv/h. The LCD monitor displays the difference in dose rate between the averaged and background values. This device also features inbuilt adjustable vibration and audio signal.
Pros:
Pocket size, portable radon detector
Also measures beta, gamma and x-ray radiation
Embedded Audio alarm and vibration
Detection range: 0.05 – 9.99 uSv/h
Cons:
It sometimes measures the ambient radiation instead of Radon gas emission alone.
4. First Alert RD1 Radon gas test kit
Type: Test kit
With nearly 60 years of experience in producing home safety products, First Alert's Radon gas test kit helps to detect radon gas levels in your homes using a short-term test. (long-term tests take over 90 days)
It is one of the simplest and safest ways of testing the radon levels in your home. This char-coal-based kit has been listed by the EPA Radon Gas Measurement Proficiency Program.
The testing is done by placing the kit in one of the lower areas of your house, like in a basement. Make sure the room or area where you plan to carry out the test has a low humidity level and is preferably dry.
After keeping this test kit there for two to four days, you will have to send it to the lab as mentioned in their instructions. Once the test samples are sent, it takes only 72 hours to get the results via email. It is a great pick if you are looking for a short test (there are kits that take longer) that would help you identify how well your radon mitigation system is working. The kit comes with a manual, which guides you to properly interpret the test results for better disaster preparedness.
Pros:
Char-coal based test kit gives precise result
Fast delivery of test results (72 hours maximum)
Simple and easy to use, all you have to do is place the kit at the desired site.
Cons:
The room needs to be low in humidity (preferably dry)
The test can be carried out in a closed area only.
5. Air things wave smart radon detector
Type: Continuous Radon detector
Air things wave smart radon detector helps you keep a close eye on the radon levels of your home in a more digitized and smart way. It comes with simple comprehendible color codes that indicate good/warning/danger level of radon; all you need to do is wave your phone in front of it.  Your phone will receive all the (daily, weekly, and monthly) updates regarding radon, temperature, and humidity levels through a free mobile app.
This aids in accessing the radon levels at your home in real-time, which is a great advantage.
The first reading is displayed after 48 hours of installation. This detector is convenient to use and can be installed easily through its instruction manual. It is powered by 2 AA batteries which can last long up to 1.5 years.
Pros:
Simply wave before the device to see whether the radon exposure is within good/warning/danger levels.
A fantastic app that can be used on both android and iOS devices.
Get daily, weekly, and monthly radon, humidity, and temperature updates on your phone
Easy to install
Cons:
Higher price than other radon detectors
6. Kidde 442020 Radon Test Kit
Type: Test kit
Kidde presents an easy-to-use short-term radon detector kit for your homes and the surrounding area. An activated charcoal bag acts as a radon detector which needs to be placed in the desired location for three continuous days and instructions given in its manual need to be followed.
The radon is measured with an EPA-registered facility.  The kit includes a return mailer envelope which makes the return of the test sample easy. The samples need to be sent to the Alpha energy laboratories ltd (address is in their manual).
The analysis fee is already included in the cost price of the kit. This means you need not give any additional charges except if you are from New Jersey, you will have to bear a sum of $10 for the same.
Pros:
Charcoal based radon sample gives precise results
One of the best kits when comes to short term radon test
Easy to use
Analysis fee included in its cost
Cons:
The EPA charges an additional 10$ from its New Jersey customers as an analysis fee
7. Alpha Track Radon Kit
Type: Test kit
If you are looking for a long-term or a flexible radon test kit, the Alpha track radon kit is your ideal buy.
This kit is super easy to use, all you have to do is place this at the spot you intend to and follow the instructions given in the user manual.
If you plan to take the test for 8 days or more (less than 14 days), the kit detector must be sent to the lab via overnight service.
The highlight of this kit is that it gives you the flexibility to take the test for any number of days between 14 days to 1 year. The more days the kit has been exposed to the radon emissions, the more data can be inferred and more accurate results will be yielded.
The cost is also quite reasonable as it is inclusive of the analysis and test fees. You do not need a sealed room for the best results; however, it must be kept at the lowest possible height and not on dirt, away from any heat source.
Humidity or any other transition radiation may affect the accuracy of the results.
Pros:
Flexible test duration; from 14 days to 1 year, EPA recommends 90 days and above to furnish accurate results.
Easy to use: Just follow the instructions given in the manual
The longer the test duration, the more data it generates.
The cost is inclusive of the lab analysis and test fees
Cons:
It is not resistant to humidity or any other sort of tamper
The results which come via mail/email are not easily comprehendible
8. Airthings Corentium Pro- Digital Radon Detector
Type: Continuous Radon detector
One of the lightest continuous radon monitors, the Corentium Pro-Digital radon detector from Airthings has an exceptionally easy-to-use mechanism. This makes it suitable for both commercial and professional use.
The user-friendly mechanism employed in this product gives out the maximum reliable result, by just exposing it to the air. The indoor air is sampled through the inbuilt passive diffusion chambers and the radon gas level is measured by the silicon photodiode. This gives out the maximum possible precise results.
It comes with data storage which can be accessed through a wireless internet connection. You can access the data which is as old as 5 years through its amazing memory backup, through free software which can be launched on any Windows laptop and computer. You can use this data to produce a customized report that keeps a track of the radon levels at your home over a period of time. 
The main highlight of this product is that the display can be controlled through a mobile app. It is powered by 3 "AA" batteries and is free from cables and adapters, making it a hassle-free portable radon detector. It comes with a tilt sensor, which makes this device tamper-resistant.
The Corentium Pro-Digital Radon detector boasts a 10-year life expectancy.
Pros:
Precise results
Portability
Data storage of up to 5 years(1-hour resolution)
10 year life expectancy
Can be used for both professional and commercial use
Display control through a mobile app
Tamper and EMI proof.
Access to data through free windows software.
Battery-powered
Cons:
High Cost
The free software needed to access the data is not compatible with Mac computers and laptops.
9. Sun Nuclear Professional Continuous Radon Monitor
Type: Continuous Radon detector
One of the leading companies dedicated to radiation oncology quality assurance, Sun Nuclear, presents a professional-grade continuous radon monitor.
This 1027 model has a simple 2-button operation and comes with a tamper detector. All the measured values are displayed on its LCD screen and these values can be used to generate reports from the computer or a printer. This single dome, solid-state diffusion detector has an RS232 and printer interface which allows a compact printer to plug in whenever an on-site report is required.
It uses line power for its operation. It comes with a short-term battery backup also. The reports are exported to your computer in a text format. The efficient, large chamber design of this device is unaffected by the humidity and greatly suppresses the measurement noise. It can monitor and report up to 90h of continuous radon gas level in a 1-hour interval.
Together with the comprehensive "OneRADON" software application on your android/iOS computers, this professional radon detector is capable of generating fully customizable reports and invoices for a service.
Pros:
Reliable and precise results
Professional grade, AARST/NRPP, CARST/C-NRPP, and NRSB approved design
On-site, on-demand report generation through a plug-in small printer
Resistant to humidity and tamper
The large chamber design suppresses the measurement noises.
OneRADON software is compatible with both Android and iOS devices
Short term battery backup
Cons:
Not suitable for commercial use
Requires adapters and is not easily portable
10. Radon Gas Kit from Accustar
Type: Test kit
If you are looking for a product that will assess the working of the radon mitigation system at your home, then this short-term test from Accustar is an ideal pick.
This is a charcoal-based gas kit, which is super easy to use and gives fast results.
Make sure you carry out the test in a closed area or where the incoming fresh air is limited to a minimum.
The test is suitable for an average-sized room. Once the test is done, you have to send the test sample back to Accustar lab and they will send you the results. The test should be carried out continuously for 96 hours to get the results. Since this is a short-term test, the results may not be precise and there are chances of getting false-positive or false-negative results. Also, the humidity may affect the device and it may not produce results.
Pros:
Ideal for checking the working of radon mitigation system
Simple method
Fast results
The charcoal based product absorbs the radon gas present in the room
Cons:
The test needs to be done continuously for 96 hours. A minute more than the specified time will not yield any results
Humidity in the room needs to be very low, otherwise, the device will not converge to proper results.
Long terms vs short term radon testing
Long-term radon tests are conducted for a minimum of 90 days up to one year. Short-term tests take only three to six days.
You can read more about short and long-term radon testing here in this article; Long term vs short term radon tests
Types of Radon Kits
There are mainly two types of radon test kits; passive and active. Active test kits use electricity to power them, while passive kits do not require any power. Active test kits provide continuous readings of the radon levels, while passive test kits take days and even months to get results.
Active test kits can cost hundreds of dollars, whereas passive ones cost $20 to $50. Active kits are not required for your home unless you are too worried about radon levels. Running a long-term test once a year is more than enough to prevent radon exposure. However, active test kits are useful to alarm you of radon levels if your mitigation system stopped working.
1. Radon test kits
Passive radon test kits involve charcoal-based as well as alpha-track test kits. They are used either for short-term or long-term testing. These kits are exposed to radon for days or even months, depending on the testing, and sent to the lab to analyze the sample and get the results. These are inexpensive, old-school options.
Here are some examples;
AccuStar radon test kit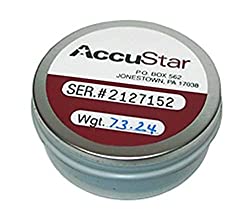 First Alert radon test kit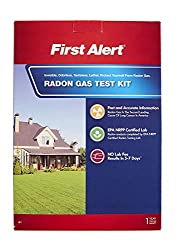 2. Radon detectors
Radon detectors are battery-powered, portable electronic detectors that can measure radon levels instantly. They are used to quickly estimate whether the home needs further radon testing or mitigation. These detectors are usually used by professionals to estimate if the properties they visit have radon presence. The results from this type of detector are not very accurate, however, they help to decide the next step in radon mitigation. An example of this type is;
Corentium Home Radon detector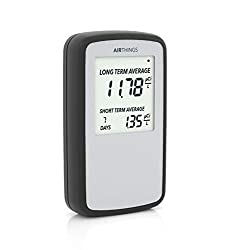 3. Continuous radon detectors
Continuous radon detectors are used to monitor radon levels in your house continuously, and they alert when the levels go above safe levels. They can be placed anywhere in the living areas, just like a thermostat, and the kit will display the current radon level. These monitors are usually connected to a mobile app so you can get the day-to-day data and compare the levels with the previous year's.
These kits can cost hundreds of dollars, but they are very accurate.
Certified professionals also use active radon test kits to assess the radon levels in homes before they are sold or bought.
Here is a good radon monitor to continuously record the radon levels in your home;